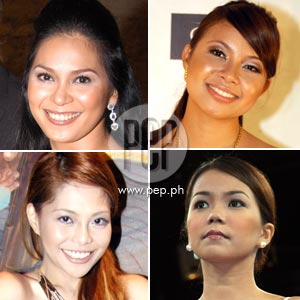 ---
The long break provided by the Holy Week season is just the perfect opportunity for most of our local celebrities to unwind and take a breather from their usual grueling schedule.
Being a predominantly Catholic country, the practice of taking a grand vacation is being frowned at by a handful of conservatives who felt that the true meaning of Lent is being disregarded instead of being observed. But our stars are one in saying that despite all the partying, they still find time to pray and commemorate God's goodness in their own little way.
PEP (Philippines Entertainment Portal) asked four celebrities regarding their plans for the Holy Week.
SHERILYN REYES. Actress-TV host Sherilyn Reyes loves to travel with husband Chris Tan and their two boys Quirsten and Paoie. For the Holy Week, Sherilyn revealed their itinerary starting on Holy Wednesday.
"My family and I will go to Lago De Oro, Calatagan, to wakeboard," shared Sherilyn to PEP a few days before the holiday.
But it isn't all pure fun. In fact, it has been a tradition of theirs to visit churches to pay their respects to God. The fun only starts after they fulfilled their obligation as good Christians.
"Every Thursday we go Visita Iglesia kaya we don't go out of the country 'pag Holy Week," she said. "So, we'll go to seven churches from Tagaytay down to Calatagan."
JURIS FERNANDEZ. The diminutive lead singer of the multi-platinum act MYMP is genuinely a homebody. "Hindi naman ako mahilig gumimik or lumabas 'pag walang gig," she confessed to PEP in a past interview. For Juris, work and play comes, most of the time, in a single package. "'Tsaka yung gig namin, 'yon na din ang gimik ko," she smiled.
Holy Week would be no different for the lovely singer. "Usually I stay home. We visit churches for the way of the cross," she mentioned. True to her homebody nature, Juris added, "We seldom plan on going out-of-town. Most of the time we just stay here in Manila."
ADVERTISEMENT - CONTINUE READING BELOW
ASIA AGCAOILI. The city of Amsterdam is famous for its tourist attractions, which include grand canals, elegant merchant's houses and museums housing genuine artifacts. And that's exactly the place FHM sex guru Asia Agcaoili would like to spend her free time.
"I'm going to spend my Holy Week in Amsterdam," Asia enthusiastically told PEP through a text message last March 18.
But aside from those previously mentioned, Amsterdam is also notorious for its liberal nature. The city boasts attractions like sex shops, sex theaters, peep shows, a sex museum, and coffee shops where patrons are allowed to smoke pot or consume various cannabis products.
Once again displaying her playful nature, Asia jokingly added, "and I'll try to resist temptation. Please pray I will," in her text message.
When PEP asked her if the temptation she was referring to have something to do with Amsterdam's liberal reputation, Asia naughtily replied, "YES."
SITTI.
Ever since Sitti Navarro, or simply Sitti to most of her fans, gave Bossa Nova a face in the local music charts, life has been crazy for the University of the Philippines alumna. Other than singing, the pretty singer has also delved into modeling and TV hosting to broaden her showbiz horizon.
Singers, especially someone in the caliber of Sitti, rarely take a day-off. Most of the time, weekends and holidays are ideal days to do out-of-town shows or grace special events. Certain occasions however, like Holy Week, are the right time for busy individuals to take a respite.
Sitti's manager Garrie Trinidad informed PEP of her whereabouts. "Right now she is in Coron, Palawan," he said. "Taking a vacation."