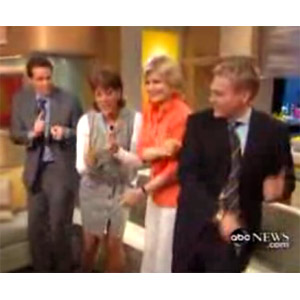 ---
The hit Philippine dance craze "Papaya Dance" is proving tobe the next "Macarena."
Over ten years after the Spanish song "Macarena" by Los delRio swept the world with its contagious dance steps, another dance crazeis beginning to take the world by storm: the Philippine's very own "Papaya Song."
The "Papaya Song," composed by Polish jazz vocalist UrszulaDudziak, saw a rebirth among Filipinos when the song became a local dance hitin ABS-CBN's game show Pilipinas, Game KNB hosted by Edu Manzano.
The gimmick on the game show requiredthe audience to stand up and perform the dance whenever a contestant made it into the next round. The gimmick turned into a dance craze that became sopopular among TV and Internet viewers that it made its way to U.S. shores,particularly on daily talk shows like ABC'S Good Morning America.
Actor and TV host Edu Manzano—who recently popularized the songwith his top selling album—displayed the simple yet contagiously addictivedance move on Pilipinas, Game KNB. He believes that the dance reflects theFilipino's fun-loving attitude despite political disorder, economic tension,and natural disasters.
ADVERTISEMENT - CONTINUE READING BELOW
"The song just kinda tickle people in a light way," EduManzano said in an interview with Reuters UK. "It brings a glint to your eyes, asmile to your face, and kind of swing to your hips."
Edu's words proved true as people from all walks of life and from different venues—including a jail, a church, a supermarket, and even the U.S. Embassy—danceto the "Papaya" tune.
Because of its popularity, almost two thousand versions of"Papaya Dance" were uploaded in YouTube, a video-sharing website. This caughtthe attention of people around the world making it one of the most watchedvideos in YouTube and other websites.