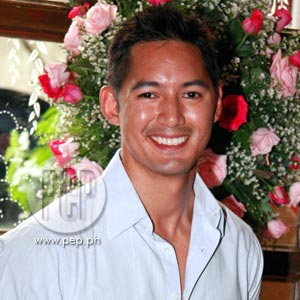 ---
"I am very lucky to do [shows] on both [ABS-CBN and QTV-11] and I consider myself lucky," said Marc Nelson when asked about doing shows in two networks. ABS-CBN is a rival network of GMA-7, which is a network affiliate of QTV-11.
During the press conference of QTV-11's newest reality show, The Debutante, at A Taste of LA restaruant on Tomas Morato, Quezon City, Marc expressed his feelings about being able to do projects in rival networks.
"I'm very, very fortunate to be able to do shows on both [QTV-11 and ABS-CBN]. For me, it's not so much about the network, it's more about the show itself. So I got to thank both ABS-CBN and QTV for the two wonderful shows they gave to me."
The hunk will be the host of The Debutante, a reality show that searches for the young girl, aged 15 to 21 years old, who will be the next "IT" girl of the year. The program has challenges for the 18 lovely finalists to test not only their intelligence but also their emotional skills.
ADVERTISEMENT - CONTINUE READING BELOW
When the show was offered to Marc, he said, "I was a little apprehensive at first. I don't wanna host something that would be just another beauty pageant/reality show. But when they told me about the concept and it would just be about how the girls look and a lot more in depth.
"I was quite excited because I really believe that there's so much more to young people these days than just how they look. And I don't want everyone to get all caught up with the material look and, you know, what they're wearing and everything like that. So, I think it's a good example for young people."
Marc then talked about how this would differ from his long-time sports show titled Sports Unlimited, which he would still be doing on ABS-CBN.
The sports enthusiast explained, "Well, it's quite different from what I used to but I always like a good challenge. I don't think anyone wants to grow in their field of work. They want to head on new challenges. So, like I said, this is something that I want. Everyone seems very good and very healthy. Hopefully I'll give them justice."
ADVERTISEMENT - CONTINUE READING BELOW
AMAZING RACE. Avid viewers of The Amazing Race Asia 2 were disappointed when Marc and his best buddy/teammate Rovilson Fernandez finished third in the last leg of the race. The two consistently finished first in eight legs and second in three legs. (Click here to read the article)
PEP (Philippine Entertainment Portal) asked Marc how he felt about the final result.
"I'm very, very happy with the result," he replied. "We played hard, we played fair. At the end of the day... we broke quite a few records in Amazing Race history, so I'm happy about that. The guys that won [team from Singapore] are great guys.
"Basically, any of the top three teams—we said at the episode four when we were in Africa—whichever one of us wins, we'll all be happy. It is good as happy that we made all the way around. That in itself is an accomplishment."
ADVERTISEMENT - CONTINUE READING BELOW
Did they feel any disappointment when they finished third during the final leg of the race?
Marc replied obliquely, "We did all right. We came out very happy and we wanted to represent the Philippines probably and we did the best we could to actually accomplish that."
In the end, he just told about his experience in The Amazing Race Asia 2 and recommended it to everyone who gets an opportunity.
"I recommend [to] anyone and everyone, if they get the opportunity, definitely try it out. It will challenge you like nothing else will challenge you. You're running around on minimal sleep, minimal food, high-stress situations, your true personality will really come through. You'll learn about your teammate," said Marc.