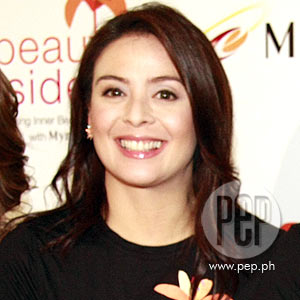 ---
A few years after giving birth to son Jacobo, actress Dawn Zulueta and husband Anton Lagdameo are planning to have another one this year.
"We're planning again. We'll try to give birth ulit this year," revealed Dawn yesterday, March 25, during a press conference prepared by Myra E at the 9501 restaurant in ABS-CBN, Quezon City.
Dawn's first pregnancy was filled with anxious moments. First, it took a few years before she finally got pregnant. It was a delicate pregnancy right from the start and Dawn had to take extra precaution to keep the baby. But despite all the efforts, the couple was terribly shaken when Dawn prematurely gave birth to Jacobo.
SUPER MOM. Dawn is very grateful that the three of them survived the entire ordeal. Jacobo is now a healthy, bubbly even, two-year-old boy with TV commercials tucked under his belt.
When she gave birth to Jacobo, everything—including her showbiz career—simply had to give way to accommodate her new role as a mom.
"I can only give so much time to what I'm doing," she reasoned. Accepting occasional projects are just side activities meant to fill whatever spare time is left from her domestic concerns.
"Actually, I'm only doing it 'coz I have spare time. But other than that, I'm really a busy mom. I'm a housewife. I go home to cook dinner, that's my normal life."
Smilingly, she made fun of her glamorous image by saying, "Believe me, I'm totally not the celebrity I look like. I'm really just a housewife. That's my first and foremost job."
She added, "I cannot waste my time just because I had to have something. Parang, 'I had to have a movie kasi. I had to have a CD kasi'. I don't want to do anything like that. I want to do something that is worthwhile. Parang I think as a parent, time with your children, or in my case, with my son, is so valuable. Any time spent away from him is stolen."
ADVERTISEMENT - CONTINUE READING BELOW
ANYTHING EXCEPT ACTING. "No. No, please, no," Dawn pleaded when the prospect of Jacobo joining show business was brought up.
Dawn would rather have her son maximize all the opportunities freely given to him and later on take a totally different career path from that of his mother—something that would be more interesting, according to Dawn.
"It's just that I feel that there's still so much more he can do," explained Dawn who wistfully looked back on her childhood and compared it to Jacobo's privileged upbringing.
"I really didn't have much education," reflected Dawn. "I only finished high school. But I have dreams. I wanted to become an astronaut. I wanted to be a fashion designer at one point. I want to be a scientist. I never got to do it. I'm not saying I regret it because I did have a very good life in show business.
"But I think it's so easy naman to just try this. It's harder to do that so let him first do that, and later on if he really thinks he's more, he wants to go towards the arts, then that's always there, di ba? Pero para sa 'kin, gawin niya muna 'yong mga hindi ko magawa, more important things I think."
But being the son of a good actress, Jacobo is actually exhibiting some acting chops of his own, much of course to his mother's delight and dread.
"He does, he does," affirmed Dawn before adding with a slight grin, "it scares me actually whenever he tries to act."
WORTHWHILE ENDEAVORS. Dawn's current TV commercial for Myra E shows her interacting and sharing a laugh with local kids from the areas of Tanay and Boso-Boso. The concept of this ad is close to Dawn's heart as she's very passionate in doing community service as well as supporting various advocacies.
ADVERTISEMENT - CONTINUE READING BELOW
"It was a four-day shoot," she said. Dawn described the entire experience as "wonderful" and very fulfilling.
Dawn recounted the entire shoot: "We had to be up before the sun rose and we were done by the time the sun went down. So it was very tiring but just fulfilling because I like to work with the kids, e. There was one day na kasama namin 'yong mga bata, 'yong mga blind. They're cute kasi ano sila, siguro because dahil sa kanilang being blind, they rely so much on their other senses like 'yong sense of smell, touch, and all that. They're more touchy, they're more always wanting to hold and be held and I just found that so charming."
THE DEAL WITH GRETCHEN. Dawn said that she's harboring no ill feelings towards controversial actress Gretchen Barretto. The two reportedly had a rift while they were doing a pictorial for a popular shampoo brand a few years back.
"I don't remember. It's been more than a year I think," said Dawn when PEP (Philippine Entertainment Portal) asked when she last saw Gretchen.
If ever their paths would cross, Dawn simply said, "I cannot say, parang with certainty, this is what I'm going to do or what I'm not going to do. It really depends on her."
But what if Gretchen acknowledges her first, let's say even with a simple nod?
"Hindi naman ako isnabera," smiled Dawn. "'Pag bumati naman ang tao sa akin, hindi naman ako mang-iisnab."