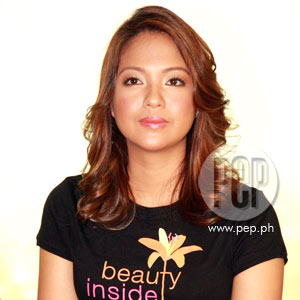 ---
Car racer turned TV personality Gaby dela Merced is still adjusting to her newfound celebrity status. Months after joining Pinoy Big Brother Celebrity Edition 2, where she emerged as one of the favorites, Gaby's life has meandered between sports, facing the camera and attending to various advocacies.
So, is she getting used to the world of show business?
"I'm getting there. It's all about baby steps," she smilingly replied when PEP (Philippine Entertainment Portal) along with the other members of the press caught up with her last Tuesday, March 25, at the 9501 restaurant in ABS-CBN, Quezon City.
Gaby was presented along with model and animal rights activist Isabel Roces, host-athlete Reema Chanco and pre-school teacher-host Patty Laurel as the new faces of Myra E for its "Beauty Inside" campaign. Leading the campaign is longtime Myra E endorser Dawn Zulueta.
RACING TO HOSTING. As proof of Gaby's talent and star appeal, ABS-CBN recently entrusted her with a show dubbed as Gaby's Extraordinary Files. The dusky beauty is very proud of the program's concept as it is meant to educate the viewers; pretty much in the vein of the popular cable channel Discovery Channel. Gaby is a self-confessed Discovery Channel baby.
ADVERTISEMENT - CONTINUE READING BELOW
"Nag-tie up kami with Discovery Channel and gusto po namin family- oriented show, na it's educational," shared Gaby.
"I really watch Discovery Channel po, so when they tell me certain segments that are gonna be in, I'm like 'hey, I've seen the show,'" she animatedly added.
Doing the entire gig is a continuous learning process. While she's completely comfortable with the show's concept, speaking in the vernacular, according to Gaby, is proving to be her waterloo.
"Okay naman. It's challenging for me. I thought na matino po 'yong pagta-Tagalog ko until I got into the show," beamed Gaby before adding, "I'm learning a lot, which is good also."
But being an athlete, the 25-year-old Gaby knows fully well that discipline and dedication are very much needed to overcome all of her shortcomings. She's glad that she's learning the entire trade inside and out.
"It's an ongoing process like with the show, with the scripts, I'm learning din pala. Tapos 'yong mga ibang terminologies and stuff like that 'coz it's an educational show. Marami akong natutunan sa segments at marami rin akong natututunan, like sa diction and everything."
ADVERTISEMENT - CONTINUE READING BELOW
Gaby candidly mentioned that she has nothing against acting but would rather take the necessary steps to make sure that she'd do a fine job once in front of the camera.
"If ever I do get into acting, it's a field that I respect a lot and if ever I do, I would like to go through workshops first before I do so," she said seriously.