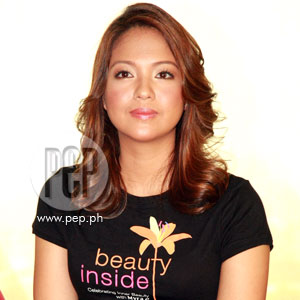 ---
Former Pinoy Big Brother Celebrity Edition 2 housemate Gaby dela Merced just came back home from the United States in time for the Myra E press conference held last Tuesday, March 25, at the 9501 restaurant in ABS-CBN, Quezon City.
"Kakauwi ko pa lang from the U.S. and it's the second phase of my seminar," shared Gaby with PEP (Philippine Entertainment Portal) after the presscon proper.
Gaby loves to travel by her lonesome. It encourages her to talk with people, develop new acquaintances and in the process, broadens her already growing network.
The 25-year-old car racer and TV host excitedly told us some of her recent foreign adventures. One that particularly stood out was her chance encounter with a U.S. agent while onboard a plane going to Los Angeles, California.
"It's free seating so I was about to sleep and then biglang right before takeoff, may umupo sa tabi," she amusingly recounted. "So I'm like at that time pa nga I was 'Oh no, hindi ako makakahiga.' Pero okay lang and then he started talking to me and we started to converse and then we talked about each others lives, and nagulat ako he was an agent pala from the U.S. and he was Zac Efron's [High School Musical] agent and then he handled Jessica Biel [7th Heaven] and that he handled all these other actors and actresses."
The main point according to Gaby is that she's meeting lots of interesting people with different backgrounds. "You'll never know who you're gonna meet and they've been all supportive po, talagang as in sobrang nakakatuwa."
There were also some people who recognized Gaby the car racer, and not the celebrity. It happened while she was dining out with a few friends inside a Japanese restaurant.
Shared Gaby: "The waitress just came up to me and she was like 'Is there any racecar driver here by any chance?' and I was surprised and I said, 'That would be me.' And she said that the waiter recognized me daw 'tapos she couldn't believe 'coz we were all women and it didn't look like daw there could be any racecar driver there and then she gave me a dessert."
ADVERTISEMENT - CONTINUE READING BELOW
The dessert came from the restaurant chef named Ryan whom Gaby described as a "very nice guy."
RENT AND PBB PEERS. Most people are unaware that Gaby is also fond of the arts—particularly painting and theater. Making the most of her U.S. stay, Gaby took time out to watch the hit Broadway musical, Rent.
Clasping her hands in glee, Gaby beamed, "Masaya po ako doon. 'Coz they're ending, e, finally. It's the longest contemporary Broadway and it's ending in the first week of June and I've memorized the whole thing even before I watch the play, which was weird, it's kinda spooky!" she laughed.
Months after PBB ended its Celebrity Edition run, communication between Gaby and her co-PBB housemates remains fervent and open.
"Actually, that's what I did as soon as I arrived here in the Philippines. I text them, 'Hey, I miss you guys' and I've spoken to, well, I've spoken to all of them, most of them through text."
HEART FOR ATHLETES. Despite her foray into television, Gaby, first and foremost, is still and will always be an athlete. She's also very much into endeavors advocating women's empowerment. Given enough time and support, the pretty car racer confided that she'd love to put up a foundation to help Filipino athletes.
"I really want to help out athletes," she enthused. "Athletes in general. Well, athletes who are competing, like who are representing our country, I mean it might be SEA Games."
Gaby expressed disappointment with the government's lack of support for local athletes. She cited the 2005 SEA Games where our country played host. The treatment received by our local players, as revealed by Gaby, was simply appalling.
"I mean nung SEA Games, other countries when they got here, they stayed in five-star hotels. Our athletes from the provinces, you know, slept at gyms 'tapos 'yong allowance lang nila parang P500," she lamented.
ADVERTISEMENT - CONTINUE READING BELOW
Although she's blessed in terms of support and encouragement, Gaby shares the plight of most of her fellow athletes who sincerely just wanted to compete but are unable to do so brought by economic constraints.
"I'm fortunate enough that there are people who support me," she acknowledged, "like the financial demand of racing is really big.
"So I understand 'yong struggle na parang you just want... you have the talent, you want to compete, but it's just like sometimes you feel that everything's against you. We have the talent, ang dami diyan grabe. It just needs the extra step."
PRAYERS FOR CORY. Prior to her PBB stint, Gaby was already an ardent supporter of the I Can Serve foundation—a non-profit organization founded to educate and help women afflicted with cancer, particularly breast cancer survivors.
Myra E struck out a partnership with I Can Serve for its "Beauty Inside" campaign by which certain sales percentage of Myra E or purchase of the "Beauty Inside" advocacy shirt goes to the foundation. [The "Beauty Inside" shirts are available at all Watsons Personal Care stores and Meg boutiques].
Only recently, former president Corazon "Cory" Aquino was diagnosed with colon cancer. Like all of us, Gaby was very saddened by the news that greeted her immediately upon her return here in Manila.
"Since I just got back and I was reading the newspaper a while ago and I heard that she had colon cancer and they wouldn't say which stage," she said.
After a long pause, Gaby told PEP (Philippine Entertainment Portal), "It's sad. It's really sad. At this time it's really the loved ones that have to be there, that have to support her and I think the rest of the Philippines is also backing her up and supporting her. I just wish her all the best."
ADVERTISEMENT - CONTINUE READING BELOW