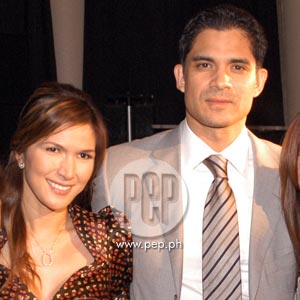 ---
Therewas a brand new BMW X5, which costs 5.6 million pesos. A man clad in a businesssuit gave the expensive car to his wife as a gift. Cameras flashed and thepublic witnessed the stirring moment. The lady uttered in tears, "I just wantto say, no one has ever loved me the way he loves me."
That scenechanged the life of David Joseph Buenvacz and Jessica Rodriguez drastically.
Sixmonths later, the former high-profile couple disappeared from the showbiz scene.They left their posh house in Ayala Alabang, and now have "no permanent address"in the U.S.They left Beverly Hills6750, the company they launched almost two years ago, and are now exploringother business ventures outside the country. They left show business abruptly,leaving behind a string of controversies.
PEP (Philippine Entertainment) had chronicled the entire Beverly Hills 6750 hubbub—the alleged confrontation between David and his Chinese partners in Greenhills, the couple's resignation from the company, the filing of charges, including the discovery of Beverly Hills Surgical Institute's (the clinic's supposed partner in the U.S.) nonexistence.
ADVERTISEMENT - CONTINUE READING BELOW
We managed to get hold of David via email, but the least thread in the online exchange was dated January 31, 2008—the day we asked his feedback on the statements of his former colleagues at Beverly Hills 6750.
On March 11, PEP's editor-in-chief got a call from an unfamiliar number. When she responded, a lady on the other line identified herself as "Jessica Rodriguez."
Three days later, we spent the entire morning chatting with Jessica, who admitted she was the one who asked David to stop replying to our queries. "Ako ang nagsabi sa kanyang ano, eh...Alam moparanoid ako, Karen [PEP managing editor], sorry talaga, ha. Paranoid ako kasi feeling ko lawyernila..."
And for the first time, she reveals her pains and gains after the Beverly Hills 6750hubbub erupted in December 2007.
THE SUDDEN EXIT. On December 13,2007, PEP (Philippine Entertainment Portal) broke the story about the suddenexit of David and Jessica from BeverlyHills 6750, a cosmetic surgery clinic where theyserved as president and marketing director, respectively.
ADVERTISEMENT - CONTINUE READING BELOW
CLICK HERE for the article.
Twoissues floated on the heels of their departure: (1) David's alleged misuse ofcompany funds (2) David was badly beaten up by his erstwhile partners.
In anexclusive interview, David's formercolleagues—Dr. Ed Santos, Ms. Suzette Hahn-Lopez, and Dr. Abe Marinduque—at theBeverly Hills 6750 affirmed that the former president of their company had beencharged with estafa, which amounts to 1.8 million pesos.
Withregard to the "beating incident," a counter-affidavit submitted to the NationalBureau of Investigation by a certain Juanito R. Ho—along with the otherinvestors of the clinic, namely Cedric Lee, Louie Kaw, Dominic Sytin, andTyrone Ong—denied the allegations of David. It stated, "While tempers flaredand the parties exchanged heated words at some parts of the meeting, we didnot, in any way, physically harm David Bunevacz. Neither were any of us armed,in any way."
The affidavitfurther stated, "Indeed, the meeting ended up peacefully with Bunevacz leavingthe house without any incident and driving off in his Porsche Cayenne. Bunevaczeven flew to Hong Kong that night."
ADVERTISEMENT - CONTINUE READING BELOW
ButJessica's affidavit, which was submitted to the Consulate General of theRepublic of the Philippinesin Los Angeles, California, narrated a different story.
Thealleged mauling happened on the "afternoon of 27 November 2007." At around 4:00p.m., Jessica received a call from a "distressed" David. Jessica mentioned inher affidavit that her "husband's voice was shaking," and that he had asked herto "leave the BHI [Beverly Hills Institute] office immediately."
Shemet her husband about an hour and a half after the phone call. In the samedocument, Jessica described her husband's state as "badly beaten." She said, "Hisface was battered and his left ear and lips were bruised and swollen. Therewere blood stains on his shirt. David also had a distinct depression on hisforehead, which I later learned was caused by a gun being pointed at him."
A fewdays later, the entire Bunevacz family flew to the U.S.
THE "THREATS." Jessica wrote during the online chat with PEP last March 15: "Right after the incident, we feltthe need to protect our family. After yung incident na nangyari, from thereon,talagang ano…hindi na kami naghiwa-hiwalay."
ADVERTISEMENT - CONTINUE READING BELOW
UntilDecember 5, 2007, the "threats" continued. Jessica's affidavit claimed that sheand her husband had been receiving "threatening text messages," which were sentby the supposed mobile numbers of Cedric Lee and Tyrone Ong.
Oneof the text messages, reportedly received by the couple from Cedric, demandedthat David turn over the BMW X5, including the pertinent documents.
Itwas sent at 9:21 p.m. last November 29, two days after the alleged beatingincident, and it read (published as is): "Dave the guys are demanding you togive the x5 [BMW X5] together with all the docs of the car. Including thePorsche docs. If you don't give it by tom. They will be forced to go to yourhouse and take everything including your furniture and if the cars and docsdoesn't arrive tom we will ransak your house by Friday. We will liquidate yourcars and return it to Beverly, dat's an order…You know who we are. We can beyour bestfriend but we can be your worst enemy."
ADVERTISEMENT - CONTINUE READING BELOW
Tyrone,according to Jessica's affidavit, sent a total of four messages, two of whichpurportedly issued a warning to the Bunevacz couple.
Themessage, supposedly sent by Tyrone on November 28, at 11:39 a.m., read(published as is): "Heard you've been calling people specially you jess[Jessica], YOU WANT ME TO MOVE IN NOW??! You f*ck*ng p*t*! The chance weregiving is not for both of you but for the kids, you leave us no choice."
Thelast one, Jessica said, was sent on December 5, 2007 (published as is): "HeyYou f*ck"rs, tell your f*ck*ng husband who yells like a girl to face hisproblem like a f"ck*ng man you f"ck*ng b*tch stop hiding from you coz he willonly see the tru you in time of distress. You ready to face or God? Come outand I will help you reach him. I just don't know if we have the same God."
ADVERTISEMENT - CONTINUE READING BELOW
The"beating incident" and "threats" made Jessica paranoid.
Shetold PEP, "Up to now, palipat-lipat kami. Kaya nga hindi nakakapasok itong mgabata. I only stay in this place kapag may home study sila. Mahirap. Takot akonun."
THE ESTAFA CASE. Despite the absence of the Bunevacz couple inthe showbiz scene, the clinic's internal disputes eventually surfaced.
The first issue was about David's "anomalous disbursements ofcompany checks." BH 6750 claimed that he issued company checks for personalexpenses, specifically, "the BMW X5, unofficial travels, and payments toMontessori and Junior baseball."
Jessica said she and David were "very surprised" about"these accusations on company checks," the latest of which was issued in"2006."
She also wrote in her March 15 email (published as is), "What'seven more suprising is that they first came up with accusations that theamounts reached P22M daw. Then it was reduced to P18M, I think. Then Davidreceived a demand letter from their lawyers that the claim is only P1.8M nalang. 'Tapos, according to the lawyers of David, what they actually filed for onlyamounts to even less than P1.5M."
ADVERTISEMENT - CONTINUE READING BELOW
The company's former marketing director was firm in sayingthat the checks released by David were approved by members of the board.
"All company checks that David issued were authorized andwith the knowledge of the board of directors. These were all supported by checkvouchers that were submitted to the treasurer and accountants of the company,and discussed by David in regular meetings with the board of directors," she asserted.
When asked about the company's internal set-up, Jessicadescribed it thus: "For day-to-day operations, it was David, or in his absence,Dr. Ed Santos, the medical director of the company. But for major decisions,David and Dr. Ed always consulted the board of directors, through meetings eitherat the office or outside. They met as often as needed, wala naman specificschedule. But easily, at least, once a month. Of course, the agenda woulddepend on what needed to be discussed at the moment, but there were usualtopics like monthly reports on the sales and expenses of the company."
ADVERTISEMENT - CONTINUE READING BELOW
When it comes to the finances of Beverly Hills 6750, Jessica wrote, "David isone of the signatories to some bank accounts of the company. I'm not sure whothe others are."
THE ISSUE OF HIGH LIVING.What about the reported "lavish lifestyle" of the couple—the posh cars, thefrequent travels abroad, the grand birthday parties, to name a few?
In one of PEP's special reports, Dr. Ed Santos, the clinic'smanaging director, noted, "I noticed that he's kinda lax with the way he spendsmoney."
Suzette Hahn-Lopez, the general manager of Beverly Hills6750, described David as "generous."
Arguing against these claims, Jessica said in her email,"Much has been written about thislifestyle of ours, 'lavish' daw or that we were 'over generous.' What isconsidered as 'lavish' ba? And why would being 'generous' be negativenaman?
"What I can say is that we have always lived within ourmeans. Even the website of the company had brandished David as having aconsulting company that manages the portfolio of local government projects worthmore than a billion pesos. At least that was before they changed the website,and when they used his qualifications as an additional marketing tool for thecompany.
ADVERTISEMENT - CONTINUE READING BELOW
"As for myself, I was able to set aside a small amount namanfrom before pa. The bottom line is that the money that we have, we earned overthe years, individually and as a family. And, we make it a point to enjoy thefruits of our hard work naman, as long as we are mindful that we only spendwhat we can afford.
"David and I were thinking nga that they made a big dealabout the X5, when, modesty aside, David had been driving a BMW 5 series longbefore that. Like other men, I suppose, 'yan talaga ang hilig niya. David isreally a generous person. That's how hewas, even before we were together. Infact, as the mother of the family, ako nga yung mas stingy. So everything justbalances out."
But this is what upsets Jessica and David: They are nowbeing charged with estafa when they never charged the clinic with theirprofessional fees at the time she served as marketing director, and David aspresident.
ADVERTISEMENT - CONTINUE READING BELOW
Jessica wrote: "It's really very upsetting for us, sinceDavid and I never received any compensation from the company from thebeginning. Kasi we wanted the company togrow. Kung nagpa-sweldo kami, lampas- lampas pa sa P1.8M yan. Not only that, Davidhad been advancing his own personal money in purchasing expensive medicalequipment for the company, much more than P1.5M or P1.8M.
"That's why, when they came up with these accusations, Davidkept insisting that the company be subjected to a full audit from any of thetop 5 accounting firms, not just from any accountant. Para magkaalaman na anglahat. But they have always refused that, which led na nga to what happened toDavid in Greenhills. Kaya David had to file the case against them, so the courtcan require the full audit that David is asking for."
NEXT REPORT: JessicaRodriguez asserts that Beverly Hills 6750'saffiliate in the U.S.exists