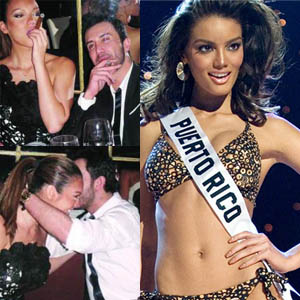 ---
Turkish businessman and Ruffa Gutierrez's ex-husband Yilmaz Bektas described his relationship with Puerto Rican beauty queen Zuleyka Rivera as strictly professional.
Just recently, pictures of Yilmaz partying with Zuleyka surfaced in a Turkish publication before finding its way into cyberspace. The image prompted the press to speculate that the two perhaps are dating with great chances of becoming a couple.
"The relationship between I and Zuleyka is only a business relation," stressed Yilmaz in a written statement published in a national daily last Thursday, April 3.
Yilmaz expressed disappointment at the rumor, stating that it put their professional relationship in peril. Socializing with the 2006 Ms. Universe, argued Yilmaz, has no malice and that he was just playing the part of a perfect host.
"The news published had negative impact on both my and Zuleyka Rivera's private and business life. I would like to make this announcement in order to avoid any future trouble. Zuluyka Rivera's visit in Turkey was only a business trip and I accompany her as a matter of courtesy," he added.
ADVERTISEMENT - CONTINUE READING BELOW
AWARE ALL ALONG. Meanwhile, Yilmaz's former wife, actress Ruffa Gutierrez shared to entertainment columnist Ricky Lo that she was aware of Yilmaz's rendezvous with other women as he's been very open in sharing the latest developments in his personal life.
"Tito Ricky, I left my home in Istanbul in mid-Feb 2007 with just three bags knowing I would never go back. Yilmaz knows why," shared Ruffa to Ricky. "I will not comment on Yilmaz's current love life, even if he called my landline at 6:00 a.m. the other day denying that he's now in a relationship."
Basing on Ruffa's tone, it was evident that she doesn't mind the thought of seeing her ex-husband with a new partner after their much-publicized separation last year.
If there's one thing however that saddens Ruffa, it's Yilmaz's indifference in fulfilling his obligation to their two daughters, Lorin and Venice.
"It's a touchy part and it makes me so emotional at times as I feel that he should be a responsible father na kahit man lang pag-aaral ng mga bata ay tulungan niya," lamented Ruffa.
ADVERTISEMENT - CONTINUE READING BELOW
Last Friday, April 4, Yilmaz arrived here in Manila without granting a single interview.