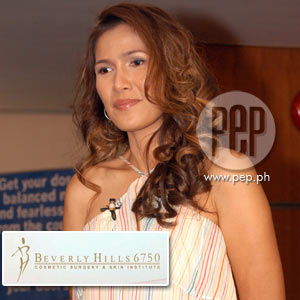 ---
The string of Beverly Hills 6750controversies unfolded before the public eye like a real-life drama. There was"deception," "betrayal," "threats," "denials," "tussle," and "pain."
November 27,2007: The alleged beating incident took place.
December 13: PEP(Philippine Entertainment Portal) put out the scoop "David Bunevacz andJessica Rodriguez booted out of BeverlyHills 6750."
December 14: DavidBunevacz issued a statement from California.
December 18: David filedlegal case against clinic partners.
December 21: Beverly Hills 6750 alsofiled charges against David for "misuse of company funds."
February 1, 2008: PEPput out the report that Beverly Hills 6750'saffiliate in the U.S.does not exist.
February 26: Clinicpartners, in an exclusive interview with PEP, discussed "David's obviousdeception attempt," and tackled how they are coping with the controversies.
The clinic partners"agonized" over the issues that beset their company.
David and Jessica feltbetrayed.
In an interview with PEPlast March 15, Jessica confessed, "When this thing happened, parang nalaman kokung sino yung mga totoong kaibigan ko. Parang alam mo yun, kung sino yung mgakaibigan ko, hindi ko na sila kaibigan after this. Kung before 100 sila, sigurongayon, sampu na lang sila."
ADVERTISEMENT - CONTINUE READING BELOW
And for these 10 loyalfriends, Jessica brimmed with gratitude.
"But yung sampu na 'to na dinamayan kami andeverything…who were really there for us and then talagang hindi kami iniwanankahit anong bad publicity, they called us," said Jessica in her onlineinterview with PEP. "Some of them even visited us here in the States andtalagang I'm so…Basta, I will really do like something great for all of thesefriends. Yun na, yung natitira na lang sa amin. And they know how generous, andano, David is. I'm generous rin, eh."
She alsoincluded this message to her friends in her email: "Thank you for letting merealize the true meaning of friendship even though we live in a very cynicalworld. Also, you know how David will reward you at the end."
MESSAGE FOR THE FOES. When asked togive her message to the shareholders of BH 6750, Jessica emailed a forthrightstatement (published as is):
"I am really disappointed on how you handled theproblem or should I say the situation that happened to BH 6750. 'You chose tobelieve what you want to believe.' You didn't even try to hear my husband'sside. If you have acted normal business people, settled it by having a boardmeeting, maybe with a lawyer, sat down with David, etc. Instead, what did youdo? You did it in a harsh way!
ADVERTISEMENT - CONTINUE READING BELOW
"Which really up to nowhave hurt and will always hurt me and my family. You may have contributedshares to the company but who worked hard for BH? Who made BH famous? Who wentthere everyday to supervise? And who makes abonofor funds if we are short in cash? To make sure that no cheques would bounceand no delayed payments for the employee and doctors? Not you? It was David!
"Did it ever occur to youor questioned yourself, is BH 6750 really making money after one year ofopening the business? Well, the answer is no! You guys must be dreaming on thinkingwow, we got so famous and popular, I'm sure we are earning money, and we willhave our money back by the end of the year, uh, duh! You must be all smarter than that... Well that is if you are.. And don'tforget that we have been paying 6750 for almost a year even before all of youexisted as partners, and we have all the receipts for that, so Bev [Beverly Hills] actuallyowes us money.
ADVERTISEMENT - CONTINUE READING BELOW
"Oh well now that you arethe ones handling and managing BH 6750. You will know and will also make abono when the funds are short becauseyou don't want any of the cheques bounce right? Or delay any of the employees' salary?
"Oh well good luck to youall and I wish you well. I am just so pissed that I was not compensated in thatclinic. Nasayang ang pagod ko, ideas ko. It was not worth it. I have so much plans for the clinic but you blew it. I will justgive all my ideas and my MARKETING EXPERTISE WITH A COMPANY THAT WILL PAY MEAND TREAT ME WELL..."
She and David had beendeeply hurt.
The clinic was herhusband's brainchild. The couple became the face of Beverly Hills 6750 when David served aspresident and Jessica assumed the role of marketing director. They devoted 100percent of their energy to make it a competitive force in the aesthetic clinicarena. And Jessica just couldn't believe that in return, they earned "threats"and "legal cases."
ADVERTISEMENT - CONTINUE READING BELOW
In a phone interview withher last March 31, she said they were not given any salary, just a representationallowance.
On one hand,Jessica felt sorry for the BH 6750 management and staff.
She said: "Weare sorry that you are in the middle of a storm that will ultimately destroyall of your hard work which neither you nor us can claim responsibility."
To those whochose to keep quiet even if they know the "truth," Jessica said: "Alam mo, maraming kaibigan ko ang nakakaalam kung anoang nangyari, but of course, takot lang sila. Takot sila na magsalita, which,you know, I understand. Pero dadalhin nila iyan. Dadalhin nila iyan habangbuhay. Yung konsensiya, dadalhin nila iyan habang buhay. Hindi sila nagsalita.Hindi nila kami ipinagtanggol kasi kumbaga 'di ba, parang how can you sleep atnight if you know…kung alam mo kung ano ang talagang nangyari and yet parangsinabi mo yung gan'on. Basta masama ang loob ko. Ang sama-sama ng loob ko sakanila."
ADVERTISEMENT - CONTINUE READING BELOW
And to their detractors, Jessicawill just let them believe whatever they choose to believe. "Bahala na langsila kung sino yung gusto nilang paniwalaan at hindi. Parang I don't want togive detail ng mga nangyari at i-explain yung side namin. Let them see andwait, you know, after the case is done 'di ba, kung ano talaga yung totoo. AndI know that God will prevail."
The uproar has gone a little quiet.
BH 6750 is now on "business-as-usual" mode.
David, Jessica, and herkids have started building a new life in the U.S., believing that "the truth willalways show its beautiful face in the end."
We heard all the sides ofthe story here in PEP, and the remaining question we have now—which is the trueversion?
Let's all waitfor the next part of this continuing saga.