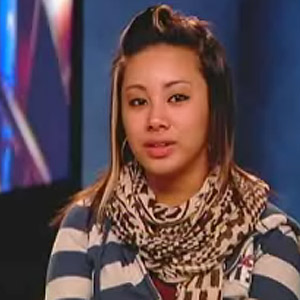 ---
Following her elimination from American Idol, a blog entry supposed to be that of ninth placer Ramiele Malubay quickly spread over the Internet. In the said blog entry, the Filipino-American Idol aspirant revealed her alleged sentiments and complaints about the show.
The entry was written onThursday, April 3, 2008—a day after Ramiel was eliminated on the ­AmericanIdol—and was posted on her alleged MySpace blog.
The blog entry read (published as is): "I am so sad on what happened but not because of thepeople's decision, but what the staff told us. Please do not send me messagesuntil I finish my statement.
"I amstill here in California, by the way please vote for David Cook to be the 7thAmerican Idol, I know he will, let's pray for him, inspirational songs for nextweek, and I chose heal our land but I can not sing that anymore."
After that, the entry revealed that a technical glitch on the votingsystem of American Idol was found out. "There are news from people here in USA who weremad, cause they were dialing my number but instead of thank you for votingramiele, it was thank you for voting other's name.
ADVERTISEMENT - CONTINUE READING BELOW
"Technical problem.This problem is the same as on the case of Chris Daughtry."
Chris was in thefinal four of the fifth season of American Idol. While Idol judge Simon Cowellsaid he thought Katherine McPhee would be eliminated, the turnout ofvotes revealed otherwise. When it was announced that Chris was eliminated, he wasobviously surprised with the result.
The vote-tallyingwebsite called DialIdol later on said that they have predicted that Daughtrywas the lowest vote-getter of the week. Another reason given was that maybeDaughtry's fans were overconfident that he would be safe, so they did not callto vote for him.
THE PERFORMANCES. Aside fromthis technical concern, the blog entry also talked about the way they choosethe songs that they are going to perform and how it also affects the voters.
The entry read,"You know every week we have theme, and they told that few weeks before thatweek. They gave us list of songs and we choose our song, butsometimes you can hear from some staffs, 'Oh it's not for you try to sing fastsongs' and theycalled me lullaby instead of Malubay.
ADVERTISEMENT - CONTINUE READING BELOW
"Thestaff also arranged the songs and most of the times judges didn't like it, andthey told us about the blocking like when I performed In My Life, Simon didn't like the stair drama.
"In thecase of Brooke, they told Brooke not to use guitar but she insisted it and shehad a wonderful job."
NOISE FOR THE RATINGS. Lastly, the blog entry also pointed out that American Idolhypes up some issues to get a good rating. One example was the case of David Hernandez, who, according to reports, isa former stripper.
"The pilot episode's rating was lower than in Season 6, and they make somenoise, and they won. What noise? Thestripper issue, the racy photos which are not, the my space video, the album ofCarly [Smithson], etc.
"Josiah Lemming [one of the semi-finalists in Season 7] was mad sa AmericanIdol because we know he deserves to be on top 6, cause they pick those whowould make noise."
ADVERTISEMENT - CONTINUE READING BELOW
Those mentioned in the blog entries as "noisemakers" were David Archuletaand Syesha Mercado. "David Archuleta won star search, Alexandria [Lushington]and David made a noise cause they were co-semi finalist in that said show,Syesha was the one in the US version of star academy."
In the end of theblog entry, "Ramiele" explained that she was expecting that her blogcould be suspended after she published this information.
"Few hours after theresult's night I made a blog that tells everything I know what happened on mymyspace where Mr. Damian grass of associated press used my blogfor those racy photos.
"If you can help me please put on your blog all the things that I said.Chris of American Idol 5 was disappointed cause of the technical problem, andlook what happened to Taylor hicks and Chris. That's why AI showed someclips about post idol life."
In the end, it was mentioned that Ramiele is set to come here in thePhilippines for Pinoy Idol. "Good thing is there are offers,I'll be there in Philippines for pinoy idol, and hopefully in ABS-CBN with apinoy who won sa isang reality show sa Europe, I think he will be in"Altagracia" with KC [Concepcion] and John Lloyd [Cruz]."
ADVERTISEMENT - CONTINUE READING BELOW
It is not yet determiend if Ramiele wrote these blog entries, but by the sound of her exit interview on American Idol website, it seems so hard to believe that the diminutive Fil-Am can say those things.
DIFFERENTTONE. In the exitinterview of Ramiele, which was posted on the American Idol website, the20-year-old Idol hopeful was in a totally different tone compared towhat she allegedly wrote on her MySpace blog.
The third Filipino-American who reached the Final 12 of AmericanIdol admitted that she was not surprised with the result of last week'selimination. In fact, she said, "Ikinda felt it all day yesterday."
She also said that she did not regret picking out "Do I Ever Cross YourMind" when they were required to choose from the songs of country musiclegend Dolly Parton.
"I was happy that I picked out that song, actually," said Ramiele,"because if I didn't pick that, I won't be able to grow more as a performer, tojust walk on stage and have more, you know, connection with the audience."
ADVERTISEMENT - CONTINUE READING BELOW
Ramiele also said that she did not regret joining AmericanIdol. She pointed out, "If I regretanything, I'd hate myself for that. Ilove every moment, every bad thing, every good thing, every sleepless night,every stress that I got. I just loveevery moment of it."
When asked what would she miss during her short Idol journey,Ramiele answered, "All the little things and all the persons that I've met. Just be around with everybody that I wasaround—getting to work with the band and everybody else."
After American Idol, the girl from Miramar, Florida, plans to goback to school. She said, "I probablygo back to school for nursing because I just really want to and maybe acting, Idon't know."
In the end she left a message for American Idol judges SimonCowell, Randy Jackson, and Paula Abdul. She said, "I would like to thank them a lot for making this possible forme."
ADVERTISEMENT - CONTINUE READING BELOW