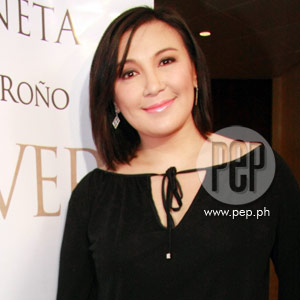 ---
The Sharonians are happy that their idol Sharon Cuneta is making a comeback movie this year, the 15th anniversary offering of Star Cinema, Caregiver.
A year after Crying Ladies (2003), where she earned a Best Actress award at the Brussels International Film Festival, the Megastar gave birth to her second daughter, Miel Pangilinan. That was when she gained weight.
"I feel like...you know, when you're not really feeling good about yourself,and you don't really work as well as you could be when you're really feelinglike an artista," began Sharon. "So because I was so overweight for a long time, and I hadgrown so tired of going on crash diet because the minute I stopped, which waswhen I got pregnant, twice na, the rebound weight would be horrible. I alsogained more than I lost, so, I took it slow this time."
The multi-awarded actress is just happy that every time she's on a movie project, losing weight does not become a problem. She said, "Nakakatuwa! Everytime I do a movie, I'm losing weight in the process. Makikita sa screen."
ADVERTISEMENT - CONTINUE READING BELOW
Almost three decades after she became a household name because of her hit single "Mr. DJ," Sharon is happy that she no longer has to prove anything.
Before, when she was just a newbie in the movie industry, she had to face some challenges.
"So ako I had to provemyself to the public that I'm not a spoiled brat kasi hindi ako Cinderellastory when I started. I will work po. I will earn your respect. Lahat, even myco-workers parang siguro they thought I should expect special treatment," the host-actress-singer recalled.
The Mega is currently filming Caregiver in London, and she revealed her excitement and how much she missed being in front of the camera.
"My calendar is suddenly packed again, parang sometimes, you wanna complainand say, 'Sana ma-distribute yung workload over the four years akong hindinag-work noon pero I'm not complaining. I'm really grateful.
"I'm grateful to be in this position na I can just choose the projects that Imake. I don't have to really... I'm not 25 and having to plan for the next tenyears. If I don't wanna work this year, okay lang. I do like getting in touch withmy fans," she said contentedly.
ADVERTISEMENT - CONTINUE READING BELOW
And if there's one thing she's looking forward to, it is to fully devote time to the things that matter to her.
"There will come a time when I'll have to really do naman what my heartdictates, which is, to just stay home, read, watch DVD, kiss every day. Kiss andkiss and kiss, not movie kissing," the Megastar said of her down-to-earth wishes.