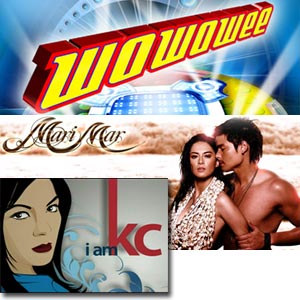 ---
TV specials made their impact in the nationwide rating contest for the month of March as the summer season kicked in. This is according to the latest Nationwide Urban Television Audience Measurement (NUTAM) results forwarded today, April 9, by AGB Nielsen Media Research to PEP (Philippine Entertainment Portal).
Manny Pacquiao's anticipated rematch with Mexican foe Juan Manuel Marquez held last March 16 stood out with an impressive 48.6 percent rating to lead the Top Weekend Programs category. In a previous report, the media research firm had already stated that they were already anticipating a good turnout, which is always the case whenever Manny steps into the ring.
Marimar's two separate specials—Marimar Memories and Marimar: Isang Pasasalamat—also fared very well as proven by its 25.9 and 16.1 percent ratings, respectively. The tandem of Marian Rivera and Dingdong Dantes capped off their phenomenal run by garnering a 38.1 percent rating to lead the race in the Top Weekday Programs for primetime. Marimar aired its last episode on March 14 with the opulent wedding of Marimar and Sergio.

Speaking of weekdays primetime, ABS-CBN's Kung Fu Kids, Lobo, and Pinoy Big Brother Teen Edition Plus occupied the second, third and fourth spot to prove their tight grip in the nationwide contest.
The Kapamilya network's long-running news program TV Patrol World was also a tough nut to crack. Marking its 20th year, TV Patrol's special presentation dubbed as 20 Taon TV Patrol World barged into the No.6 spot with a rating of 31.3 percent while its regular programming secured the eighth spot.
ADVERTISEMENT - CONTINUE READING BELOW
Willie Revillame's Wowowee continues to dominate the weekday programs for the daytime category. For the month of March, Wowowee accumulated a strong 22.1 percent rating followed by Edu Manzano's game show Pilipinas, Game KNB? with a grade of 19.8 percent tucked under its belt.
Eat Bulaga's annual Holy Week special claimed third spot with 18.5 percent. Kristine Hermosa's Prinsesa ng Banyera may not be doing well in Mega Manila but the nationwide results project a different story. Garnering a strong 17.7 percent rating, Prinsesa ng Banyera edged out Mega Manila darlings such as Daisy Siete, Kaputol ng Isang Awit, and Maging Akin Ka Lamang.
For primetime weekend, KC Concepcion's I Am KC lorded over its more experienced foes by topping the category via its 28.8 percent rating. Mega Manila's consistent topnotcher Bitoy's Funniest Videos was locked in a two-way jam with Pinoy Big Brother's Teen Edition Plus: The Big Plus Revealed. Both shows bore identical ratings of 27.6 percent to settle for a bridesmaid finish.
Based on the data, it shows that ABS-CBN programs dominated the NUTAM primetime race while GMA-7 shows ruled the daytime race. Six Kapamilya shows made it in the Top primetime weekday programs while four came from the Kapuso network. In the Top 10 primetime weekend programs, seven are from ABS-CBN and only three from GMA-7.
Meanwhile, among the Top 10 daytime weekday programs, seven are from the Kapuso network and only three made the cut from the Kapamilya network. Six GMA-7 shows and four ABS-CBN programs barged in on the Top 10 daytime weekend programs.
ADVERTISEMENT - CONTINUE READING BELOW
Here are the Top 10 weekday and weekend programs for the month of March based on a survey conducted by AGB Nielsen Media Research among NUTAM households:
Top Weekday Programs (Daytime)
Wowowee (ABS-CBN) - 22.1%
Pilipinas, Game KNB? (ABS-CBN) - 19.8%
Eat Bulaga! Holy Wednesday Presentation** (GMA-7) - 18.5%
Prinsesa ng Banyera (ABS-CBN) - 17.7%
Eat Bulaga! (GMA-7) - 17.2%
Daisy Siete (GMA-7) - 15.8%
Kaputol ng Isang Awit (GMA-7) - 14.4%
Maging Akin Ka Lamang (GMA-7) - 14.2%
Pokemon (GMA-7) - 13.6%
Takeshi's Castle (GMA-7) - 13.2%
Top Weekday Programs (Primetime)
Marimar (GMA-7) - 38.1%
Kung Fu Kids (ABS-CBN) - 33.3%
Lobo (ABS-CBN) - 32.4%
Pinoy Big Brother Teen Edition Plus (ABS-CBN) - 31.5%
Kamandag (GMA-7) - 31.4%
20 Taon TV Patrol World** (ABS-CBN) - 31.3%
Joaquin Bordado (GMA-7) - 31.1%
TV Patrol World (ABS-CBN) - 29.4%
Palos (ABS-CBN) - 26.4%
24 Oras (GMA-7) - 23.7%
Top Weekend Programs (Daytime)
Marquez-Pacquiao II: Unfinished Business** (GMA-7) - 48.6%
Marimar Memories** (GMA-7) - 25.9%
Wowowee (ABS-CBN) - 21.6%
Cinema FPJ: Da King on ABS-CBN (ABS-CBN) - 18.8%
Eat Bulaga! (GMA-7) - 18.4%
Ang Cute Ng Ina Mo!** (ABS-CBN) - 17.3%
Marimar: Isang Pasasalamat** (GMA-7) - 16.1%
Kapuso Sine Specials (GMA-7) - 15.9%
ASAP '08 (ABS-CBN) - 15.5%
SOP (GMA-7) - 14.4%
Top Weekend Programs (Primetime)
I Am KC (ABS-CBN) - 28.8%
Pinoy Big Brother Teen Edition Plus: The Big Plus Revealed (ABS-CBN) / Bitoy's Funniest Videos (GMA-7) - 27.6%
Kapuso Mo, Jessica Soho (GMA-7) - 27.5%
Pinoy Big Brother Teen Edition Plus (ABS-CBN) - 27.3%
Goin' Bulilit (ABS-CBN) - 26.2%
1 Vs. 100 (ABS-CBN) - 25.9%
TV Patrol World Sabado (ABS-CBN) - 24.1%
Rated K (ABS-CBN) - 24%
Kap's Amazing Stories (GMA-7) - 23.8%
Legend: **Special
Source: AGB Nielsen Media Research