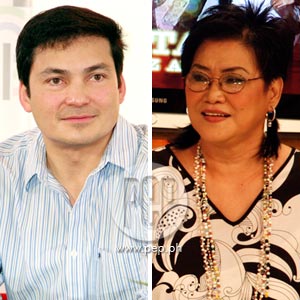 ---
At his first presscon after his homecoming, former '80smatinee idol Gabby Concepcion mentioned former manager Lolit Solis as one ofthe three persons he misses most in the Philippines—next to his father andmother.
"Dahil maypinagsamahan naman kami. Kaya lang, you know... I put that behind me now," saidthe comebacking actor about Lolit, who was Gabby's manager in his 13 years in the business. Lolitwas already Gabby's manager when he started his showbiz career at the age of15.
After theirfalling-out in 1994 because of the infamous Manila Film Festival scam, Gabbyand Lolit saw each other again for the first time in November 2006. The two accidentallymet at Manny Pacquiao's victory party in Las Vegas after he beat Mexican ErikMorales.
Lolit approached Gabbyand as if nothing happened, the two kissed and made up.
In a separateinterview, Gabby narrated: "Nagulat nga ako na lumapit siya saakin. Nag-usap kami. Na-settle namin yun on the spot, which is good. Hindi konaman akalain na magkikita kami ni Lolit doon dahil pinanood ko lang siPacman... Sabi niya, 'O, sige, bati na tayo. Pahingi ng one hundred dollars.'E, di ayos na. Mabuti na lang meron akong one hundred dollars, kung hindi bakahindi pa kami nagbati."
ADVERTISEMENT - CONTINUE READING BELOW
But after that meeting, Gabby and Lolit never metagain—until yesterday afternoon, April 9.
More than one week after his return, Gabby met with Lolit atAnnabel's restaurant on Tomas Morato yesterday. Gabby was with his new manager, Mrs. RoseFlaminiano.
In a report published today in Abante Tonite, columnist AbuTilmazik described the meeting of Gabby and Lolit as "napaka-casual na parangwala lang."
According to the report, Lolit and his formerstar-client talked for almost two hours. The StarTalk co-host updated Gabbyabout his former sponsors who also became his friends, and they also talkedabout the issues that Gabby is facing now.
Abu Tilamzik also wrote that Gabby did not want to pose forphotographs as much as possible because he just wants to see and talk to Lolit. No TV cameras were also allowed.
"Parang nabunutan ng tinik" was how Gabby described hismeeting with Lolit.
Lolit, on the other hand, assured Gabby and Mommy Rose, "Bastaako, wala na."
ADVERTISEMENT - CONTINUE READING BELOW
She added, "Matagal akong magtanim ng sama ng loob, perokapag nawala na yun, ibig sabihin, wala na."
Gabby admitted that he felt down when he returned to thePhilippines. He said that he was just thinking about returning because of hisfather, not expecting the warm reception given to him by the people. Thissomehow inspired him to go back to show business.
For sure, this will not be the first and last time thatGabby and Lolit will see each other, specially now that the actor has decided toresume his acting career after 13 years of absence.
"Marami pa akong sasabihin sa iyo," Gabby promised Lolit.