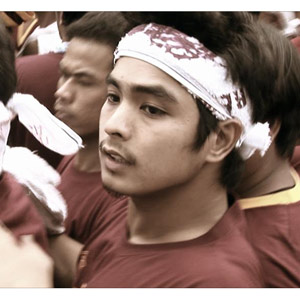 ---
Brillante "Dante" Mendoza's Tirador (international title: Slingshot)won three major prizes in the 21st Singapore International Film Festival (SIFF). The awarding ceremony was held last Sunday, April 13, at the National Museum Theatre Gallery.
Direk Dante informed PEP (Philippine Entertainment Portal) about the prizes that he won during the awards night. Unfortunately, he was unable to attend the event in Singapore.
The social realist film that he shot in the slum areas of Quiapo was named Best Film at the Asian Feature Film category. Mendoza was also named Best Director.
Rounding out the director's three wins during the night was the NETPAC (Network for the Promotion of Asian Cinema) Award. The prize is given by an international, non-profit foundation established in 1990 by UNESCO and Cinemaya, a journal devoted to Asian cinema. The award gives recognition to exceptional Asian films and discovers the next generation of new talents.
The ensemble cast of Tirador is led by award-winning indie regular Coco Martin. Other cast members include Kristoffer King, Jiro Manio, and Nathan Lopez, with the special participation of Julio Diaz, Simon Ibarra, and Jaclyn Jose. Writing credits belong to Ralston Joel Jover with Armando Lao as creative consultant.
ADVERTISEMENT - CONTINUE READING BELOW
According to the website http://www.today.com/, the jury members chose Tirador for having a good mixture of truth of entertainment. "We reached an immediate, unanimous decision choosing Slingshot [English title of Tirador]. Its gritty portrayal of Manila's squatter community was as much an eye-opener as it was entertaining, with generous doses of irony and unflinching honesty," said MediaCorp Radio 938Live presenter and film critic Melanie Oliveiro, who was on this year's main jury.
Other jury members of the SIFF included Chinese director Wu Tianming, Indonesian actor Nicholas Saputra, Vietnamese-American actor Dustin Nguyen and film editor Low Hwee Ling.
Tirador opens with a police raid of a building in the Manila slums where a young boy witnesses his father's death. As the story develops, it gives a glimpse into the intertwined lives of Quiapo residents, including small-time crooks, pedicab drivers, prostitutes, and even school kids during the chaotic events of Holy Week and the local elections.
ADVERTISEMENT - CONTINUE READING BELOW
Dante Mendoza has become a recognizable name in the Philippine independent film industry as well as abroad with his previous works, such as Foster Child (2007), Manoro (2006), Kaleldo (2006), and his directorial debut, the critically-acclaimed 2005 film Masahista which marked Mendoza's first pairing with then-newcomer Coco Martin.
The Singapore International Film Festival marks its 21st year as an annual film event. It screens around 300 films from over 45 countries. The SIFF also features workshops, seminars, and exhibitions on filmmaking for film students and the film industry.


Aside from Tirador (Slingshot), other Filipino films that were part of the SIFF include Lav Diaz's Death in the Land of Encantos, Auraeus Solito's Pisay (Philippine Science), Ron Morales's Santa Mesa, and John Torres's Years When I Was a Child Outside.