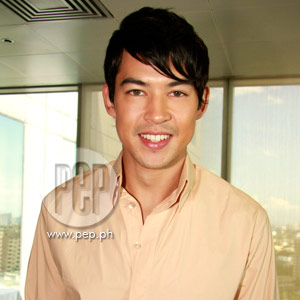 ---
After his stint in Pinoy Big Brother Celebrity Edition 2late last year, Jon Avila will be regularly seen again on television viahis newest show titled Komiks Presents: Kapitan Boom, which willstart airing on April 26.
During the press conference of Kapitan Boom lastWednesday, April 16, at the 9501 Restaurant in ABS-CBN Compound, Quezon City,the media had the chance to talk to the former hunk housemate. He said he couldn't believe that the he bagged the role.
"Hindi ako naniniwala. At first I didn't believe it,"related Jon. "Kasi I asked Mr. M [Johnny Manahan, Star Magic] na, 'Is there anythingor shows for me?' when I came out of the PBB house. Sabi niya sa akin, 'Superman.' Sabi ko, 'Hindi pwedengmag-Superman dito, di ba? So, I just didn't think about it. 'Tapos biglang may Kapitan Boomna Komiks...pero I didn't realize how big the rolewas. I didn't know it was, ano,sariling show ko talaga."
ADVERTISEMENT - CONTINUE READING BELOW
Jon admitted that he did not really expect this opportunity. "It's really ablessing. It's all about praying. I mean, I've been praying for a new showalso. Maybe this is the right time."
For his first regular show, did Jon feel any pressure upon learning that he would play the lead role in the TV adaptation of Mars Ravelo's Kapitan Boom?
The commercial model turned actor said, "Not really." Headded, "The only thing that I'm scared of is not being able to beconsistent. Sana I'll be able tomaintain what I have and be able to prove na that I can actually act.
"But other than that, I'm having fun so I don't feel muchpressure. I look forward to everydaytaping. I look forward to everyday training."
As an aspiring actor, Jon said he really preparedhimself for the role. In fact, he was even asked to learn Wushu and cinematicmartial arts for the fight scenes of Kapitan Boom.
ADVERTISEMENT - CONTINUE READING BELOW
Jon further said, "In my role, I have to speak Tagalog and Bisaya also. I've been doing it okay. Medyo I have to concentrate a lot more on my scripts. I have to study a lot more on my scriptsthan usual."
LEADING LADY. With this break, the press asked, "To whom does Jon wish to share his happiness for having these opportunities?"
He replied, "I really wish that my mom is here. I really miss her a lot. Nasa ibang bansa siya kasi so I really wishshe is here to share this with me."
Other than his mother, who is currently based in London, Jonsaid that he does not have a "special someone" right now. He explained that he is now focused on his jobas an actor.
He even said, "I'm not really looking for a relationshipright now. I mean, I'm in love with mywork."
What about his leading lady, Marianna del Rio?
ADVERTISEMENT - CONTINUE READING BELOW
"Marianna is nice, medyo tahimik," described Jon. However, he said, "She's young though."
When asked if there's a possibility that he would fall inlove with the Brazilian model, Jon directly answered, "No, imposible. She's not my type, seriously."
After this, his handler got worried that he might bemisquoted again by what he just said. But the hunk actor explained, "I don't want people saying na, 'Yeah,maybe they're together, maybe not.' I just wanna be straight now."
If Jon is going to look for his special someone now, hesaid, "Siguro [I'll] take it slower and look for someone who would understandmy line of work, someone God-fearing, someone understanding, someone whodoesn't mind me wearing this outfit [Kapitan Boom] going to the mall, youknow."
MARIEL-ZANJOE ISSUE. Jon was also straightforward when the media asked him about MarielRodriguez, who became close to him during the PBB Celebrity Edition 2.
Mariel is now seen more frequently with another hunk actorand former celebrity housemate Zanjoe Marudo. In fact, they were spotted by PEP sharing sweet moments inBoracay during the Holy Week.
ADVERTISEMENT - CONTINUE READING BELOW
What did Jon feel about this?
Jon honestly answered, "Relief. Because, ano, it was finishedna instead of... carrying on and carrying on. I was relieved kasi at least she made a choice na, di ba? So, there was an emotion of relief."
Was he hurt when he found out that Mariel and Zanjoe aretogether?
The hunk actor's short reply was, "I wasn't that hurt. I was just disappointed lang."
The media asked further, "Does this mean that you [Jon] andMariel did not really have a relationship?"
Jon clarified, "If we're gonna be together,it's gonna be more of a formal thing, e. Instead of right just falling into it, I would rather say na, 'Okay, youand me, together na...' Even the viewerscan see it, that we're getting close, every one...But we weren't together."