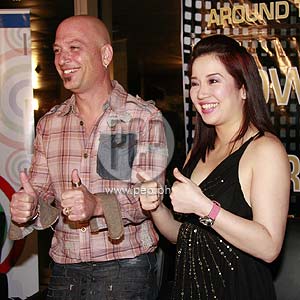 ---
Dubbed as Queen of Talk and Game Shows, Kris Aquino finally met herU.S. counterpart Howie Mandel of America's Deal or No Deal.
Hours after they arrived yesterday, April 22, Howie, ScottSt. John, and the rest of Deal or No Deal group attended themedia junket prepared by ABS-CBN for their two-hour special episode of Deal or NoDeal—Around the World, part of which will be shot in ABS-CBN studiotomorrow, April 24.
For logistics reasons, according to Endemol (producer of Dealor No Deal), the Philippines was chosen as one of the three countries thatwould cover "around-the-world tour" inAsia, Europe, and Africa. The group hasalso taped an episode in Estonia in Europe.
KRIS'S EXCITEMENT. One of the persons who is very happy upon hearing the news was Kris, whohosted two seasons of the Philippine version of Deal or No Deal. The program ended late last year.
Kris related to the media that at first she did not letherself get excited until it was finalized.
ADVERTISEMENT - CONTINUE READING BELOW
"Actually, we were still doing the original Dealor No Deal when it was brought up. Then, I said, 'Until it's really sure, don't update me because I don'twant to be disappointed.'
"And then, it was only about seven weeks ago, to be precise,that Alou said, 'Yes, it's gonna happen. It's real.' So I said,'Really?!' And then, I said, 'So,what's gonna happen? Am I sitting in the audience?' Then, they said, 'No, you get to share the stage.' And then, I said, 'Really?!'
"I think dahil po sa isang Filipina, natutuwa tayong lahat kapag nakikita natin si Charice Pempengco [sa abroad]. We saw her in Ellen and soon she'll be in Oprah. Wefeel so proud that somebody from the Philippines is there in Americantelevision. All the more for me becauseI've always said that the happiest years of my life were spent living inAmerica when our family was complete," said Kris.

ADVERTISEMENT - CONTINUE READING BELOW
Adding to Kris's excitement was personally meeting Howie, who hosts Deal or No Deal in the U.S. In fact, when the media asked about herfeeling being seated next to the male host, Kris answered, "Well, when ABS-CBNfirst bought Deal or No Deal, what they showed me was the DVD of five ofhis [Howie] episodes. And when I firstsaw it, I was just so hooked, I really felt, 'Wow! This is so exciting!'
"Now that I'm sitting here next to Howie and knowing thathis show still currently rates as number one on primetime—because in the Statesthey have syndicated shows and they have once, twice a week—three yearsnow. Papasok na sila sa fourth yearnila sa America and it's still number one. So, it's so good to be with somebody who is that loved in America."
DIFFERENT STYLE. After watching the episodes of Deal or No Deal's U.S. version,Kris said that she already decided to have her own style of hosting the show.
ADVERTISEMENT - CONTINUE READING BELOW
Kris also said that one thing she noticed about Howie's style of hosting is his "eye contact." She added, "Hereally, really relates to the player. And that's because he has the power, that's the difference.
"We only have 30 minutes and with me it's always, 'Oh God,it's gonna be edited out anyway.' And Ithink, that was what I wish we have, and that's what he has the luxury of. You could really feel that he got to knowthe player, he was sympathetic to the player.
"I knew also, by watchinghim, that I had to really develop my own personality because I didn't want...It's so easy to see it on YouTube, di ba? Ayoko na sabihin nila, 'Ay, ginagayalang niyan si Howie.' I didn't want people saying that, 'She's just trying tocopy him.'"
ENDEMOL ON KRIS. Like Kris, Howie was also able to watch several episodes of thelocal version of Deal or No Deal. He had nothing but praises to the Philippine's Queen of Talk and GameShows.
ADVERTISEMENT - CONTINUE READING BELOW
"Like I said,I'm a huge fan," Howie said. "I did watch DVD and sheis beautiful and funny and charming."
He also mentioned in the early part of the press conference, "She'swonderful. I think she's funny and shehas a great heart and she's energetic and beautiful."
Endemol's executive producer Scott St. John agreed. "I think she's really charming. I don't understand every single word she says, but I get the emotion andI think she's wonderful."
WHY THE PHILIPPINES? Aside from logistic reasons, Howie explained why the Philippineswas chosen as one of the three countries to be included in their "around-the-worldtour."
"The show [local Deal or NoDeal] is so well-produced and the culture is so beautiful and it's verydifferent than ours. That's what we'redoing, you know, we wanna see things that are exciting and very different thanwhat we see in the United States, so I think the Americans are gonna loveseeing that," he said.

ADVERTISEMENT - CONTINUE READING BELOW
Aside from the dancing 26k Girls of the local Deal or NoDeal, Scott also noticed its version of "the banker." Scott said, "We lovethe way the banker gets to move around. I think that's really fun element. It's something that Howie and I changed in our episode in Canada. That maybe that's something we'll try toincorporate just to give the person more activity.
"It's obvious that, you know, the folks herehave put on a great show. We see DVDcopies of the show and we really liked it."
THE PREPARATION. Part of the thrill to tape an episode that will air in the U.S. isABS-CBN's preparation before showcasing the local version of Deal or No Deal. Kris's Dealor No Deal stopped airing last December, so most of the props for the setwere already kept in a storage.
Kris revealed to Howie and Scott, "We're not tapingright now, so they rebuilt the set for you. That set was already in storage and a lot of other shows got kicked outof the studio to accommodate your coming here. The past two weeks they were building the set and rightafter you leave, we'll say goodbye to that set again. It's really only foryou."
ADVERTISEMENT - CONTINUE READING BELOW
The same goes with the famous 26K Girls. Kris said they were informed immediatelyafter the taping of the special episode was confirmed.
She narrated to the U.S. representatives, "We called thegirls six weeks ago to make sure that they hadn't gained weight. We asked them to come over for a go-see andto make sure that they'd fit it to their costume. And then, for the past month, they've been back to therehearsals."
As an assurance, Kris told Howie and Scott, "The girls cameback and they've been rehearsing and all off them look good. None of them gotpregnant."
Everything that was used in the local version will be seenin this U.S. game show. Also, the samepeople who worked for the local version will participate in this episode exceptfor the two contestants who will be coming from the U.S.
The two-hour episode of Deal or No Deal—Around the Worldis scheduled to air on May 7 in the U.S. Unfortunately, this episode will not be shown locally.
ADVERTISEMENT - CONTINUE READING BELOW
ABS-CBN Business Unit Head Alou Almaden confirmed, "As forthe airing here in the Philippines, no. It's not gonna be aired here in the Philippines. But let's see, let's pray."
Since Kris will once again tape an episode for Deal or NoDeal—Around the World, will this mean that a third season of its localversion will start soon?
Alou Almaden replied briefly, "We're currently arranging for thethird season."
Kris remains very positive. "The fact that they are using ABS-CBN crew, ABS-CBNengineering, and they're also using our directors [Bobet Vidanes andWinnie Cueva] and most of our staff, it's really such a wonderful paton the back to know that our standards are American standards."