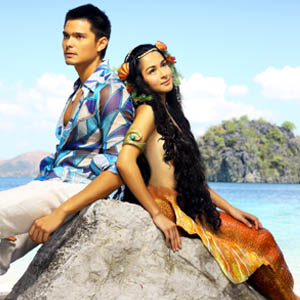 ---
Registering an impressive 35.7 percent rating, Marian Rivera's Dyesebel's conquered the entire archipelago to lead the Top Weekday Programs in the primetime category for the month of April.
According to the Nationwide Urban TV Audience Measurement (NUTAM) data forwarded by AGB Nielsen Media Research Philippines to PEP (Philippine Entertainment Portal) late yesterday, May 14, the legendary Filipino mermaid bagged the top spot in the highly-contested nationwide race, considering that Dyesebel piloted only on April 28.
Closely pursuing Dyesebel's tail was ABS-CBN's new karaoke show The Singing Bee, which averaged 33.7 percent. Unlike in Mega Manila, ABS-CBN dominated the bracket with Kung Fu Kids (32.8 percent), Piolo Pascual and Angel Locsin's Lobo (31.2 percent), Pinoy Big Brother Teen Edition Plus (30.2 percent), and TV Patrol World (29.9 percent) all flexing their muscles to secure the second to sixth positions.
Settling for seventh spot was Robin Padilla's Joaquin Bordado via its 28.8 percent mark. Richard Gutierrez's Kamandag, on the other hand, stood closely with a 28 percent rating.
In the daytime contest, Wowowee still held the lead over Pilipinas, Game KNB? and perennial rival Eat Bulaga. For the month of April, Willie Revillame's controversial noontime show generated a comfortable 22.3 percent rating as compared to Edu Manzano's game show, which had 19.6 tally. Mega Manila darling Eat Bulaga! still can't seem to fix the nationwide puzzle as it remained planted in the third spot with 17.2 percent rating.
Interestingly, cartoons proved that they are still a force to reckon with. Collecting an identical 14.6 percent rating, Powerpuff Girls Z and the lovable Japanese character Doraemon barged inside the Top 10 to complete the roster.
The Kapamilya network bludgeoned the daytime weekend race as it dominated the competition. GMA-7's only saving grace was Eat Bulaga! which came in at No. 4 with a 17.7 percent rating to beat ABS-CBN's Your Song by a narrow margin.
Conspicuously absent from the Top 10 weekend programs are Mega Manila topraters SOP, Showbiz Central, Kap's Amazing Stories, Mel & Joey, Imbestigador, among others.
ADVERTISEMENT - CONTINUE READING BELOW
GMA-7 fared at least fairly well in the Top Weekend Programs for primetime. Michael V's Bitoy's Funniest Videos managed to nail the 5th spot overall to shatter ABS-CBN's strong showing. Occupying the top spot in the said category was Komiks Presents Kapitan Boom with 31.1 percent rating. Kapitan Boom's triumph pretty much set the tone as other Kapamilya programs—Pinoy Big Brother Teen Edition Plus, I Am KC, and Goin' Bulilit—followed suit and raked in impressive numbers to grab the top positions.
Here are the Top 10 weekday and weekend programs for the month of April based on a survey conducted by AGB Nielsen Media Research Philippines among NUTAM households:
Top Weekday Programs (Primetime)
Dyesebel (GMA-7) - 35.7%
The Singing Bee (ABS-CBN) - 33.7%
Kung Fu Kids (ABS-CBN) - 32.8%
Lobo (ABS-CBN) - 31.2%
Pinoy Big Brother Teen Edition Plus (ABS-CBN) - 30.2%
TV Patrol World (ABS-CBN) - 29.9%
Joaquin Bordado (GMA-7) - 28.8%
Kamandag (GMA-7) - 28%
Palos (ABS-CBN) - 24.2%
Babangon Ako't Dudurugin Kita (GMA-7) - 22.5%
Top Weekday Programs (Daytime)
Wowowee (ABS-CBN) - 22.3%
Pilipinas, Game KNB? (ABS-CBN) - 19.6%
Eat Bulaga! (GMA-7) - 17.2%
Prinsesa ng Banyera (ABS-CBN) - 17.1%
Daisy Siete (GMA-7) - 17%
Maging Akin Ka Lamang (GMA-7) - 16.1%
One Piece (GMA-7) - 15.3%
Kaputol ng Isang Awit (GMA-7) - 14.9%
Powerpuff Girls Z (GMA-7) - 14.6%
Doraemon (GMA-7) - 14.6%
Top Weekend Programs (Primetime)
Komiks Presents Kapitan Boom (ABS-CBN) - 31.1%
Pinoy Big Brother Teen Edition Plus (ABS-CBN) - 28.2%
I Am KC (ABS-CBN) - 28.1%
Goin' Bulilit (ABS-CBN) - 27%
Bitoy's Funniest Videos Yari Ka! (GMA-7) - 26.1%
Kapuso Mo, Jessica Soho (GMA-7) - 24.5%
Rated K (ABS-CBN) - 22.3%
Pinoy Idol (GMA-7) - 21.4%
Tok! Tok! Tok! Isang Milyon Pasok (GMA-7) - 20.5%
Kap's Amazing Stories (GMA-7) - 20.5%
Top Weekend Programs (Daytime)
Invasion: Philippines vs. The World (ABS-CBN) - 29.5%
Wowowee (ABS-CBN) - 23%
ASAP '08 (ABS-CBN) - 18.8%
Eat Bulaga! (GMA-7) - 17.7%
Your Song (ABS-CBN) - 17.6%
Cinema FPJ: Da King On ABS-CBN (ABS-CBN) - 16.1%
The Buzz (ABS-CBN) - 15.6%
Pilipinas, Game KNB? (ABS-CBN) - 15.5%
Love Spell (ABS-CBN) - 14.1%
Entertainment Live! (ABS-CBN) - 13.8%


Source: AGB Nielsen Media Research, Philippines