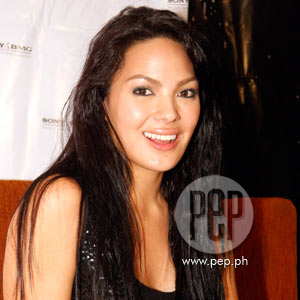 ---
KC Concepcion is simply all over the place. From billboards, magazines, television shows, commercials, charity events, an upcoming debut movie with heartthrob Richard Gutierrez, and now, even the airwaves.
What for some might be another case of a celebrity striking while the iron is hot, KC's foray into recording has that warm feel of honesty written all over it. Compared to acting, singing, or more aptly, music, has always been part of KC's life.
Even her personal life at one point got intertwined with the said medium. Once linked to ex-Rivermaya vocalist and songwriter Rico Blanco, legend has it that the haunting ballad "Balisong" was written specifically by Blanco for the young celebrity. The lines, "Your face / lights up the sky in the highway..." refer to KC's huge billboard, which Rico reportedly looked up to repeatedly while driving at night.
FINDING TIME FOR MUSIC. For someone as busy as KC, any spare time is definitely a luxury. But the young actress-model still allots whatever extra time she has inside the recording studio, in the company of musicians and other creative individuals.
Of her punishing schedule and time management, KC confessed, "My road manager takes care of that."
To celebrate the release of her first album a.k.a. Cassandra, under Sony BMG Music Entertainment, a special press conference was held yesterday, June 3, at the Ruby Ballroom of the Crowne Plaza Galleria in Manila.
Singing and recording, said KC, doesn't feel like work at all. "It's a different medium and it's more casual," she quipped. "I think I'm more myself with music."
ADVERTISEMENT - CONTINUE READING BELOW
She described the entire recording process as an "exciting personal experience." As for her growing stature as a tri-media star, KC would rather not focus on the perks or the image such reputation entails. "It's nice," she acknowledged modestly, "it's nice to have the opportunity to touch all the different mediums."
KC's objective when it comes to singing is the same as acting—to represent a wide range of human emotions experienced by everyone.
"My goal is to represent a human being, somebody that feels. And there's all these mediums to be able to help you do that; there's music, there's poem, there's writing."
MOMMY SHAWIE'S TAKE. KC has always been uncomfortable with the thought of being compared to her mom, Megastar Sharon Cuneta. "She's the best," beamed KC.
While KC was recording, Sharon was busy shooting her comeback film Caregiver. Given their busy schedules, KC wasn't able to update her mom on the status of the album.
Sharon, assumed KC, has yet to hear the finished album. But the Megastar had the privilege to hear the songs as they were being recorded.
"Yes," enthused KC proudly. "Every time kami nagri-record sa studio binibigyan ko po siya ng kopya ng wala pang master tape. Talagang 'yong pinaka-raw na track naririnig po ng mom ko, so naririnig niya fresh out of the oven na bagong lutong track."
As for her new love-team partner Richard Gutierrez's favorite track in the album, KC generously cited the adaptation of an original South African hit song "Doo Be Doo" as the one that caught Richard's fancy the most.
ADVERTISEMENT - CONTINUE READING BELOW
"Noong pinarinig ko po kay Richard 'yong kanta, gustong-gusto niya," smiled KC, "and 'yong pinarinig ko rin kay Mond, gusto rin niya 'yong "Doo Be Doo" so talagang pareho po 'yong taste nung kambal."
For PEP's review of KC's album, CLICK THIS LINK.