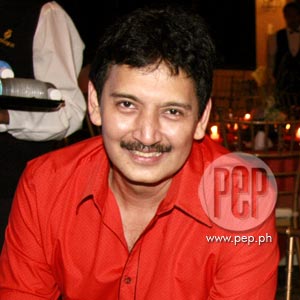 ---
"Our beloved Rudy Fernandez has gone home to his Makerat 6:15 this morning, June 7, 2008."
This was the text received by PEP (Philippine EntertainmentPortal) earlier today from Rudy's camp, and it was later confirmed by StarTalk reporterGorgy Rula.
Rudy or Daboy, as he was fondly called by his friends andfans, finally succumbed after a hard-fought battle with periampullary cancerthat lasted for several months. He was 56.
According to Medical Observer, periampullary cancer is "anenlargement of the ducts from the liver and pancreas where they enter the smallintestines."
It was only a few weeks ago that Rudy was brought home fromthe hospital, where the last efforts to prolong his life were exerted.
Before this, Rudy and wife Lorna Tolentino made trips abroadto find the best cure for the actor, the last of which was in the U.S. rightafter his last birthday celebration on March 3. The supposed one-month trip was cut shortwhen Rudy decided to come home to Philippines.
Last May 10, a healing mass attended by his friends in the entertainment industry was held for him at the Christ the King Church in Quezon City.
Daboy's roots are really in showbiz. His father is filmdirector Gregorio Fernandez.
He made his film debut at the age of three, appearing in LuksangTagumpay (1956), which was directed by his father. He also appeared inanother film of his father's, Emily (1960).
It was in 1970 that the young Rudy decided to really plungeinto showbiz while a student at the University of Sto. Tomas.
After playing teeny-bopper roles, Rudy made his breakthroughas an action star in the movie Bitayin Si Baby Ama in 1976.
ADVERTISEMENT - CONTINUE READING BELOW
Some of his other memorable films are Makahiya atTalahib, Bilangguan Walang Rehas, Teteng Salonga ng Tondo, Tatak Angustia, SaInit ng Apoy, Pepeng Shotgun, Ulo ng Gapo, Get My Son Dead Or Alive, Sumuko Kana Ronquillo, Kunin Mo ang Ulo Ni Magtanggol, Idol, Somewhere, Pasukuin SiWaway, Anak ng Tondo, Bilang Na ang Oras Mo, Baun Gang.
Tatak Munti, Tatak ng Yakuza, Lumuhod Ka Sa Lupa!,Vigilante, Victor Corpuz, Tubusin ng Dugo, Ipaglalaban Ko, Sandakot na Bala,Ayaw Matulog ng Gabi, Bingbong The Vincent Crisologo Story, Kamay ni Kain,Markang Bungo: The Bobby Ortega Story, Kung Kailangan Mo Ako, LAGALAG: TheEddie Fernandez Story, Matimbang Pa Sa Dugo, Markang Bungo 2: Iligpit Si BobbyOrtega, Kuratong Baleleng, Itataya Ko Ang Buhay mo, Wag na Wag Kang Lalayo,Birador, Ping Lacson Story.
His last film was Hula Mo Huli Ko with Rufa MaeQuinto in 2002.
He made his last acting appearance on GMA-7's Atlantikain 2006.
Rudy won two FAMAS Best Actor awards for the action films Batuigas...Pasukuinsi Waway in 1984 and Victor Corpuz in 1988.
He is this year's recipient of 2008 Ulirang Artista LifetimeAchievement Award at the 24th Star Awards for Movies given by the PhilippineMovie Press Club (PMPC).

He also received the Film Academy of the Philippines' FPJ Lifetime AchievementAward.

Rudy has three children; actor Mark Anthony Fernandez, with former partner AlmaMoreno; and Renz and Ralph with wife Lorna Tolentino.

In 2001, he ran for Quezon City under former President Joseph Estrada's Puwersang Masa but lost to Sonny Belmonte Jr.
Rudy's remains will be brought to The Heritage Park in Taguig City, and the interment will be on Thursday, June 12.
ADVERTISEMENT - CONTINUE READING BELOW