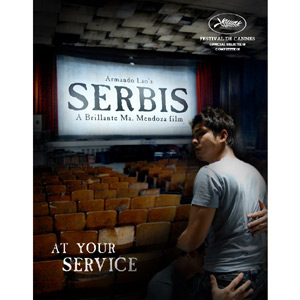 ---

The poster and trailer of the movie Serbis have beenrated X—or banned from public exhibition—by the Movie and Television Review andClassification Board (MTRCB).
Yesterday, June 10, Brillante "Dante" Mendoza informed PEP(Philippine Entertainment Portal) regarding this development and said that theMTRCB will review the film today, June 11, to determine whether it willreceive an R-18 or not. The producers plan to have it reviewed by the CinemaEvaluation Board (CEB) next week to determine if it will be eligible to receiveamusement tax exemptions.
The poster of Serbis shows actor Coco Martin standing in anempty cinema house while someone is kneeling in front of him with his face seen above the groin area of Coco. When asked if they will change the poster,Direk Dante says that they plan to darken the lower portion of the poster tohide the kneeling person.
As for the trailer, Direk Dante says that he thought it was safe to be shownhere in the country. "Ayaw nila [MTRCB] ng humahalik sina Mercedes [Cabral]at Coco. Hubad sila pareho pero wala namang nakita. Smack lang yung ginawanila.
"Ayaw rin nila nung scene na naglalakad si Jaclyn Jose samadilim na lugar. Ayaw rin nila yung taong nakaupo na naninigarilyo."
In the Philippine version of Serbis, what scenes dothey plan to remove?
"Yung frontal nudity ni Kristofer King. Yung kay Coco hinditatanggalin. Masyado lang mukhang totoo yung scene niya. It is assumed thatthey really did it, pero hindi."
Last May 18, Serbis had its world premiere screeningat the Grand Lumiere Theater in Cannes, France.
ADVERTISEMENT - CONTINUE READING BELOW
Direk Dante, actors Gina Pareño, Jaclyn Jose, Julio Diaz,Coco Martin, Kristofer King, and Mercedes Cabral, writer Armando Lao, producersFerdy Lapuz and Didier Costet as well as cinematographer Odyssey Floresattended the 61st Cannes International Film Festival. This trip was subsidizedby the Film Development Council of the Philippines, headed by Chairman JackyAtienza and CEB chairperson Christine Dayrit.
Serbis is expected to open in selected Metro Manilatheaters on June 18.