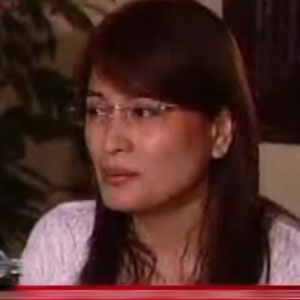 ---
A maid of former actress Princess Revilla was forced to fleefrom Princess's house after the maid allegedly became the recipient of such physicalviolence that it might look like a scene out of a boxing match.
Princess is the daughter of former senator Ramon Revilla Sr. and the younger sister of Senator Bong Revilla.
According to the maid, whose name has been withheld, she had been getting beatings for some time now from Princess. But recently the beatings escalated after the former actress was confrontedby her husband, Dr. Gregorio Ocampo, regarding the harsh treatment she had been giving to the maid.The couple reportedly quarreled, and after it was over, Princessallegedly proceeded to beat up the maid.
The maid had long endured the sadistic treatment but it wasonly yesterday, June 11, that she decided to end her suffering. Clambering upa concrete wall, she jumped and ran for freedom. Security guards nearby saw thebruised and bewildered-looking girl and took her to the Rizal Medical Centerfor treatment.
At the hospital, the maid reportedly could hardlyspeak or sit since her mouth, as well as her buttocks, which were black-and-blue and covered withbruises, courtesy of Princess's whacking.
The maid said that she was beaten up by Princess, Rebecca Revilla-Ocampo in real life, using awalis tambo (broom) until it broke. The blows were so strong that it slightlycracked the maid's upper palate.
BAD START. The maid, who started working for the Ocampos last October 2007, said that she receives 2,500 pesos a month. Butwhen she accidentally broke a wash basin stand a month later, Princess allegedlyspanked, hit, and pulled her hair. The actress also reportedly stuck herfingers inside the maid's mouth.
ADVERTISEMENT - CONTINUE READING BELOW
The maid revealed that it was her second attemptto escape from her employer. Her first attempt ended in pain, of course, when Princessfound out about it.
NOT THE FIRST. Princess Revilla was sued forP16M back in 1997 for allegedly beating up two former maids. Princess was acquittedin 1998 after the two maids disappeared.
Fast forward to 2008. The present maid has decided to press charges against Princess.
BONG REVILLA WILL NOT INTERVENE.
"Walang kapatid at walang kamag-anak," answeredSenator Bong Revilla when he was informed of the charges regarding his sister."Nagsusulong ako ng batas para proteksyunan ang kapakanan ng kasambahay kaya'twalang kapatid. Kapag nagkasala dapat panagutan. Bahala ang pulis at hindi kamimakikialam."