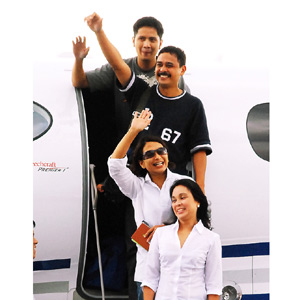 ---
After nine days of captivity, ABS-CBN senior correspondentCes Oreña-Drilon, cameraman Jimmy Encarnacion, and their guide Prof.Octavio Dinampo were finally set free by their abductors last night, June 17,at around 11 pm in Barangay Kagay, Talipao in Sulu province.
In an initial report by DZMM, Philippine National Police(PNP) chief Director General Avelino Razon Jr. revealed that the three, uponrelease, were ushered immediately to the residence of Indanan Mayor AlvarezIsnaji.
"Sila ay dadalhin dito sa Zamboanga kung saan po aymag-a-undergo sila ng medical check-up at pagkatapos po niyan ay isangdebriefing para malaman po natin sa kanila directly kung anong nangyari,"shared Razon.
Ces and her team were abducted by suspected members of thenotorious Abu Sayyaf—a group of bandits linked to the international terroristnetwork Al-Qaeda. Originally, there were four hostages taken by the armedbandits but ABS-CBN assistant cameraman Angelo Valderama was released andturned over to Jun Isnaji, son of Mayor Isnaji, on June 12.
"YOU ARE MY LIFELINE." As expected, and as soon asword of the kidnapping had spread, the abductors asked for ransom money inexchange for the life and freedom of the hostages. ABS-CBN, however, refused togive in, saying that bending to such demand might set a precedent andencourage more kidnappings, particularly of journalists.
The negotiating team was composed of Sulu Governor Sakur Tanand Vice-Governor Hadja Nur Ana Sahidullah. Moro National Liberation Frontleader Mayor Alvarez Isnaji served as the emissary between the authorities andthe rebels.
Former ABS-CBN broadcast journalist and now Senator LorenLegarda was also instrumental in securing the freedom of the hostages. With adeadline looming and fearing for her life, a desperate Ces reportedly promisedthe kidnappers that they would receive the P15-million ransom money. During aphone conversation, a distraught Ces later on confided to Legarda that shedoesn't have enough money to even meet the promised amount.
ADVERTISEMENT - CONTINUE READING BELOW
Early reports said that Ces was just forced to give herword because she was asked by her captors at gunpoint. Ces also asked for Legarda'shelp to act for their immediate release, saying the words: "You are mylifeline."
In an interview, Loren theorized that the captors softenedwhen "they realized that they wouldn't get anything and when they felt the[military] pressure."
She also stressed that no money was involved, noting therelease was "unconditional," though the authorities refused to divulge theagreement met by both parties.
Loren shared that Ces and her companions had to walk forfive hours before they were turned over to the authorities.
"Nag-agahan na rin sila nglugaw after one week of eating noodles sa bundok," PNP Director General AvelinoRazon Jr. told reporters in an interview earlier today.
Medical findings on Ces revealed that thepopular broadcast journalist was "very pale" and currently has low blood pressure due to lack of sleep. She also suffered mosquitobites.
Ces and her companions met their families ina beach resort in Zamboanga City, with Loren Legarda and ABS-CBN News and CurrentAffairs chief Maria Ressa.