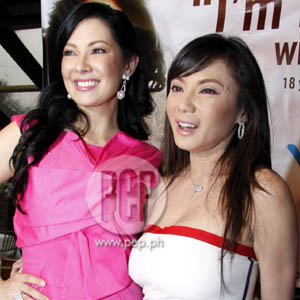 ---
Yesterday, June 18, Ruffa was formally introduced as the newendorser of the Belo Medical Group Inc. The event formalized herseparation from the Calayan Surgicenter, which she used to representtogether with her feisty mother Annabelle Rama. Ruffa Gutierrez insists there's no bad blood betweenher and popular cosmetic surgeon Dr. Manny Calayan.
It's natural to be intrigued by Ruffa's change ofalliance, considering that Belo and Calayan are known rivals in thefield of beauty and cosmetic surgery. Both companies have also gained areputation for tapping celebrity endorsers to attract clients.
Ruffa explained her decision to join the Belo team in apress conference prepared especially for her by Dr. Vicki Belo at Annabel'srestaurant on Tomas Morato, Quezon City.
"My contract with Dr. Calayan ended on March 30thso now is June 18. So basically po, when my contract with Calayan expired, Ireally thought long and hard kung ano pong gagawin ko sa future ko, kasisiyempre I have several offers," Ruffa told the entertainment press.
"Even before pa naman, I was already a Belo patient. But Iwas still living in Turkey then, so talagang wala naman talagang offer nun siDoktora Belo for me to be part of the Belo Medical Group because I wasn't reallyliving here. Wala pa po akong career nun, asawa pa lang ako at nanay nun.
"So it just so happened that my mom closed a deal with Dr.Calayan and I stayed with them for four years. When my contract expiredMarch 30th, naisip ko bumalik na ako sa dati kong bahay, kasi nagsimulanaman po talaga ko kay Dra. Belo."
ADVERTISEMENT - CONTINUE READING BELOW
NO PROBLEM. Ruffasaid that her parting of ways with Dr. Calayan was amicable.
"Oo," answered Ruffa when asked if she formally informed herex-sponsor of her plans. "Hindi naman kailangan pong magpaalam din dahil tapos narin ang kontrata namin. It's not like in a manner of like pinirate ako ni Dra.Belo or magagalit po si Dr. Calayan because tapos na po talaga 'yong kontrata."
Ruffa further added, "Also, one more thing, in fairness to Dr.Calayan during the time that I was there, he treated me also very well wala pokaming problema. Hindi kami magkagalit, wala kaming bad blood. Maliit lang naman ang industriyang ito. It's just that as a person, I think I've grown and it'stime for me to move on."
In the face of doubts expressed by some people, Ruffa stressedthat money was of little importance in her decision to transfer. When it comes toendorsements, she pointed out that she follows herheart more than minding how to further fatten her bank account.
"Actually, wala naman 'yan sa talent fee," she noted. "Angdami kong offer din noon na babayaran ako ng malaki. But if I don't believe inthe product, tinatanggihan ko.
"Siyempre si Mommy excited sa kanyang komisyon," smiledRuffa, referring to her mother-and-manager who was present during the pressconference just to give her daughter "moral support."
Ruffa added, "Theothers naman, they also offer very high. So it's just a matter of choosing; hindi'yong sinong highest bidder kasi matataas din naman ang offer nila. Kung sinotalaga ako kampante and comfortable with, and for me, I love Dra. Belo so that'sthe reason why I'm here."
ADVERTISEMENT - CONTINUE READING BELOW
LOVE CAN WAIT. Ever since her controversial breakup with estranged husband Yilmaz Bektaz, Ruffa madeit clear that she is in no hurry to fall in love again.
Although the marriage failed to live up to itsfairy-tale beginning, Ruffa doesn't have any regrets.
"It's better to have loved and lost than to have never lovedat all," she quipped before adding, "kasi meron akong dalawang magagandang anak. But like I have moved on [and] now I'm with Dra. Belo, I think it's also time formy heart to move on."
The insistent question: What's the real state of her love life?
"Wala pa," she confessed good-naturedly. "Ang damingang gustong magpakilala. Pero as of now, I want to focus on myself. Siyempre, Ijust went through a very traumatic time. I think ngayon, kailangan career muna,mga anak ko, 'tsaka sarili ko."