ABS-CBN's anchorwoman Karen Davila drew flak from netizens for allegedly throwing "biased" questions, particularly during the "Fast Talk" segment of the third presidential debate aired on ABS-CBN yesterday, April 24.
Netizens observed that Karen threw the toughest and most personal questions towards Mayor Rodrigo Duterte compared with former DILG Secretary Mar Roxas and Vice President Jejomar Binay.
For the record, it was her co-moderator Tony Velasquez who threw the fast talk questions to Senator Miriam Defensor-Santiago and Senator Grace Poe.
Here are some of the comments of Twitter users who criticized Karen's follow-up questions during the debate:



Netizens also noted that Karen misquoted Mayor Duterte about his plan of action against heavy traffic in the metro, a topic discussed during the first round of the debate.

DUTERTE IS THE LEADING CANDIDATE. Amid the nasty criticisms against her, Karen posted a selfie with Duterte taken at the Dagupan presidential debate.
In the caption of the same Twitter post, Karen explained that she had to ask hard-hitting questions towards Duterte because he is the "leading presidential candidate."
Karen tweeted, "Mayor Duterte is the leading presidential candidate. He can handle the toughest questions."
In a separate post, Karen clarified that her selfie with Duterte doesn't mean she is endorsing him as her presidential bet.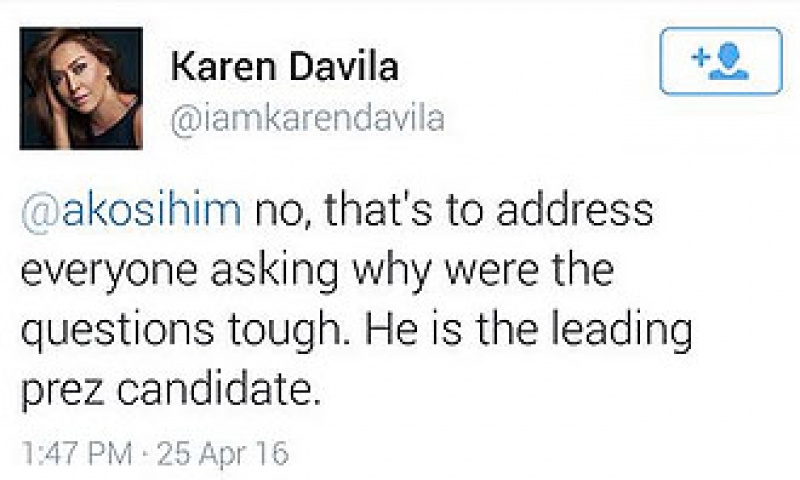 On the other hand, Twitter users also complained that Karen could have asked about more personal issues involving Roxas.


In response to such criticisms, Karen reiterated that she wasn't able to fire other questions towards Roxas due to time limit.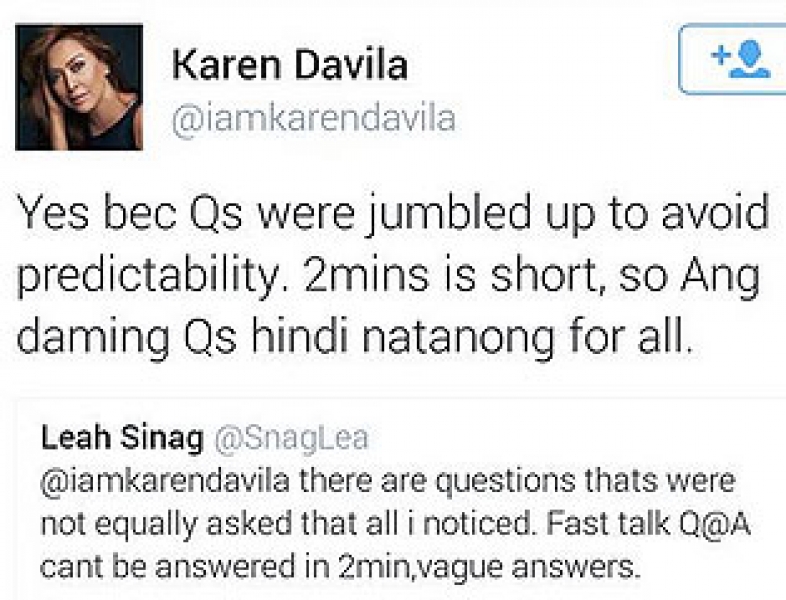 In the meantime, Karen thanked netizens who recognized that she was just doing her job during the last leg of Pilipinas Debates 2016.