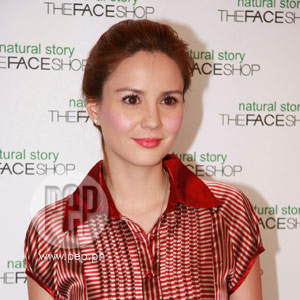 ---
Cheska Garcia, who is a few months away from her weddingday, is brimming with excitement.
During the birthday party of Ruffa Gutierrez—held at theBlue Leaf Events Place in Fort Bonifacio, Taguig, last June 21—she revealed toPEP (Philippine Entertainment Portal) that she can't wait to marry cagerDouglas Kramer.
She's on cloud nine, discussing her wedding plans forOctober 9 this year.
But in the course of the conversation, Cheska brought up onetopic that has been unsettling her family for four months now: The issuesconfronting Patrick Garcia.
"My brother is a good guy," Cheska said. "We were brought upwith breeding, with class. You know, it's not even class…I mean, each personcan have class that they claim to have, but you know what, we are not likethat."
She continued, "My brother decided to be a businessman, isthat gonna break him? We don't have to blame ourselves. Pero alam mo, take itas it is. Pero kami, hindi kami maintriga. My brother is quiet."
The Us Girls host wasobviously disconcerted about the situation of her younger bro.
Last June 15, the 26-year old actor left for the States topursue his studies and get away from all the "intrigues" surrounding him here.And most of these intrigues have to do with his relationship with Jennylyn Mercado, the mother of his firstbaby,.
Cheska told PEP, "My brother is in the U.S. and then, youknow what, I'm very proud of my brother, because no matter how many times he'sbeen trampled on, stepped on, he's never spoken anything [bad] about anybody."
ADVERTISEMENT - CONTINUE READING BELOW
A LOOKBACK. The hubbubhas been going on for four months now, but what exactly caused it? Jen andPatrick used to be so in love. They even contemplated having a civil wedding.But right after the "pregnancy" news erupted, things began turning sour. Why?
In the April 2008 issue of YES! magazine, the co-star of Yasmien Kurdi and JC De Vera in Babangon Ako't Dudurugin Ka put theblame on the incessant media attention. While Patrick admitted that he and Jenwould have small fights, he couldn't understand why, instead of fixing things between them, his ex-girlfriend announced them on national TV.
He said, "If ever we're going to fight, and she's going toleak it out to people, especially if the story is not true—kumbaga, she's justpushing me away."
For her part, Jen said in the same interview with YES! magazine, "Wala kamingcommunication, hindi kami nagkikita, almost two months na. Ako pa nganag-e-effort, e, na dapat siya ang gumagawa, di ba? Ako 'yong gumagawa—callinghim, going to his place, talking to him. But he doesn't want to talk."

They parted ways last February 20. Patrick chose to keepmum, and eventually left Manila.But the negative publicity continued to hound him. Fans of Jennylyn accused him of being a "mama'sboy" and "unfit" to be the dad of the baby, and most recently, "irresponsible."
Patrick's mom and his sister, who had always come to his defense, were called "kunsintidor."
On the other hand, the brouhaha took its toll onJennylyn as well. Some showbiz fans called her "drama queen," and worse, "publicity-greedy."
ADVERTISEMENT - CONTINUE READING BELOW
AT PRESENT. Through this all, Cheska saw how her brother calmly tookevery attack that came his way.
She narrated, "My brother, he's so steady. Kung ginawa nilasa cousin mo, sa kapatid mo…Dude, my brother is so steady. Gawin mo 'yan saibang tao, okay lang? Gawin mo 'yan sa kapatid mo, okay lang?
"Honestly, whenshe announced it [pregnancy], I was the first person to find out about it. I wasthe first one. I told Jen, 'Jen, don't hesitate to call up my mom.' My mom willknow what to do. You know why? Coz my mom is not 'yong baliw na mom paramagpa-panic. My mom is steady, eh."
Apparently, Cheska is tired of theruckus and just wants it to stop.
She said, "Everything is so superficial in this world. Butyou know what, we don't care about that. Take us [as] we are. She wants to saythings about my brother, say things about my brother. But you know, when I talkto you, I am this way. My brother is the way he is. I'm no different from mybrother. I'm easy to talk to. She wants to say something about my brother, goahead. Pero mabait [ang] kapatid ko. Hindi 'yan ganyan. Hindi kami pinalakingganyan.
"Magulang namin pinalaki kaming may breeding kami period. Wedon't have to prove it, we don't have to stress the point. If you meet us withbreeding, then we are with breeding. We don't have to try on who we are. No!That's not the way it is. We don't have to say that I'm this way and I'm thatway. I don't have to try so hard. Patrick didn't try so hard."
ADVERTISEMENT - CONTINUE READING BELOW
And she may not have enunciated it, but she wants the mom ofher first pamangkin to stop as well.
Cheska said, "She knows she was with my brother for one yearand six months. She knows how our own family is. We're not matapobre. We arenever the matapobre. If we are, from the beginning of their relationship, weshould have gone against it...
"We came from a good school, but we don't look down onpeople. It is not the way it is. A lot of politicians and lot of businessmenwho are successful right now don't come from a good family. But they are whothey are because they make the way that they are. They know what their work is.I don't have to say bad things about Jen."
Is she going to invite Jennylyn to her wedding?
"No," she replied in a snap. "Would you invite a person whostepped on your brother a million times? No! No! Why should I?"
PEP saw Cheska's different moods that night: excited andhappy as a bride, upfront and upset about the issues, and most of all,protective as an ate.
Her parting shot, "We were born into keeping everythingintact….We don't have to prove to them, 'Hey we're like this, we're like that.'Wala kaming pakialam dun, we don't care!"
At press time, PEP is trying to get Jennylyn's reaction.