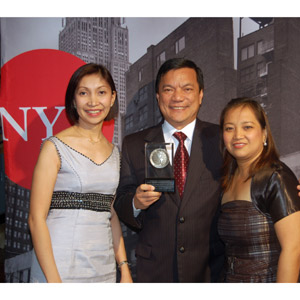 ---
DZMM RadyoPatrol 630 recently bagged the silver prize in the prestigious New YorkFestivals for Radio Broadcasting. The awards night took place last June 19 atthe Tribeca Rooftop in New York City. ABS-CBN's radio station won in the BreakingNews Story category (Longform) for its special coverage of the Manila hostage drama.
This annual event honors the most original and innovative work in radiobroadcasting from around the globe. Works are judged by an international juryof renowned industry professionals representing the top creative minds in theirfield from 12 countries and spanning five continents.
On March 28, 2007, Filipinos watched in horror when a daycare center owner hijackeda bus (filled with his pre-school students and teachers) parked near Manila's City Hall. Hostage-taker Jun Ducat, the owner of MusmosDay Care Center in Tondo, called DZMM and demanded free education as well asfree housing for his 145 pre-schoolers.


As soon as Radyo Patrol reporter Armel Fernandez brokethe story, DZMM geared up for a special coverage and deployed reporters to thescene to get more information and a clearer picture of the situation at hand.
"The biggest breakthrough came when DZMM got hold of Jun Ducat, thehostage-taker himself and as it turned out, it was only through DZMM that hecould be contacted. "It also became thelink between Ducat and the worried parents of school children," said ABS-CBN vice president for Manila Radio Division PeterMusngi.
DZMM veteran anchors Ted Failon and Korina Sanchez servedas a bridge for Ducat and the proper authorities—from the Education Department,to Social Welfare Department and, most importantly, the National Police—for hisdemands. After ten hours of tension, the hostage drama ended when Ducat agreedto surrender and release the hostages at 7 p.m.
ADVERTISEMENT - CONTINUE READING BELOW
"Throughout this, DZMM reported with prudence and actedresponsibly, thus, avoiding a tragic ending to this crisis. The station againlives up to its commitment of being first in news and public service withoutcausing harm and endangering others," said Musngi.
Aside from winningthe silver prize, DZMM was also a finalist in the Talk Show Host category. Stationmanager-anchor Angelo Palmones was cited for his science-oriented show BagoYan, Ah!