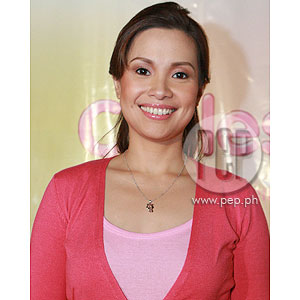 ---
She once made her Filipino fans fall in love in the movies Basta't Kasama Kita and SanaMaulit Muli, both with matinee idol Aga Muhlach. After this, Lea Salonga decided to pursueher first love, theater.
In fact, the Tony award-winning actress is currently busydoing rehearsals for the musical production of Rodgers and Hammerstein's Cinderella.
In a short interview with Lea during the contract signing ofher newest laundry detergent endorsement (Cycles), held at Tropezz restaurant, Greenbelt 3 in Makati City yesterday, June 27, PEP (Philippine EntertainmentPortal) asked her if she misses doing projects for local showbiz.
She answered, "If you mean showbiz in the sense of movie, Icould do very well with it, without the intrigues. We could all do withoutit! "
Lea elaborated on the intriguesoften created by some actors in Philippine show business. "I have to say that there are some actorsand actresses, I have no idea why they seem to look for it and attract it andgenerate it. And they are like, 'Idon't know why such is fighting with me. I didn't say anything.' 'Yousaid something.'
"You know, you can't play down, youcan't play innocent. Everything thatyou [do] will have an equal and opposite reaction. You learned that in physics, you learned that in science. For every action, there is an equal andopposite reaction. You say something,you know, 'Such and such is so fat in that dress.' Don't expect that person not to answer... 'Excuse me, what did yousay?' Kung sampalin ka, masuwerte ka nalang, that's all you get."
Later on, Lea admitted that she misses doing a localfilm. "I don't miss intrigue but, youknow, having said that, I do miss making films."
MOVIE WITHOUT INTRIGUE. Lea said that there are fans who still remember her in her movies with Aga and request to see them again on the big screen.
ADVERTISEMENT - CONTINUE READING BELOW
She related to PEP, "I check my blog and people were like,'O, sana gumawa na naman sila ng pelikula, sana gumawa naman sila ng somethingkasi nakakakilig sila.' People knowwe're married, people know that we have children, but they wanna see us on filmsagain."
Lea wants people towatch the movie because of its story and not because of the controversies thatare usually created for the promotion of the film.
She narrated to PEP a conversation she had with herformer movie partner Aga Muhlach. "He and I,actually, have a conversation that you don't have to create a real-lifeanything for your movie to be successful.
"Walang intriga, walang gulo. I like it that way. Andthen, the people will just come and see the film because wala ngang gulo,e. They go there to see the conflict,they go there to see the cries... It's all on the screen, it's not in reality."
The Broadway actress will play the title role in the musicalproduction Cinderella, which will be staged on July 29 to August 24 at theCultural Center of the Philippines, Roxas Boulevard, Pasay City.
Tickets are available at all selected major National BookStore branches, selected major Robinsons Department Stores, Ayala Malls,Greenbelt 1, Glorietta 1, and at the TicketWorld office or at their websitewww.TicketWorld.com.ph.
Ticket prices range from P500 to P7,000. For inquiriesand reservations, call 891-9999.