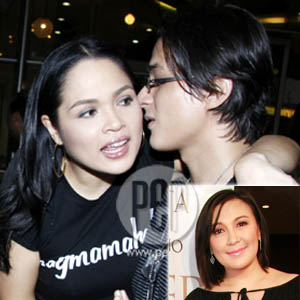 ---
Ryan Agoncillo was sosure of his feelings for Judy Ann Santos that he could have asked the popularactress to marry him on the very first day they became lovers.
"So, if you're gonna ask me when I wanted to propose? Itwould have been the first day of the relationship," Ryan candidly told MegastarSharon Cuneta in a special TV interview aired last night, July 6, on Sharon.

It took Ryan almost three years to pop thequestion, which he finally did at Juday's 30th birthday last May 11at the Antulang Beach Resort in Dumaguete City, Negros Oriental. The engagementwas witnessed by some of Judy Ann and Ryan's closest friends.
Instead of rushing things,Ryan opted to enjoy the relationship first while gradually discovering Judy Annas a real person beyond the superstar façade.
"When we got together,'yon na. 'Yon na yung decision ko, 'Okay, let's try to make this work,' to try andmake this a very lasting relationship. So, dahan- dahan na. It's adaily thing for me, it's a weekly thing for me, na kapag nakikita ko siyanabubuo 'yong paniniwala ko na, 'Yes, I can spend the rest of my life with thiswoman.' Pero dahan-dahan, so, nakakatuwa," Ryan related.
ADVERTISEMENT - CONTINUE READING BELOW
NO ORDINARY WOMAN. Courtingand eventually hooking up with a Judy Ann Santos was never easy, or at leastthat's how most men perceived it. Ryan recalled having a huddle withbroadcaster Julius Babao and Kim Atienza a few years back, and they discussedhow difficult it might be for a guy to please a woman like Juday.
"Sila 'yong masproblemado for me," Ryan recalled, "kasi sinasabi ni Julius, 'Paano moreregaluhan 'yan? Ang hirap regaluhan niyan.'"
In truth, Ryan stressedthat Judy Ann is very humble and unassuming—a rare trait, given Judy Ann'sstature as one of the most popular actresses of her generation. But evenJuday's unpretentious nature, according to Ryan, presented a problem of itsown.
"Actually, hindi siyamahirap regaluhan," Ryan recalled explaining to both Julius and Kim. "Which inturn makes it din mahirap regaluhan kasi sa sobrang simple, kailangan siyempregawin mong espesyal. So that was the challenge for me."
Undeterred, Kim firedback and said, "Bro, she's not an ordinary woman. 'Pag binigyan mo ng singsing'yan, hindi lang 'yan basta-basta."
ADVERTISEMENT - CONTINUE READING BELOW
Those words caught Ryanoff guard and eventually haunted him as he was about to ask for the hand of Judy Ann.
THE RING. Thestory of the entire engagement was first relayed by the couple in the latestissue of YES! magazine.
To soothe his nerves,Ryan sought the help of closest friends in mapping out theengagement strategy. For the diamond ring, Ryan asked the assistance of BethTamayo's husband Johnny Wong. The ring was purchased in Hong Kong, with Johnny'scousin Cindy Kung as the negotiator between Ryan and the Chinese jeweler.
Afraid that he mightnot be able to contain himself, Ryan mentioned that he personally requestedBeth Tamayo to safekeep the ring for him.
POPPING THEQUESTION. Together with their closest friends namely Beth Tamayo, directorDante Garcia, makeup artist Nonong Geronaga, and showbiz habitué Anna Dasig,Ryan and Juday were at the Antulang Beach on the eve of Juday'sbirthday—and everyone was waiting for the clock to strike 12.
ADVERTISEMENT - CONTINUE READING BELOW
For Ryan, choosing hisgirlfriend's actual natal day to propose marriage made a lot of practicalsense.
"Parang I was thinkingkung kailan 'yong maximum fun for her na 'yong proposal," he explained. Thebeach setting also helped a lot in setting up a romantic vibe.
Ryan first handed Judaywith a gift, which was a book, wrapped simply and without fanfare.
"It's a book of Ploning.When I saw it, it's just wrapped in a white cartolina. Simpleng-simple, walangribbon, walang ka-eklatan na dahon-dahon. Plain and simple white book," Judayquipped.
The Ploning book—publishedin black and white format was a collection of the film's behind-the-scenesphotos taken by Ryan himself—was personally requested by Juday as a birthdaypresent from her boyfriend.
"Before that, ipinakitana niya sa akin 'yong colored version ng libro na napakaganda din. E, kaya lang,nai-submit na namin sa printer 'yong black and white, so, for printing nakinabukasan," said Juday.
She thought thatthe book Ryan gave her was the colored version. "I was thinking na maybethis is the colored version, na first edition, sa akin niya ibibigay. 'Yon langtalaga 'yong nasa isip ko. 'Tapos nung binuksan ko, black and white pa rin."
ADVERTISEMENT - CONTINUE READING BELOW
Ryan then asked Judayto browse the book once more saying, "Baka may bago akong picture na nilagay,may isinulat ako diyan na hindi mo alam."
While feelinguncomfortable and puzzled by the presence of her friends'cameras, Juday continued browsing the book while Ryan pitched in frequently,"O, wala pa? Wala ka pang nakikita? Baka naman hindi mo talaga binabasa?"
Juday admitted feeling weird in the midst ofleafing the book's pages, but getting a marriage proposal at that exact moment never occurred to her.
Toward the end of thebook's pages, Ryan asked their friends to take pictures. "E, naka-pajama langako. Wala naman akong alam na special event. E, kung alam ko lang di sananag-tube ako!" chuckled Juday.
The moment Judy Annturned the last page, she was greeted by the question: "Will youmarry me? –Ryan"
"Para akong sinabuyanng tubig na malamig!" gushed Judy Ann.
Ryanconfessed that he became more nervous while waiting for Juday's reply. "Cozthere's always that chance that she would say no."
ADVERTISEMENT - CONTINUE READING BELOW
When Juday accepted hisproposal, Ryan's next dilemma was the ring. "Hindi ko alam kung kukunin ko 'yongsingsing, ilalagay ko sa kanya o kukunin niya 'tapos isusuot niya. 'Yon pala, akopala ang magsusuot 'tapos hindi ko alam kung sa kaliwa o kanan."
NO RUSH FORMARRIAGE. Immediately after the engagement, Judy Ann gave her mother aphone call. Overwhelmed by the moment, Juday was crying when she informed hermom about the news.
Mrs. CarolSantos asked her daughter in alarm: "Bakit ka umiiyak?"
A sobbing Juday replied, "Kasimay nag-propose sa akin."
Upon her return here inManila, Juday proudly showed the engagement ring and the book to her mother.
"Niyakap niya ako,"recalled Juday. "Sabi niya, 'Kaya siguro inaatake ako ng insomnia ko kasi iiwanmo na ako.'"
At this point, only theengagement remains definite, not the exact wedding date. Ryan explained, "Iwanted it to come from her, na she will sit me down and tell me what her plans are.'Pag narinig ko 'yon kung mag-meet kami half-way, then at least narinig ko sakanya. Kasi if I make suggestion at this point, at least narinig ko sa kanya."
ADVERTISEMENT - CONTINUE READING BELOW
Sharon asked the coupleif they intend to have a baby right away after getting married.
"Hindi namin talagapinaplano kung kelan agad magbi-baby," enthused Juday. "Pero nung kinausap naminsi Mommy, ang main concern din ni Mommy is 'yong biological clock ko... 'Yon yungunang concern niya, kasi siyempre, 'yong lola, gustong magkaroon ng bagong apodin."
Juday added, "Kungdarating, darating. Pero kung hindi naman, okay lang din."
Before theinterview ended, Juday and Ryan pulled off their own question tothe Megastar.
"Ate [Sharon] will yoube our matron of honor?" asked Juday.
Sharon replied instantly, "Again,yes!"