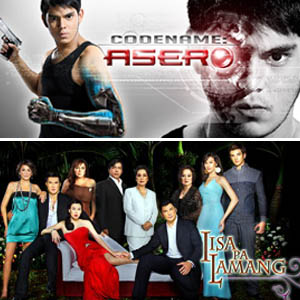 ---
If two primetime series ended last Friday, July 11, twoshows immediately replaced them last night, July 14: ABS-CBN's IisaPa Lamang and GMA-7's Codename: Asero.
Codename: Aseroopened explosively when it posted a rating of 40.1 percent to grabthe second place behind top-rater Dyesebel's40.5 percent. This Richard Gutierrez-Heart Evangelista starrer replaced RobinPadilla's Joaquin Bordado.
Meanwhile, Iisa PaLamang—which boasts a powerhouse cast of dramatic stars led by ClaudineBarretto, Diether Ocampo, and Gabby Concepcion—opened with a modest 24.3percent to take the No. 7 spot. Iisa PaLamang was the replacement of the recently concluded Lobo of Piolo Pascual and Angel Locsin.
24 Oras and Ako Si Kim Samsoon took the third andfourth spots.
ABS-CBN's primetime newscast TV Patrol World became the highest-rated Kapamilya program when itplaced sixth overall by virtue of its 25.9 percent rating.
Four other Kapamilya shows—The Singing Bee, My Girl, Pinoy Dream Academy, and Wheel of Fortune—occupied the rest ofthe Top 10.
Magdusa Ka was theleader in the daytime race with 24.2 percent; followed by Gaano Kadalas ang Minsan (22.7 percent), Daisy Siete (21.5 percent); EatBulaga! (20 percent), and Pilipinas,Game KNB? (19.1 percent) to complete the Top 5.
ABS-CBN's special coverage of Miss Universe 2008, which was won by Miss Venezuela, ranked seventh with 16.7 percent.
Here are the comparative TV ratings of ABS-CBN and GMA-7shows last July 14, based on the overnight ratings conducted by AGB NielsenPhilippines among Mega Manila households:
July 14 (Monday)
Non-Primetime:
Miss Universe 2008(ABS-CBN) 16.7%; SiS (GMA-7) 9.7%
Marimar (GMA-7) 13.4%; Pilipinas, Game KNB? (ABS-CBN) 19.1%
Eat Bulaga!(GMA-7) 20%; Wowowee (ABS-CBN) 15.7%
Daisy Siete (GMA-7)21.5%; Magdusa Ka (GMA-7) 24.2%; Ligaw Na Bulaklak (ABS-CBN) 14.3%
ADVERTISEMENT - CONTINUE READING BELOW
Gaano Kadalas angMinsan (GMA-7) 22.7%; El Cuerpo delDeseo (ABS-CBN) 18.4%
Primetime:
Gobingo (GMA-7)18.8%; Wheel of Fortune (ABS-CBN)19.1%
24 Oras (GMA-7)32.8%; TV Patrol World (ABS-CBN)25.9%
Codename: Asero(GMA-7) 40.1%; The Singing Bee(ABS-CBN) 25.5%
Dyesebel (GMA-7)40.5%; Iisa Pa Lamang (ABS-CBN) 24.3%
Ako Si Kim Samsoon(GMA-7) 27.7%; My Girl (ABS-CBN)21.7%; Pinoy Dream Academy (ABS-CBN)19.4%
Dalja's Spring(GMA-7) 18.3%; Artificial Beauty (ABS-CBN)13.8%; Pinoy Idol Extra (GMA-7) 12.7%
Kung Ako Ikaw(GMA-7) 8.9%; Bandila (ABS-CBN) 8.8%;Saksi (GMA-7) 7.1%
Here are the Top 10 daytime and primetime programs last July14 based on the overnight ratings conducted by AGB Nielsen Philippines amongMega Manila households:
July 14 (Monday)
Daytime:
Magdusa Ka (GMA-7) - 24.2%
Gaano Kadalas ang Minsan (GMA-7) - 22.7%
Daisy Siete (GMA-7) - 21.5%
Eat Bulaga! (GMA-7) - 20%
Pilipinas, Game KNB? (ABS-CBN) - 19.1%
El Cuerpo del Deseo (ABS-CBN) - 18.4%
Miss Universe 2008 (ABS-CBN) - 16.7%
Wowowee (ABS-CBN) - 15.7%
Ligaw Na Bulaklak (ABS-CBN) - 14.3%
Marimar (GMA-7) - 13.4%
Primetime:
Dyesebel (GMA-7) - 40.5%
Codename: Asero (GMA-7) - 40.1%
24 Oras (GMA-7) - 32.8%
Ako Si Kim Samsoon (GMA-7) - 27.7%
TV Patrol World (ABS-CBN) - 25.9%
The Singing Bee (ABS-CBN) - 25.5%
Iisa Pa Lamang (ABS-CBN) - 24.3%
My Girl (ABS-CBN) - 21.7%
Pinoy Dream Academy (ABS-CBN) - 19.4%
Wheel of Fortune (ABS-CBN) - 19.1%
Source: AGB Nielsen Philippines