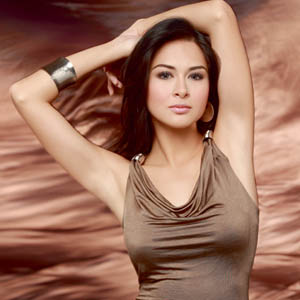 ---
Marian Rivera's victory in the recently concluded FHMPhilippines 100 Sexiest Women for 2008 only affirms her current status as oneof the country's top young stars of today. Buoyed by the success of Marimar, a local adaptation of thepopular Mexican telenovela, Marian instantly developed a huge following whichgrew even more after she bagged the role of the legendary Pinoy mermaid Dyesebel.
Add to that the numerous endorsements she gainedfollowing the success of her television projects. Just recently, the 23-year-old actress also jumped into the ever-growing list of celebrities who areendorsing firms in the beauty and cosmetics business.
Marian signed up as the new face of Facial Care Centre,endorsing its LaserLight hair removal procedure. The beauty-cosmetic firm previouslyhad Cherie Gil, Carmi Martin, Cristina Gonzales, and Kris Aquino as endorsers.
In a previous interview, the Filipino-Spanish beauty saidthat her decision to sign up and avail of the service was largely because ofher problem with unwanted hair.
ADVERTISEMENT - CONTINUE READING BELOW
"Balbon talaga ako," she shared smiling. She used to shaveand apply wax to remove the unwanted fuzz but totally gave up on the twomethods that were painful and inconvenient. The LaserLight method, according toMarian, is more practical, effective, and totally painless.
Incidentally, Marian is currently being wooed by FHMPhilippines to grace its cover after she bagged the prestigious Sexiest Womanplum for 2008. FHM editor Allan Madrilejos, along with the readers, are nowhoping for Marian to give in to the public demand.
"We're very open when it comes to negotiations. Ganun namantalaga kami e," said Allan to PEP (Philippine Entertainment Portal) during thepresscon of the event held yesterday, July 17 at the World Trade Center inPasay City. Allan was pertaining to the talks between the magazine and Marian'scamp as to how far the young actress could go come pictorial time.
As revealed by the amiable editor-in-chief, Marian has beenon the radar of FHM even before her once quiet career took a continental shift.Allan revealed that they tried in vain to get Marian to grace the cover in timefor the launching of Marimar in August of 2007.
ADVERTISEMENT - CONTINUE READING BELOW
"Sasabayan ko sana 'yon, e," shared Allan, "pero hindinatuloy, so sayang... sana this year."