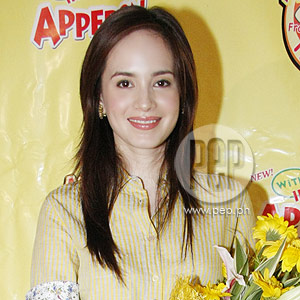 ---
When a reporter asked Lucy Torres-Gomez, "Kailan masusundansi Juliana," the TV host laughed a little and said, "Oo nga, e. That's a perennial question."
During the press conference of her newest product endorsementwith daughter Juliana held yesterday afternoon, July 18, at Annabel's Restaurant inTomas Morato, Quezon City, the 32-year-old mom said that she and Richard havelong been wanting to have another baby in their home.
Lucy told the media, "That's why I always say every month,'I think I'm pregnant. You know, theysay you have to play it so every month "I think I'm pregnant.
"I always think that I'm pregnant. We're really trying but it hasn't happened yet. I always say that it's all going to happenin God's plan and in God's time."
Even though they have been trying to give their grade-schooldaughter a playmate, Lucy clarified that there was no pressure from each otherto bear another child.
"I'm at that point already when I feel that everything reallyis in God's direction. Everything willhappen in God's plan and in God's time. All I can really do is pray and wait patiently," she said.
ADVERTISEMENT - CONTINUE READING BELOW
Lucy also explained, "Maybe the reason why there's really nopressure between the two of us is because we both know that we want it justas much. It's not like isa lang 'yongmay gusto, 'yong isa hindi. Tugma kamidoon sa gusto namin pareho."
Then she reminded the media that when she and Richard gotmarried in 1998, they did not immediately have a baby. In fact, she said, "It took me a while to get pregnant withJuliana also. It wasn't instant becauseI wanted sana na after we get married, buntis kaagad ako. It didn't happen that way."
Meanwhile, during the interview, Lucy was asked iftheir daughter was also requesting to have a baby brother or sister. Lucy said, "If we ask her,'Do you like a brother or a sister?' Her first answer is always, 'No, I don'tlike.'"
And then she surmised, "Maybe she doesn't verbalize nagusto niya ng kapatid. Palagi siyangnaghahanap ng kalaro na ka size niya."
ADVERTISEMENT - CONTINUE READING BELOW
Lucy and Richard have been explaining to Juliana what would happen if an additional member arrives in their family. Lucy always tells Juliana, "'You shouldn't be scared, Juliana, to have another brother or sisterbecause it doesn't mean we will love you any less.'
"We will always tell her, 'You are our first love. You will always love you. When the brother or the sister, when theycome, we will love you just as much as we love them. Walang mababawas.' Ialways tell her, 'Our hearts are big enough.'"
Right now, their seven-year old daughter has been showing alot of changes. "She's really growingup fast," exclaimed Lucy, "because on the wall, where her bed is, I already seeposters of the [Disney's] Jona's Brothers and Hannah Montana. And I tell her, 'Juliana, you remind me ofwhen I was a bit older than you, I had Menudo poster.'"
Could this be a sign that Juliana would soon join theshowbiz industry, too?
ADVERTISEMENT - CONTINUE READING BELOW
Lucy shook her head. "No, you won't seeher anytime soon. I want to protect herand extend her pure years some more because there will be time to grow up. And when she's all grown up, no need to fastbreak everything. I want her to enjoybeing a child for now."