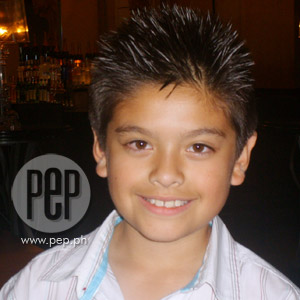 ---
Eleven-year-old Filipino-British singing sensation Charlie Green is currentlyin town to meet his Filipino fans. At the same time, he'll assess the possibility of jumpstarting his career herein the country.
Charlie arrived yesterday morning, July 24, accompanied by his Britishfather Roger Philip Green and Filipino mother Cecilia Sumargo. The family immediatelywent straight to the Makati Shangri-La Hotel in Makati City. Charlie's visitwas made possible by ABS-CBN.
The young singer's itinerary includes television appearances on ASAP 08, Wowowee, The Buzz, Pinoy Dream Academy's Uberture, Boy & Kris and Sharon.A couple of other shows could be added to the list, depending on Charlie'sschedule and availability.
Charlie gained international attention when he joined the reality TVcontest Britain's Got Talent along withfellow Filipino singer Madonna Decena early this year. American Idol and BGT judge Simon Cowell was so moved by the boy'stalent that he called him "fantastic" amidst the audience's loud cheers.
Though booted out of contention while competing in the semifinals,Charlie's rendition of Frank Sinatra's 1966 hit "Summer Wind" became a You Tubephenomenon, as proven by the staggering number of hits registered since May. Theclip shows Charlie being accorded a standing ovation by the impressed audienceafter his inspired performance.
WINNING SIMON COWELL. This is Charlie's fourth visit to his mom's homeland.
"I love the Philippines. I like the weather and the people are reallynice," smiled Charlie to the media earlier today over lunch. Charlie met somemembers of the entertainment press in a semi-presscon prepared by ABS-CBN atthe Conway's Bar of the Shangri-La Hotel in Makati City.
ADVERTISEMENT - CONTINUE READING BELOW
Recalling his Britain's Got Talentstint, Charlie said he was touched by the enthusiastic reaction he receivedfrom the audience and the judges. Followers of the show blamed Charlie'sdecision to perform an original number titled, "All I Wanna Do is Sing," forhis failure to advance. Judge Cowell even remarked "bad song choice" in frontof the camera to convey his disappointment.
Despite the criticism, the famous judge Simon Cowell remained anardent fan of Charlie.
"I met Simon Cowell after and he said, 'You're brilliant, Charlie, but Ididn't like your song'. But yeah, I actually really had good times in Britain's Got Talent."
WORKING WITH CHARICE. At his age, Charlie's idols and musical preferences come across as quite mature . Many in Britain wereactually caught flat-footed when he dished out a Sinatra tune instead of amodern pop song that suits his age.
He loves standard music and he's a big fan of crooner Michael Buble.Charlie also counts Leona Lewis, Andrea Bocelli and Elvis Presley as hismusical heroes. But like anyone who is passionate about music, the bubblyperformer listens to a wide variety of genres. Letting out an animated grin,Charlie shared how he recently bombarded his ears listening to the Queen's epicopus "Bohemian Rhapsody."
Charlie also expressed his admiration for fellow Filipino sensationCharice Pempengco. Charice is way ahead of the popularity race mainlybecause of her many international appearances; most notable of course were herguest appearances in popular American talk shows like Ellen DeGeneres and OprahWinfrey's. Aside from their extraordinary talent, both Charice and Charlie areconsidered by many as genuine You Tube darlings—with the popular video-sharingwebsite helping tremendously in exposing them to a global audience.
ADVERTISEMENT - CONTINUE READING BELOW
Talking about Charice, Charlie beamed, "Well, she's a great singer." Heis also open to the idea of working with the 16-year-old Junior Star Quest luminary saying, "I would love to sing withCharice."
At the moment, Charlie is still without a recording contract. It's safe to surmise though that Star Records already has the inside track in termsof clinching a record deal owing to the network's good relationship with theGreens.
Mr. Roger Green told PEP (Philippine Entertainment Portal) that theyare scheduled to hold a meeting with Star Records tonight to discuss the detailsof a possible recording contract.
"But nothing's really definite at this point," noted Charlie's father."We'll see and also we're hoping to get a good deal where we could marketCharlie's music here and in the U.K. or England. We would really love for him toshare his talent and music here in the Philippines because he is a Filipino andthis is also his home."