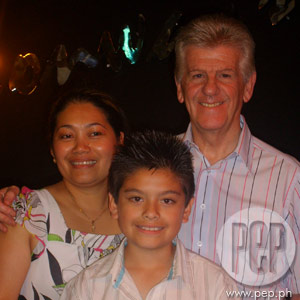 ---
Racial discrimination played nofactor in Charlie Green's failed Britain'sGot Talent bid.
The fact was stressed byCharlie's father, Roger Philip Green, when asked about theissue raised by some Filipinos living in the United Kingdom. Many reportedlyfelt that the 11-year-old British-Filipino singer was booted out of the contestmainly because of his Asian roots.
Charlie breezed through the earlystages of the competition based on the strength of his stirring rendition ofFrank Sinatra's 1966 smash "Summer Wind." So inspiring was Charlie'sperformance that the audience gave him a standing ovation. BTG's judges were unanimous on their decision to let Charlieadvance to the semifinals.
Simon Cowell, known for hisin-your-face comments, thrillingly said, "You are fantastic... Charlie I thinkyou are a little star." Theater actress Amanda Holden was even more daring,saying, "Charlie Green, I'm gonna say here and now, I predict you could winthis show."
The semifinals, however, saw Charlie's hopes crumbling to the ground. Opting to do an originalnumber titled, "All I Wanna Do is Sing," instead of dishing out a familiar tune,Charlie found himself kissing his BGT campaign goodbye.
Though Simon Cowell publiclyvoiced out that Charlie made a "bad song choice," resulting in hiselimination, some fans assumed that racial issue was the primary reason whyCharlie was axed from the contest.
BREAKS OF THE GAME. The "racial issue" was actually asked directlyto Charlie by the press during a special meet and greet luncheon tendered byABS-CBN yesterday, July 25, at the Conway's Bar of the Shangri-La Hotel inMakati City.
But since the question was too sensitive for Charlie to address, his father politelyvolunteered to speak in behalf of his puzzled son.
Mr. Green explained that theshow's production unit usually gives suggestions to the contestants on what songto perform. Charlie's team, however, was not comfortable with the choicesprovided. Hoping to really showcase Charlie's singing talent, Mr. Green alongwith a composer friend, crafted a song they felt at the time was best forCharlie.
ADVERTISEMENT - CONTINUE READING BELOW
"But unfortunately we were toldand we know that it's a fact that because we didn't sing one of the songs thatthey suggested, that he will not progress. We didn't know at that time. Becauseif they would have said to us by singing your own song you could not progressmaybe we would have reconsidered," reasoned Roger.
The analogy behind shunningoriginal numbers is that an unfamiliar song often bores the audience. Crowdreaction tends to be pale and less enthusiastic since there's no establishedrecall as compared to radio or MTV generated hits.
But according to Roger, theaudience loved what they heard from Charlie and again offered a standingovation as a sign of acknowledgement.
"They cheered," he enthused. "So weaccept the painful [judgment]. It was a shame. But we have no regrets because all of thecontestants got on extremely well. There is no, what we say, nastiness in thecompetition. Everybody supported each other. And the competitors, all of them,thought that Charlie was gonna win the thing but because of this [performing an original song], it wasn'tgonna be."
HAPPY NONETHELESS. Despite failing to secure the plum, Roger andthe family are happy and grateful to BTG for the big break it provided Charlie.
"However, the exposure has beenwonderful," smiled Roger. "Exposure on television, the media coverage, YouTubeand all that, you become known all over the world. So it's wonderful really andit's a stepping stone to other things."
Reverting back to the issue ofdiscrimination, Charlie's father quipped, "But no, no discrimination," heassured. Glancing at his son who was busy finishing off his steak, Rogeradded, "He's never met with any discrimination at all in the UK."