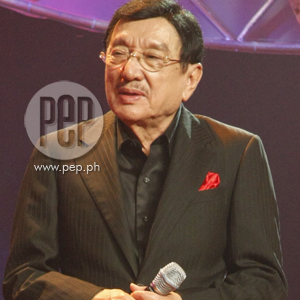 ---
"Ang mga talagang minahal ko,mabibilang sa daliri ng kamay. Huwag na nating bilangin ang naka-fling, atmasisira ang abacus ng Intsik."
Those words officially introduced Chapter 12 of Comedy King Dolphy's authorized biography titled Dolphy: Hindi Ko Ito Narating Mag-isa. The saidchapter might as well be the most intriguing part of the entire tell-all as ittouches the ace comedian's renowned yet still obscure romantic liaisons.
Aside from his storied career asan actor, Dolphy—who had just turned 80 last July 25—is also legendary forbeing a certified ladies' man; this despite his lanky frame and not-so-stunningChinese-Filipino features.
"Hindi ko pine-presume namagugustuhan ako palagi," Dolphy confided to author Bibeth Orteza, whosat down with the iconic comedian for five months documenting his life's journey,"Iniisip ko nga kung ano'ng mayro'n ako at malapit sa akin ang babae."
The early chapters revealed thename Aida Javier as Dolphy's first love. He also confessed how he fell deeply inlove with a Kapampangan named Engracita Dominguez during his juvenile years. Itwas a serious romance which unfortunately ended in 1963 due to certain circumstances.Engracita, or Grace, died in 2007. Dolphy visited her at the hospital and even volunteeredto shoulder her bills.
"ANG TYPE KO, MESTISAHIN." Aptly titled "To All the Girls I'veLoved Before," the section found the Comedy King at his most revealing as faras addressing his puzzling love affairs, which consequently produced 18 childrenall in all.
Dolphy shared his penchant formestiza girls. "Hahagod ka no'n. Titingnan mo ang mga kamay, kung malinis; kungnakayapak, titingnan mo ang kuko. Wala akong foot fetish, pero kung maykarumihan ang kuko, kita mo agad kung balahura. Maganda nga, pero balahura,bakit pa?"
But like everyone else caught ina flirting game, physical features take a backseat once initial attraction wasestablished. "Siyempre, pagkatapos no'ng physical na paghanga, inaalaala momuna iyong ugali, dahil 'yon ang nagiging importante sa lahat."
ADVERTISEMENT - CONTINUE READING BELOW
He also shared in the book his courtingstyle, which as his track record with women would suggest, never failed to deliverthe best results.
Charismatic, thoughtful, oozingwith humor, and naturally kind—short-lived affairs were abundant in Dolphy's lifeas a youngster. Although he told stories of his various brief involvements,which consists of homegrown to foreign women, these were mentioned onlyin passing since most of the relationships failed to progressseriously.
Dolphy was generous enough thoughin recalling the times he shared with some of the women who figured prominentlyin his life: Vangie Evangeline Tagulao, Pilar Pilapil, Lotis Key, and AlmaMoreno.
Pilar and Lotis agreed to forwardtheir testimonies to give an insight on the man they once loved.
Pilar Pilapil wrote: "Dolphy'sfunny onscreen, but in person, he's very quiet. A gentleman. Thoughtful.Attentive. Without knowing it, at that time I had a need for a father image. Hewas loving, and so very focused on taking care of me. I was like a little girl,so happy."
Lotis Key, on the other hand,theorized that being exact opposites perhaps triggered the attraction. "I thinkwe were attracted to how very different we were from one another. We traveledtogether, made movies together and had a lot of crazy, laughing times," she said.
The Comedy King's life with Almacan be described as erratic. While being complete opposites sparked, and for atime sustained, his affair with Lotis, it was the total opposite with Alma.
Dolphy shared in detail howAlma's outgoing nature went against his desire for tranquility and doomed theirrelationship.
"Ang nahirapan ako, do'n salifestyle niya," he wistfully looked back. "Hindi ko type ang palaging may taosa bahay, mula umaga hanggang madaling-araw. Ibig kong sabihin, ok angmagkabisita, ang dalawin ka ng mga kaibigan mong reporter, pero nagingaraw-araw na 'yon, at hindi lang dito sa Manila."
ZSA ZSA SPEAKS. Of all the testimonies included in the book, it wascurrent partner Zsa Zsa Padilla who gave a lengthy account of her life andtimes with the well-respected comedian.
ADVERTISEMENT - CONTINUE READING BELOW
Zsa Zsa perfectly captured invivid details the traits that made Dolphy irresistible with women. "It startedwith the usual gift food items from Hizon's; the special attention," sherecalled. The two worked together in the movies Mga Anak Ni Facifica Falayfay and Black Magic.
"And then we'd go to the set andnotice we were wearing the same color clothes, like we were in sync, and he'dmake a big deal out of it. Tingin lang din siya ng tingin, gano'n. I didn't getkilig at once. But it was perfect timing. He was the only man na nangungulit saakin during that period. And charming, too. Who wouldn't fall in love with aDolphy?"
It is common knowledge thatDolphy gravitated towards Zsa Zsa's orbit while he was still publicly committedto Alma. When Dolphy and Alma's relationship finally caved in, Dolphy and ZsaZsa could no longer keep their bond a secret. The public, prodded evenmore by the media and the Catholic Church, condemned the couple for theiralleged immoral union.
Zsa Zsa wrote the difficult timesthey shared together during the trying period which soon ended after Dolphymade a successful comeback via ABS-CBN's primetime comedy sitcom, Home Along Da Riles in 1992.
HONEST AND UPFRONT. According to Bibeth Orteza, Dolphy made itclear right from the start that he won't drag the names of most of the women hegot involved with; particularly those who are leading private lives.
"Nananahimik naman na daw mostlykaya ayaw na niyang banggitin," admitted Bibeth to PEP (PhilippineEntertainment Portal) in a phone interview yesterday afternoon, July 28.
Like a true gentleman, Dolphy—outof respect and owing to his sincere intentions—refused to divulge the names ofthose whom he helped financially.
But Dolphy, shared Bibeth, wasvery honest throughout their conversations which would often start at mid-afternoonand last until midnight. "He's not guarded at all," she enthused. "Nagkukuwentolang siya and he's very candid and relaxed while talking about his past."
ADVERTISEMENT - CONTINUE READING BELOW
It also wasn't hard for Bibeth toconvince Pilar, Lotis, and Zsa Zsa to share their points of view, which was verycrucial in painting a more balanced portrait of Dolphy. In the case ofLotis, who is now based in the U.S., communication and information wereexchanged through e-mail. As expected, all of them asked to see first the editeddraft of their self-written piece to assess whether they missed out onsomething.
The feisty author, of course,would love to have Alma's participation in the project. "I wouldn't say I wasdisappointed," said Bibeth. "I mean, it would have been nice if she wrote atestimonial like the others. But I understand and respect her decision todecline."
The image of being a "babaero" inFilipino culture—much as it is still being revered by those still rooted in theso-called macho mentality—is being frowned at by modern thinkers. For Dolphy,the image of being a ladies' man is a double-edged sword he constantly struggledwith throughout his lifetime.
"I've always seen the gentle sideof him...very compassionate," said Bibeth whose first encounter with theComedy King took place in 1987. "I'm not saying that I'm condoning hisshortcomings but he's naturally a kind-hearted man."
Even Dolphy, according to Bibeth,was not proud of his past conquests. "Hindi niya ipinagmamalaki," she yelped. "Actuallyhe's very sincere and consistent in saying na humihingi siya ng tawad kung maymga nasaktan man siya. Lagi niyang sinasabi na kung may nasaktan man siya,hindi niya talaga sinasadya."
Hindi Ko Ito Narating Mag-isa consists of 229 pages, complete withnever before seen photos of the Comedy King together with friends, colleagues,and family.