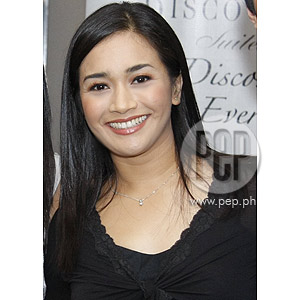 ---
West End-based Filipina stage actress Joanna Ampil arrivedin Manila for her performance in West Side Story. Joanna will play the lead characterMaria, alternating with singer-actress Karylle.
The media was able to have a short chat with Joanna at themedia junket prepared for her and Australian-born Filipina stage actress RowenaVilar last Wednesday, August 6, at the Discovery Suites in Ortigas Center,Pasig City.
Joanna related that when she found out about the audition for WestSide Story, she immediately called STAGES president Audie Gemora to tellher intention to be part of its cast.
"It's been my passion to be in West Side Story," saidJoanna. It's my favorite musical. I saw it in London two years ago and it reallyappealed to me, the part [Maria] really appeals to me."
Another reason Joanna wanted to be part of WestSide Story was the opportunity to perform for a Filipinoaudience. This Broadway piece isher first major musical assignment in the Philippines. She last performed in the country in theconcert East Meets West at the Cultural Center of thePhilippines in 2003.
"I'm passionate about the show. Also it's very important for me to be able to perform for myfellow Filipinos," said Joanna.
Joanna left the country 16 years ago to star in the Londonand Sydney productions of Miss Saigon. In 1995, she recorded the lead vocals in the international symphonicrecording of the hit musical, which is the only official complete recording of MissSaigon.
JOANNA SINGS FOR THE PRESS. Before the formal press conference began,Joanna performed some of the songs she did in the previous musicals. She had played the role of Kim in MissSaigon, Eponine (2000) and Fantine (2003 and 2007) in Les Miserables,and Mary Magdalene in Jesus Christ Superstar (1996).
She sang with emotion the songs "I Dreamed a Dream" from LesMisarables and "I Don't Know How toLove Him" from Jesus Christ Superstar. And then she did a duet with Christian Bautista,—who plays Tony in West Side Story—singing "Sun and Moon" from Miss Saigonand "Tonight" from West Side Story.
ADVERTISEMENT - CONTINUE READING BELOW
What is the difference between playing a role in MissSaigon and in West Side Story?
Joanna answered, "The singing is very, very differentbecause in Miss Saigon, it's all belty whereas in West Side Storyit sounds like a soprano in classical way. So, I wanted to challenge myself as well in that sense, that's why Iwanted to do the role."
The actress admitted that she still gets nervouswhile performing in front of the media. "I'm very nervous," she said.
This just proves that no matter how experienced she is inperforming on stage, she still gets jitters in some of her performances.
But what does she do when she has this feeling? Joannareplied, "Oh, gosh, do a lot of breathing exercises and I pray just before theperformance."
Joanna has done almost all the roles that a stage actresscould dream of. Does she stillhave a dream role waiting to be fulfilled?
She said, "You know, it's funny. After Miss Saigon, I was content already. You know, the other shows that I did after MissSaigon have been bonuses for me until I found out the audition for the WestSide Story. So, I feel very happywith my CV [curriculum vitae]."
BONDING WITH CO-ACTORS. In her few days here in Manila, Joanna has alreadystarted to bond with her co-actors. Shesaid that this is very significant if one is part of a production.
"I think that's very, very important if you're part of acompany. We work as a team andcamaraderie is very, very important. We've only got, like, a few months to go, a few months to do the show."
As a London-based stage actress, what did she learn from WestEnd that she would want to impart to our local actors?
"I guess it's the professionalism, being all on time, all thetime," said Joanna. "You know, theFilipino way is like being late a lot so I just try to make sure that I'm earlyto show people, you know, 'You gotta be early, really.'"
ADVERTISEMENT - CONTINUE READING BELOW
Joanna advises those who dream of becoming successful stageactors: "Well, just persevere and stick to yourpassion, stick to your dream, and never ever take anything personally."
Joanna will join the other cast members—Karylle, Christian Bautista, Gian Magdangal, and Rowena Vilar—in the restaging of West Side Story, which will run from September 5 to October 12 at the Meralco Theater.
For tickets, please call Ticketworld at 891-9999 or STAGES at 818-1111 loc 225. Ticket prices range from P500 to P1,200.