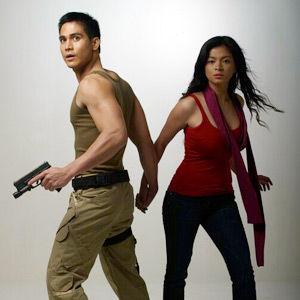 ---
Angel Locsin's first fantaserye asa Kapamilya bowed out of contention with flying colors. Cornering the top spot,Lobo—which had its last episode onJuly 11—emerged as the most watched program last month in the nationwideprimetime race alongside Cesar Montano's TheSinging Bee.
According to the latest NUTAM(Nationwide Urban TV Audience Measurement) study conducted by AGB Nielsen MediaResearch Philippines for the month of July, both Lobo and The Singing Beeaccumulated identical 33.4 percent ratings, followed by June leader Dyesebel.
Marian Rivera and Dingdong Dantesgarnered a rating of 33.2 percent followed by ABS-CBN's teleserye, Iisa Pa Lamang, which collected a totalof 31.8 percent.
Richard Gutierrez's Codename: Asero garnered 31.5 percent tobeat Joaquin Bordado's 31.4 grade.
This year's edition of the Ms. Universe pageant held in Vietnam figuredprominently in the daytime contest. The annual beauty fest seen around theworld secured the third spot via its 19.9 percent rating behind Wowowee's 22.8 percent tally. Leadingthe race was the Spanish telenovela ElCuerpo Del Deseo with 23.7 percent tucked under its belt.
ABS-CBN's special coverage of theState of the Nation Address last July 28 likewise entered the winning column.Bolstered by its 17.9 percent rating, the SONA delivered by President GloriaMacapagal-Arroyo overtook perennial contenders Daisy Siete and Eat Bulaga!
Willie Revillame's Wowowee sat solely at 1stplace in the daytime category for the Top Weekend Programs. Trailing behind thecontroversial noontime show was ASAP '08,which gathered a rating of 20.1 percent.
Cinema FPJ settled for 3rd with 19.5 while anotherABS-CBN program, Your Song, hauleddown 18.1 percent. Rounding up the Top 5 was Eat Bulaga! which garnered a total of 17.2 percent rating.
ADVERTISEMENT - CONTINUE READING BELOW
Picking up from where it leftoff, Pinoy Dream Academy maintainedits strong showing in the primetime category of the Top Weekend Programs. Theshow's Live Gala Night gained arating of 30.2 percent while its LittleDreamers edition gathered 28.5 percent to nail the No. 1 and No. 2 spots,respectively. Goin' Bulilit placedthird overall with 27.1 percent rating.
Here are the Top 10 weekday andweekend programs for the month of July based on a survey conducted by AGBNielsen among NUTAM households:
Top Weekday Programs (Daytime)
1. El Cuerpo DelDeseo (ABS-CBN) - 23.7 %
2. Wowowee (ABS-CBN)- 22.8 %
3. Ms. Universe 2008Vietnam** (ABS-CBN) - 19.9 %
4. Ligaw na Bulaklak(ABS-CBN) - 18.5 %
5. Magdusa Ka (GMA-7)- 18.5 %
6. Pilipinas, GameKNB? (ABS-CBN) - 18.1 %
7. Gaano Kadalas angMinsan (GMA-7) - 17.9 %
8. SONA 2008 ABS-CBNSpecial Coverage (ABS-CBN)** (ABS-CBN) - 17.9 %
9. Daisy Siete(GMA-7) - 16.7 %
10. Eat Bulaga! (GMA-7) - 16.3 %
Top Weekday Programs (Primetime)
1. Lobo(ABS-CBN) - 33.4 %
2. The Singing Bee(ABS-CBN) - 33.4 %
3. Dyesebel (GMA-7)- 33.2 %
4. Iisa Pa Lamang(ABS-CBN) - 31.8 %
5. Codename: Asero(GMA-7) - 31.5 %
6. Joaquin Bordado(GMA-7) - 31.4 %
7. TV Patrol World(ABS-CBN) - 31.0 %
8. My Girl(ABS-CBN) - 28.0 %
9. 24 Oras(GMA-7 ) - 23.9 %
10. Kapamilya, Deal or No Deal (ABS-CBN) -23.9 %
Top Weekend Programs (Daytime)
1. Wowowee(ABS-CBN) - 22.5 %
2. ASAP '08 (ABS-CBN)- 20.1 %
3. Cinema FPJ DaKing on ABS-CBN (ABS-CBN) - 19.5 %
4. Your Song(ABS-CBN) - 18.1 %
5. Eat Bulaga!(GMA-7) - 17.2 %
6. Dragon Ball Z(GMA-7) - 15.5 %
7. The Buzz(ABS-CBN) - 14.1 %
8. EntertainmentLive! (ABS-CBN) - 13.9 %
9. Wish Ko Lang(GMA-7) - 13.4 %
10. SOP (GMA-7) - 13.0 %
Top Weekend Programs (Primetime)
1. Pinoy DreamAcademy Live Gala Night (ABS-CBN) - 30.2 %
2. Pinoy DreamAcademy Little Dreamers (ABS-CBN) - 28.5 %
3. Goin' Bulilit(ABS-CBN) - 27.1 %
4. Komiks(ABS-CBN) - 27.0 %
5. Bitoy's FunniestVideos Yari Ka! (GMA-7) - 24.6 %
6. Maalaala Mo Kaya(ABS-CBN) - 24.4 %
7. Kapuso Mo,Jessica Soho (GMA-7) - 23.7 %
ADVERTISEMENT - CONTINUE READING BELOW
8. Rated K(ABS-CBN) - 22.1 %
9. Pinoy Idol(GMA-7) - 20.4 %
10. Mel & Joey (GMA-7) - 20.2 %
Legend: ** Special
Source: AGB Nielsen Media Research, Philippines