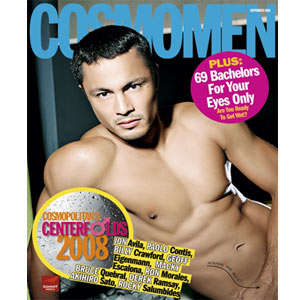 ---
Why is September a hot month for ladies? It will rain men!
Cosmopolitan magazine's annual list of 69 bachelors is officially out. And the fun, fearless females out there are in for 30 pages of "wet" hunks!
Zo Aguila, editor-in-chief of Cosmo, tells PEP (Philippine Entertainment Portal) that screening a room full of gorgeous guys is a most enjoyable thing to do, but it's no easy task.
She says, "We always try to top our previous projects. So, this year'sbachelor list, if I may say so, is our best count by far. We wereultimately looking for hunks who fulfilled fantasies."
When asked about the criteria set for this year's Cosmo Men, Zo reveals: "We understandthat each Pinay has her own type of swoon-worthy stud, so we tried tothrow in a mix of everything—from tisoys and chinitos, to pure-bloodedmorenos. Also, we're always on the lookout for men who have thatcertain charm that girls can easily toy with in their imagination. Thisyear's batch of bachelors is a group of worthy, crushable hunks—andthey've got the wit and bodies to prove it."
DEREK ON COVER. There has been a clamor for this half-Pinoy/ half-British guy, and finally, he's gracing the cover.
Zo relates, "We admit, Derek isn't new to Cosmo. In fact, he's been aCosmo-certified hunk since as far back as we remember. However, withhis current so-hot status and unwavering popularity, we felt that he'dmake a fabulous cover for 2008's Cosmo Men issue. Having him grace thisyear's Cosmo Men cover is testament to his all-out, consistenthotness...and to Cosmo's undeniable strength of giving girls what theywant."
CENTERFOLD HUNKS. And aside from the 28-year old actor, girls will find the other heartthrobs chosen for the Centerfold drool-worthy!
There's Paolo Contis, who completely sheds off his child-actor image in his "shower" pictorial. Another former child wonder, Billy Crawford, shows that it takes more than just his singing and dancing talents to be revered as an international star. Geoff Eigenmann's piercing gaze and charming smile are enough to melt any girl's heart.
ADVERTISEMENT - CONTINUE READING BELOW
Kapamilya stars Bruce Quebral, Jon Avila, and Ron Morales—who have lorded over fashion runways of Bench—prove that there's more to their being tall and handsome!
The first Pinoy Ford Supermodel Rocky Salumbides, cager Macky Escalona, half-Japanese/half-Brazilian Akihiro Sato have interesting stories to tell, as they also have great bods to display!
Zo explains how she and her team arrive at their choices, "Cosmopolitan's list of top ten centerfolds is comprised of industry hunks who have grown bold and sexy. We put in a mix of faces—from expected centerfolds and newcomers, to fresh boy-next-door-turned-sexy types. The repeat Centerfolds have to still be on the industry's sooo-hot radar; the newbies have to show pogi and lust potential; and the unexpected now-sexy crushables are the exciting additions to Cosmo's hall of fame.
"The choosing is an exciting challenge every year, but the bottom line is this: We make sure to give the readers pages they'll giddily devour."
Other exciting things to look forward to in this year's Cosmo Men?
Zo says, "Aside from the fresh 69 faces and 8 first-time centerfold models thisyear, we got a little more personal, asked the men racier questions,and made them give their most candid, no-BS answers. Also, as an addedtreat, we made sure all the guys were wet."
If Derek, the Centerfold hunks, and the rest of the 69 bachelors are not hunkalicious enough for you...girl, from which planet are you from?
Go grab your copy now, and rave about the Cosmo Men's pogi points with your girlfriends.