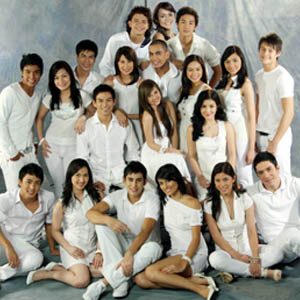 ---
Twenty hopefuls are given the chance by ABS-CBN to be part of the 16thbatch of Star Magic.
It was 1992 when then ABS-CBN CEO Freddie Garcia and program directorJohnny Manahan or Mr. M started the idea of creating a stable of stars for itsreturning network, which was closed for several years during the Martial Law era. It wasthen called Star Circle with the late Rico Yan being part of the illustrousfirst batch.
Sixteen years later, the star department of ABS-CBN now called Star Magicintroduced ten boys and ten girls as members of its batch 16 last Tuesday night,September 2, at the 14th floor of ELJ Bldg.
Like the last batch of Star Magic, the newest group is a mixture of newdiscoveries, commercial models, half-Filipinos, blood relatives to showbizclans, and past contest winners and finalists.
The two girls with showbiz connections are Cheska Ortega, current star ofTV5's Lipgloss and niece to siblings Michelle and Robert Ortega, and KristelMoreno, who is the niece of Alma Moreno and soon to be part of the upcoming ILove Betty La Fea.
ADVERTISEMENT - CONTINUE READING BELOW
Those with half-Filipino blood include half-American Lance Christopher whospent his first 17 years in Hawaii and Pangasinan; half-German Vangie Martellewho is based in Davao; half-German Michaela Melania who spent sixteen years in her father's country but is very Filipino at heart; andhalf-British Kristina Snell.
The 16-year-old cutie from Cebu Enrique Gil and the very different (interms of hair and former job) Pica Lozano have foreign blood, too; Spanish rootsfor Enrique and Latin for Pica.
Pure Filipinos but grew up in the States include the six-footer modelwannabe David Nagtalon who spent some years in California; Heidi Riego who wasborn and raised in Oakland; Kaye Garcia who was raised by her father in the U.S.;and Guji Lorenzana, a former teacher in the Bay Area and is now part of theupcoming Stages production West Side Story.
Familiar faces in the contest circuits are Erika Padilla, who was part ofMetro Mag's Top 10 models and Miss Bikini Philippines; Auriette Divina, who hadrecognitions in various singing contests here and abroad; Reb Sibal, who was thefirst runner-up of the second Close-Up To Fame search of ABS-CBN; and JubailAndres, then known as Alyzon Andres, has made the rounds from StarStruck toCircle of 10 to Century Tuna Super Bods.
ADVERTISEMENT - CONTINUE READING BELOW
Three boys and one girl have the distinction of being pure Filipinos whowere also raised in the country, no showbiz connections, and have not joined anycontest—18-year-old swimmer Nico Ibaviosa; 18-year-old wannabe funnyman ChaseRivera; 16-year-old Angelicum student Justin Gonzales; and Bacolod girlDominique Llamas who is about to audition for the upcoming VJ Hunt.
The 20 new Star Magic members will be launched this Sunday, September 7, at
ASAP '08.