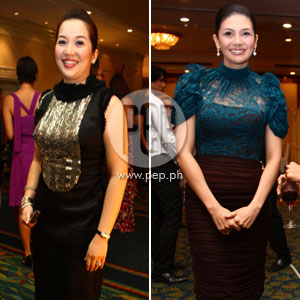 ---
TV show host-actress Kris Aquino is known for beingtactless in making remarks about people. In fact, she used to land on the headlines for her unsolicitedcomments. Last week, at a showof fashion designer Randy Ortiz, Kris once again stole the scene.
In Dolly Anne Carvajal's entertainment column yesterday, September9, she reported, "At the gala showof Randy Ortiz, Kris snapped at Charlene [Gonzalez-Muhlach], 'Pa-star ka!' just becausethe color of Charl's gown was different from the set motif."
Apparently, the motif for the event was black and white. Charlene wore a blue and dark brown outfit.
However, in an interview with TV Patrol World's MarioDumaual aired earlier tonight, September 10, Randy Ortiz explained that there was really no color motif set for theevent. He also had no intention to makeCharlene different from the other celebrities. He added that the TV show host had fitted her outfit even before shewent to an OFW event in Dubai. Thefashion designer also believed that Kris was just joking Charlene.
This was also the explanation of Kris in a text message sentto TV Patrol World. She saidthat her mistake was that she cracked a joke at someone who is not close toher. Also in the same message, the Kapamilya, Dealor No Deal host recalled the issue between her and Charlene about thecancelation of the latter's weekend program.
The text message read, "Di ba nga when her show in ABS wascancelled, ako'ng napagbintangan na dahilan and I already answered na di namanako nagkaroon ng weekend show."
Kris continued, "Obviously, she doesn't like me and my mistakewas I gave her another reason to dislike me."
At the end of the message, Kris wrote, "Iniintindi ko nalang. I joked with the wrong person, soI apologized right away."
On the other hand, Charlene chose to keep mum about theissue. Her mother, Elvie Gonzales, hopes thatthis would serve as a lesson to everyone—to carefully choose the person that's the butt of a joke.
ADVERTISEMENT - CONTINUE READING BELOW