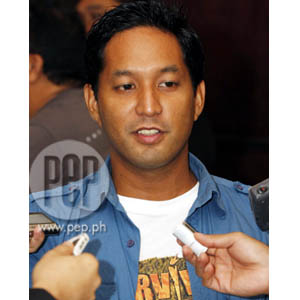 ---
You can never think of anyone else who perfectly fits the hosting jobof Survivor Philippines other than Paolo Bediones. The man is born to host the localversion of the hit reality series Survivor, which has been franchised by closeto 50 countries.
And Paolo is taking his job very seriously. Aside fromtesting for himself the grueling challenges, Paolo knows each and everycastaway—all 18 of them—in the first-ever Survivor Philippines.
"All of the castaways went to theauditions, all of them have a number, none of them were favored. They werechosen among 40,000, brought down to 400, down to 120, down to 60, down to 32,down to 16, and then 18.
"Each and every one, puwede namingsabihin kung saan nag-audition 'yan. Ako, dun ako proud na isa-isahin molahat ng castaways, kunin mo ang back story ng lahat ng mga 'yan, where theyauditioned, where they come from, I assure you, matutuwa kayo. We really gave achance to all sectors of society, to all working classes. Nakakatuwa talaga,"says Paolo to PEP (Philippine Entertainment Portal) during the press launch ofSurvivor Philippines last Wednesday afternoon, September 10, at the GMA NetworkCenter.
Selected members of theentertainment press had the privilege of watching the roughcut of the first few gaps of Survivor Philippines that will be aired onSeptember 15 in GMA-7. It was the first time that the press people were able tosee the 18 castaways who will compete for the cash prize of three million pesosand the title as the first-ever Pinoy Sole Survivor.
"We have a couple of favorites.We call them favorites kasi parang ang dating is all 18 have distinctpersonalities, e. So we have a favorite way of calling them. Angimportante sa castaway nung audition, dapat unang tingin ko pa lang sakanya—pagkatapos ng interview and getting to know him more—may personality," Paolo points out.
THE 18 CASTAWAYS. But even before the videopresentation, Paolo already gave a random description of the 18 castaways, based solely on his recollection.
ADVERTISEMENT - CONTINUE READING BELOW
"We have Zita who is a labandera, 47 years old. In her youth, she rescued three people from drowning. She just wants thebest for her kids. She has seven kids and 12 apos. Very strong woman.
"We have Gigit, who is 49 yearsold, we call him the Renaissance Man. He tried everything alone and now he isin a tribe. Paano 'yon? I mean, he's tried all the suns, all theactivities—mountain biking, trekking, canoeing, kayaking...mga ganyan.
"Then we have Kiko, he's anisland boy, we call him. He left everything in Manila, lived in Boracay for awhile and finally decided to go back to Manila to open up a restaurant. So,siya yung dreadlock guy.
"Jace naman is a 19-year-old who... ang ganda ng katawan and everything. He grew up in Brunei withthe royal family, his mom was like the fitness trainer there. He hobnobbed withthe rich in Brunei, then went to Hawaii, joined a few gangs, got into a lot offights. He's into martial arts, medyo may pagka-loverboy ang dating. He joined coz he feels like, 'Puwedeng-puwede 'to sa akin.' He's the youngest, and forme, I wouldn't be surprised kung pasukin niya ang showbiz because he has thelooks, he has the demeanor, he has, I think, the passion also.
"Then there's Vevherly, anaknaman ng isang farmer, and she's also a farmer girl herself. She's from Cebuand from a very, very far part of Cebu yung kinalakihan niya. She's aCriminology student. Very strong girl also.
"Kaye is a studentleader-underwear model. She's one of those girl-next-door types on the outset,but then there's deeper and more interesting aspects of her.
"Chev naman is a former GRO. Shehas one kid, she's one of those really, really funny characters na when shestarts opening her mouth, yung mga lumalabas sa bibig niya nakakatuwa. She'sfrom Iloilo.
"Patani is from Camotes Island inCebu. Patani is a yaya who wants to join showbiz. Pero pag nakita mo anghitsura niya, ang dating niya, exotic, sexy yaya. 'Pag nagsalita siya,nakakatuwa rin.
ADVERTISEMENT - CONTINUE READING BELOW
"Then there's Niña, she's asupermom. She has three kids, she has tried all extreme sports and very strongang personality niya. She's an architect.
"John is anauto-mechanic-part-time model. He made a name for himself in the modelingindustry somewhat, but his passion is for cars. For me in terms of physique,ganda ng physique niya, yung skin tone niya...siya yung talagangPilipino-Pilipino ang dating din.
"Then there's Cris, he's acompany driver, who, of course, wants the best for his kids. He has somethingto prove to his dad. According to him, he wants to prove to his dad that he isa winner.
"Emerson is a machine technician,na laking-Tondo yata 'tong guy na 'to, e. I think he lives in Caloocan now. Hehas a very strong personality din in terms of speaking his mind and in terms ofwhat he thinks should happen.
"Charisse works in the corporateworld. Of course, she's smart. She's a fan of the show and sabi niya, 'This ishow I'm gonna play the game.'
"Marlon naman is medyo matabangwaiter. I call him 'the fat waiter with an attitude.' So you just have to wonder,'What are you gonna do with this guy?' I mean, he cooks great food, tatanggalinmo ba siya? Napapadali yung buhay n'yo isa isla, e. Matiyaga siya, he does allthese things.
"Nikki is a call center agent.Nikki wants to escape the graveyard shift.
"There's JC, he's a basketballplayer from San Sebastian. Twenty-three years old. Boy-next-door looks, goodphysique as well, very strong din sa mga challenges."
Paolo wasn't able to mention two castaways, Vern and Rob, only because he was asked another question. But according to the press kit given to the entertainment press, Vern is a taekwondo champion who is unlucky in love. Rob is a sales officer and a businessman who doesn't want to stay under his brother's shadow.
ADVERTISEMENT - CONTINUE READING BELOW
(Click here to see the photos of the 18 castaways and more information about them.)
INTERESTING MIX. "All of them, if you look atthem," Paolo continues, "hindi naman prerequisite na they look good—guwapo,maganda. But of course, because it's television, they have to have personalityna either kaiinisan mo, maaakit ka, kaaaliwan, can serve as an inspiration...yungmga ganyang bagay. With all of them, I'm really proud na iharap ko sainyong lahat, endless kuwentuhan 'yan.
"You have a mix, e. May mga taongmagkakaroon ng mga fans in terms of how they look, how they play the game,because wala lang, nakakaaliw lang panoorin. It will be interesting each weekto see kung ano yung thinking process ng mga tribo to vote people out. Kasi inthis case, wala tayong kinalaman dun, it's all them, it's all the tribemates todecide. Sabi nga, ang Survivor is a game that you can never prepare for,never."
Paolo says one of the things thatmake his job more fulfilling is that he is not only a host, but also a producer.
He says, "Kumbaga, si Jeff Probst [host of Survivor U.S.] mismo... ang advice niya sa akin was that, 'You're not just a host, you're aproducer.' Meaning, there are times that you will dictate the tempo of yourshow. There are times wherein you will have a finger on each and every castawayto know what button to push. So, isipin mo 18 castaways 'yan, iharap mo sa akinlahat 'yan, kilala ko lahat 'yan."
PAOLO'S DISPOSITION. What was the hardest part in hosting SurvivorPhilippines?
"For me, the hardest was yung disposition ko, na hindi tuladsa Extra Challenge, sa Tok! Tok! Tok! na lagi akong naka-smile. Dito, bilangang beses na ngumiti ako. If ever ngumiti man ako, it's for sarcastic reason.Suplado. Kasi pati ako, maiinis ako sa sarili ko, e."
ADVERTISEMENT - CONTINUE READING BELOW
How did the castaways react to his disposition?
"There are times na parang they feel they have a pointof contention, I'll put them in their place, 'No!' ganun. If you ask any ofthem... I think it was important na from the get-go, I established na, 'Laro ito,pero hindi ito larong bata. It's not child's play. We're here for three million[pesos], let's make that clear.
"Sabi ko, 'I'm not here to make friends withyou. After 39 days, sige maging kaibigan tayo. Pero dito, sorry...' And a lot ofthem experienced where I really get mad at them, I get mad at them.
"There are times na they're forgetting the reason whythey're there or there are times na nag-aaway sila, physically fighting... Andyou know what, sometimes the start of the fight, differences of opinion on howto handle the challenge. So you're talking about among your tribemates,nag-aaway kayo and then, isasama mo pa yung tensiyon na may kalaban kayongtribo.
"And there are some challenges that are very physical, may physicalcontact, na siyempre bawal ang suntok, bawal ang mga sipa, mga ganyan. Perohindi maiwasan na magkasakitan minsan if it's a show of power, strength, diba?
"So yung mga instances na 'yan, if I think they're goingoverboard, parang nakakalimutan nila, I scream at them. I really scream at themand I tell them, 'Nakakalimutan n'yo!' And it's funny it happened early on [inone of the challenges] and it shook the whole program, na 'So, ganun pala siya,siya ganun pala.' Yung ganun.
"Then, parang naging milestone siya for thesucceeding challenges and the behavior also. Kasi parang na-realize na,'Shucks, puwede palang mangyari 'yon.' We have to be in check, pero at the sametime, hindi mo maiwasan, e, 'pag gutom ka, inis ka, e,"
Paolo may be the envy of several other TV hosts for landingthe job as the host of Survivor Philippines, but Paolo, in turn, envies the castaways.
ADVERTISEMENT - CONTINUE READING BELOW
"Nakakatuwa yung mga castawaysbecause they'll ask me for advice, 'What's gonna happen to us?' And sabi ko ngasa kanila, 'You know what, inggit ako sa inyo kasi you will experiencesomething that I will never experience in my lifetime. Thirty-nine days in anisland, no food, you have to build your shelters, you have to provide foryourselves, unbelievable!
"'Inggit ako sa inyo because Iwill never feel the first time again na nakita ko yung mukha ko sa billboard oryung unang kilig ko when I first saw my face on TV. Or I'll never feel thefirst time the happiness I feel when someone came up to me to ask an autographor a picture.' It's gonna happen to this people. I'm really, really excited forthem," says Paolo.
The 18 castaways are divided into two groups—the all-womenNaak Tribe and the all-menJarakay Tribe. In Thai language, naak means "snake" and jarakay, "crocodile."
So, it's gonna be a battle of the sexes for the first few episodes.
Survivor Philippines will air nightly on GMA-7 after Ako Si Kim Samsoon beginning September 15.