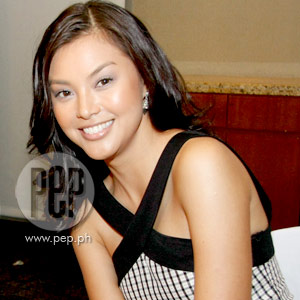 ---
Mas kumportable nang makipag-usap sa local entertainment press ang Malaysianactress na si Carmen Soo, kesa noong mga unangaraw ng pagdating niya sa Pilipinas para gawin ang higanteng teleserye nila ni Jericho Rosales, Kahit Isang Saglit. Magsisimula nang ipalabas ito sa Lunes, September 15, sa PrimetimeBida ng ABS-CBN.
Medyo stiff kasi si Carmen in her previous interviews.
"In March? Yeah, I didn't know the cultureand how's everyone, and the kind of questions that will be asked. Butnow, I think it's safe to say I've been asked all the questions already.Ha-ha-ha!
"Many times. So, I think I'm getting used to it. But, of course, in Malaysiathey are not so interested with your personal life."
BOYFRIEND QUESTION. Marami na ang naitanong kay Carmen butnot about her lovelife. Curious na itinanong ng PEP (Philippine Entertainment Portal) kay Carmen kung mayboyfriend ba siya na iniwan sa Malaysia.
"No, I don't," ngiti ni Carmen.
When was the last time na nagkaroon siya ng boyfriend?
"Late last year. It lasted a little over a year"
Wala nang boyfriend si Carmen noong una niyang ma-meet siJericho sa una nilang press conference para sa Kahit Isang Saglit noongMarso.
Tinulungan ba siya ni Jericho na maibsan kahit konti anglungkot sa puso niya?
Natawa muna si Carmen bago sumagot.
"Well, I think by that time I met him, I was alreadyquite okay. But of course, with breakups, you are just used to being alone. Butwhatever pain that was caused by the breakup, it was already gone by the time Istarted [the taping for the show]. And I've always believed, that the goodthing after a breakup is when you become so busy with your work. It's great.You don't have time to think about it."
PERSONAL QUESTIONS. Tinanong siya ng PEP kungnakailang boyfriends na ba siya. May pagka-shock pa siyang sumagot na ayaw dawniyang banggitin kung ilan. Nasya-shock ba talaga siya kapag tinatanong nangpersonal questions?
ADVERTISEMENT - CONTINUE READING BELOW
"Yes, yes, definitely. And I know these intrigues that surroundthe whole show, the little things that happen on the side. I understand thecuriosity, and... I think when I first came here, before the firstpress conference...two hours after I arrived from the airport he[Jericho] told me, 'Yeah, you know, they'll ask you these kind of questions...' Iremember that day, every time a personal question is thrown at me.Then I look at him and I was like, 'Oh, my God!' And he's like, 'It'sokay.' Now, I'm not saying I'm already used to it, but I'm still adapting."
ECHO'S EXs. Nag-search daw siya sa Google just to get some information about Jericho. Nakita rin ba niya sa Googleang mga naging girlfriends ni Jericho, including HeartEvangelista?
"Yeah, during that time. They're still together."
Alam niya rin daw na naging girlfriend ni Echo si KristineHermosa.
"Yes, in ASAP. I met her backstage. Very beautiful,very sweet. We were introduced by Echo. Actually, we were waiting,standing by."
"She's very beautiful, very stunning," sabi pa ni Carmenabout Kristine.
What about Heart? Is she also beautiful?
"I think they're both beautiful in their own way. They don'tbelong to the same-look category. Different style, but both beautiful in theirown way."
But who does she like more?
"Well, if I'm a guy it's easier to answer that. I thinkthey're both beautiful in their own way. I cannot find a physical flaw inthem, so far. They're both very stunning."
WHAT IF. Posible ba na ma-in love siya sa isangPinoy?
"Yes, definitely. I never consider nationality to be afactor to the kind of boy I will fall for. So, it doesn't matter."
Ano ang nationality ng last boyfriend niya?
"He's actually Chinese-Canadian. He's Chinese butborn and raised in Canada."
What if Echo courts her?
ADVERTISEMENT - CONTINUE READING BELOW
"Ah, I haven't thought about that, although I've been askedmany, many times. It just that, answering it has become a bit of aroutine. Actually, I do not think about it. Maybe if he actually courts me,then I'll think about it."
What does she like about Jericho?
"Among other things, he's a very talented actor. He'shumble about it. He's very kind with his co-stars...
"Well. definitely he's guwapo. No one can deny he's a verygood-looking man, very charming, very sweet, and caring. Like when I left home,he is very sensitive and he's like, 'Do you miss home? Don't worry.' Butyeah, he's guwapo," nakangiting sabi ni Carmen.