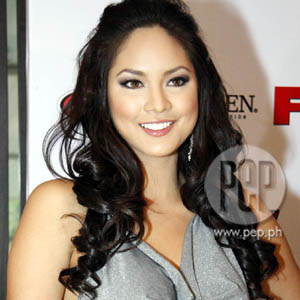 ---
Beauty queen turned actress Riza Santos finally airs herside about her misunderstanding with I Love Betty La Fea co-star RuffaGutierrez after reportedly coming in late on one of their tapings.
According to Ruffa in her interview on The Buzz last Sunday,September 7, Riza came to their set four hours after her actual call time. And whenshe finally arrived, Riza did not even apologize to her co-stars and to thestaff for coming in very late.
"At that point lang, whether she was stuck in trafficor whether she had a big problem, you know, ang sa amin lang sana, she couldhave said sorry man lang to the director because all of us were just waitingfor her," said Ruffa, who was supposed to finish her last scene for that daywith Riza.
After doing their scene, Ruffa said, "So parang one hournang natapos 'yong scene or 30 minutes, wala pa din po siyang sinasabi.Kumbaga, parang wala lang. So when I stood up, I said, 'Okay, bye everyone,bye!'"
And then, Ruffa turned to Riza and told her: "'You know,Riza, next time don't make anyone wait,' sabi kong ganun. 'If you wanna make itin this business, be professional,' and I just left but still she didn't sayanything after that."
In a taped interview with Entertainment Live aired earliertoday, September 13, Riza explained, "I actually just got back from Macau thatnight and my plane was a little bit late and I was informed that I have ameeting with my manager. But I wasn't actually given a call time. I was justinformed that I should proceed to the taping.
ADVERTISEMENT - CONTINUE READING BELOW
"I didn't realize I was late until Ruffa told me. Had Iknown, I would have apologized right away. I did apologize to the cast and tothe director that night right after she left."
Riza also told Entertainment Live that she alreadyapologized to Ruffa when they met again during their taping of I Love Betty LaFea last September 8.
"I went to look for her and she accepted my apology. It wasvery casual, she was very open, accepting," said Riza.
That was not the first time Riza got involved in acontroversy with other actresses. During her stay in Pinoy Big BrotherCelebrity Edition Season 2, she was pitted against host Mariel Rodriguez. And during the FHM Victory Party last July, Riza was involved in a "snubbing" incident withKapuso stars Katrina Halili, Alyssa Alano, and LJ Reyes.