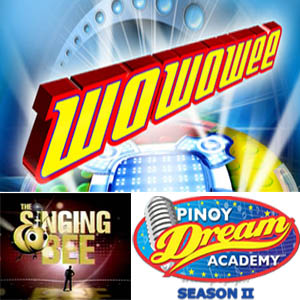 ---
A month after sharing the No. 1spot in the Top Weekday Programs category with Angel Locsin and Piolo Pascual, CesarMontano's The Singing Bee nailed sololeadership to rule the NUTAM (Nationwide Urban TV Audience Measurement) surveyfor the month of August.
It wasn't a stroll in the parkthough for the karaoke singing game show as it had to contend with Mega Manilatopnotcher Dyesebel in a fiercebattle for primetime supremacy. The SingingBee barely escaped the tandem of Marian Rivera and Dingdong Dantes as itgenerated a slim 33.2 percent rating against Dyesebel's 33.1 percent tally.
Anne Curtis's fantaserye Dyosa likewise joined the fray with animpressive 31.9 percent rating to secure the third slot. TV Patrol World bounced back to once again enter the winningcolumn. Collecting a grade of 30.5 percent, the popular news program climbed tothe No. 3 position after settling for seventh place last July behind the nowdefunct Robin Padilla action series, JoaquinBordado.
Also caught in a tight battlewere ABS-CBN's Iisa Pa Lamang andGMA-7's Codename: Asero, with the former once again emergingvictorious. The star-studded drama series collected a rating of 30.2 percent toupset Richard Gutierrez's 30 percent showing.
Kim Chiu and Gerald Anderson's My Girl moved a notch up from No. 8 to No.7, thanks to its 27 percent rating to trail behind Asero.
The daytime race showedinteresting movements as GMA-7's 1-2 afternoon drama punch inched closer to thetop. Magdusa Ka and Gaano Kadalas ang Minsan showed greatprogress, occupying the third and fourth slot respectively. Magdusa Ka garnered a rating of 19.4percent to lead Gaano Kadalas ang Minsan,which gained a total of 19.1 percent.
ABS-CBN's afternoon contenders Wowowee and El Cuerpo Del Deseo, however, stalled the brave rally displayed bythe two GMA-7 programs. For the month of August, Willie Revillame's noontimevariety show amassed 22.6 percent, followed by the Pinoy-dubbed Spanishtelenovela's 22.3 grade.
Wowowee's fortune extended over the weekend as it led the daytimerace for the Top Weekend Programs with 22 percent, beating ASAP 08's 20.2. Eat Bulaga performed way much better during weekends, as shown byits 18.9 percent rating, while Cinema FPJ lagged closely behind with 17.4percent.
ADVERTISEMENT - CONTINUE READING BELOW
Here are the Top 10 weekday andweekend programs for the month of August, based on a survey conducted by AGBNielsen among NUTAM households:
Top Weekday Programs (Daytime)
1. Wowowee(ABS-CBN) - 22.6%
2. El Cuerpo DelDeseo (ABS-CBN) - 22.3%
3. Magdusa Ka(GMA-7) - 19.4%
4. Gaano Kadalas AngMinsan (GMA-7) - 19.1%
5. Ligaw Na Bulaklak(ABS-CBN) - 18.6%
6. Pilipinas, GameKNB? (ABS-CBN) - 18.1%
7. Eat Bulaga!(GMA-7) - 17.8%
8. Daisy Siete(GMA-7) - 16.9%
9. Marimar(GMA-7) - 15.8%
10. Cinderella (ABS-CBN) - 13.2 %
Top Weekday Programs (Primetime)
1. The Singing Bee(ABS-CBN) - 33.2%
2. Dyesebel(GMA-7) - 33.1%
3. Dyosa(ABS-CBN) - 31.9%
4. TV Patrol World(ABS-CBN) - 30.5%
5. Iisa Pa Lamang(ABS-CBN) - 30.2%
6. Codename: Asero(GMA-7) - 30%
7. My Girl(ABS-CBN) - 27%
8. 24 Oras(GMA-7) - 24.8%
9. Ako Si KimSamsoon (GMA-7 ) - 22.3%
10. Kapamilya, Deal or No Deal (ABS-CBN) -21.7%
Top Weekend Programs (Daytime)
1. Wowowee(ABS-CBN) - 22%
2. ASAP '08(ABS-CBN) - 20.2%
3. Eat Bulaga!(GMA-7) - 18.9%
4. Cinema FPJ DaKing On ABS-CBN (ABS-CBN) - 17.4%
5. Your Song(ABS-CBN) - 15.8%
6. Dragon Ball Z(GMA-7) - 15.8%
7. Wish Ko Lang!(GMA-7) - 15.2%
8. SOP (GMA-7) -14%
9. Pinoy Idol Extra(GMA-7) - 13.5%
10. The Buzz (ABS-CBN) - 13.4%
Top Weekend Programs (Primetime)
1. Pinoy Dream AcademyLive Gala Nights (ABS-CBN) - 31.1%
2. Pinoy DreamAcademy Little Dreamers (ABS-CBN) - 29.4%
3. Komiks Presents Varga(ABS-CBN) - 29.4%
4. Goin' Bulilit(ABS-CBN) - 26.7%
5. Bitoy's FunniestVideos Yari Ka! (GMA-7) - 25.4%
6. Maalaala Mo Kaya(ABS-CBN) - 25.1%
7. Pinoy Idol(GMA-7) - 24.2%
8. Kapuso Mo,Jessica Soho (GMA-7) - 22.8%
9. Tok! Tok! Tok!Isang Milyon Pasok (GMA-7) - 22.8%
10. Rated K (ABS-CBN) - 22%
Source: AGB Nielsen Media Research, Philippines