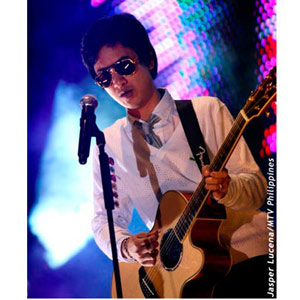 ---
Former Eraserheads andnow Pupil frontman Ely Buendia is "fine and doing well."
In a text messagereceived by PEP (Philippine Entertainment Portal) earlier this afternoon, September 18, Ely'smanager Day Cabuhat disclaimed the nagging rumor circulating since yesterday that the legendary singer-songwriter passed away due to complications broughtabout by his heart ailment.
According to the rumorthat was disseminated widely via SMS, a news blackout is allegedly currentlybeing implemented by Ely's immediate family and close friends since all of themare at a loss on how to break the sad news to the public.
"Just to let you knowit ain't so," informed Day, who admitted being swamped with phone calls andtext messages coming from fans and reporters for the past two days.
COMPLETEREST, NO STRESS. Ely was ordered by his doctors to restfor two months straight, after undergoing another angioplasty—his third sinceearly 2007—to clear his blocked arteries.
The enigmatic musician,widely known as the heart and soul of the phenomenal '90s rock band theEraserheads, was rushed to the hospital last August 30. This was after experiencing chestpains before collapsing backstage while in the middle of the highly anticipatedone-night reunion concert of the Eraserheads at the Bonifacio Global City OpenField in Taguig. Stress, both physical and emotional, caused Ely's meltdown.
Aside from the taxingpreparations done by the band members leading to the event, Ely's mother, Mrs.Lisette Buendia, died two days before the concert. In spite of his already unstablecondition, Ely opted to push through with the concert and was able to completethe band's first set before retreating backstage where the unfortunateincident took place.
The two-month rest suggestedto Ely by his doctors is part of the cardiac rehabilitation program—amedically supervised program to aid patients with heart disease for themto fully understand and manage their condition.
"Complete rest. Noperformance and no stress," doctors reportedly advised Buendia.
ADVERTISEMENT - CONTINUE READING BELOW
His current band, Pupil,performed as a three-piece unit last September 6 at the AXN Amazing Race event heldin Trinoma Mall in Quezon City. Guitarist Yan Yuzon, bassist Dok Sergio, anddrummer Wendell Garcia all shared vocal chores to fill in for their absentfrontman.
Pupil, however, won'tcarry on as a trio despite managing to fulfill the AXN engagement. Managementopted to put the band's upcoming and pending commitments on hold while waitingfor Ely's full recovery.