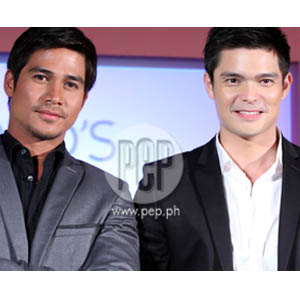 ---
In an unprecedented move, Pond's was able to get theservices of two of the hottest young actors today from rival networks ABS-CBNand GMA-7, Piolo Pascual and Dingdong Dantes, for their Pond's Pinkish WhiteDream Date Promo.
At the press conference held yesterday, September 18, atCrowne Plaza Hotel in Ortigas Center, Pasig City, Pond's brand manager JacqueYuengtian explained why they chose Piolo and Dingdong for this campaign ad.
She said, "Because they are the hottest stars in thecountry. And much more than that, they are the romance icons of thePhilippines. Sila yung sexiest and most romantic guys out there."
In the said campaign, two lucky Pond's users will have thechance to have a dream date with either Piolo and Dingdong.
On the other hand, Piolo and Dingdong both expressed howprivileged they are to be chosen for this campaign ad, although Dingdong jokedthat he is more excited about the date.
QTV-11's Sam Oh had a sit-down interview with Piolo andDingdong during yesterday's launch. This is how it went:
SAM: What is your idea of your dream date?
DINGDONG: Ako,somebody na...not naman the complete opposite of who I am, but somebody that willcomplement kung ano ako at kung ano ang meron ako. Somebody who is funny, easyto get along with, bubbly, and can be naughty at times.
PIOLO: Ako siguro, I want naman someone who can surprise me.
SAM: Maybe both of you would want someone who is reallybeautiful?
PIOLO: Not really literally...
SAM: What is youridea of beautiful?
PIOLO: Someone who has sense and can really carry herself in agood conversation.
DINGDONG: For me,someone who can carry herself even if she is still all wrapped up and she canstill be sexy even if she doesn't show her skin. And of course, someone who isGod-fearing.
SAM: If you will choose a date for each other, who will itbe and why? And I'm definitely an option here.
ADVERTISEMENT - CONTINUE READING BELOW
PIOLO: Ikaw na lang! (laughs)
SAM: Why?
PIOLO: Becauseyou're interesting.
DINGDONG: Sa tingin ko, ikaw (Sam) talaga...wala nang iba. Themoment you walked in the makeup room, you look refreshing, bagay na bagaykayo.
SAM: You know what guys, I don't want drama, okay? I don'twant you guys fighting over girls! (laughs)
SAM: What made you the perfect choice for the Pond's PinkishWhite Dream Date Promo?
PIOLO: I don't think I can answer that question, but ofcourse, I'm honored.
DINGDONG: Thank you for saying that it's a perfect choice,but for me, it will really be perfect until that day comes that I will meet theperson.
SAM: It's like a joint venture, will there be a joint movieventure?
DINGDONG: Ako, I believe it's a possibility and I'm lookingforward.
PIOLO: It's reallyan honor...
SAM: Why do you even think that you have a bigger heart thanthe others?
DINGDONG: You cannot claim that you have a bigger heart thanthe other one, but you know, you should know yourself even more. Kailangangalam mo ang sarili mo. Hindi ka kailangang mag-compare. As long as you'reconfident about yourself, alam mo hanggang saan ka pupuwedeng magbigay, hindilang ng puso kundi sarili rin.
PIOLO: Of course, you have to be humble. So, I guess that'sfor you to let the people shine and not just pointing on yourself. For me, it'sthe virtue of knowing what it takes to be humble.
SAM: I love it! You know what, you guys are obviously good-lookingguys. I never really talked to any of you personally to really know you, but there'sso many things behind your beautiful self.
SAM: Being chosen by Pond's to endorse their product, many saythat's a statement that you two are the prime talents and kings of two networks.
DINGDONG: I really do not give much importance to title orwhatsoever, kasi it's really all about... Siyempre, it all boils down toperformance. Para sa akin, I'm very happy kung saan man ako madala ng careerko. Much more that Pond's taking to the picture that made my career more meaningfuland colorful.
ADVERTISEMENT - CONTINUE READING BELOW
PIOLO: I'm happy just, you know, that I'm still in thebusiness after quite sometime and ever since naman, I never competed with anyone. I'm competing with myself.
SAM: Moving away from your job right now, what would be yourdream job after showbiz naman?
PIOLO: I wanna be a missionary. Especially to the remoteareas na hindi na naaabot ng mga churches. And I just want to be able to sharethe gospel.
DINGDONG: I want to be a bodyguard and during my day-off, Iwant to be a farmer. I need balance, I think.
SAM: Anyone in particular for whom you would want to be abodyguard?
DINGDONG: The President of the Philippines.
SAM: And I don't know that you want to be a farmer. What doyou want to be farming?
DINGDONG: Mangoes and kambing...
SAM: Oh, you're a man of mystery, Dingdong!
SAM: If you were given the chance to chat to the world'sleader, who would that be?
PIOLO: I want to talk to the President of the Philippinesbecause I'm a Filipino and I want to know how we can help.
DINGDONG: Mabigat 'yan, pero siguro I would like to talk toManny Pacquiao. He's the leader in sports. I want to talk to him and give himgood luck and I want to wish him well with his next fight. And that his winningcould prove something else to the world, that the Filipinos can stand up fortheir discipline and that they are the leader in boxing.
SAM: Of course, you don't have to be dealing a politicalthing to be the world's leader. You can also be an ambassador for something. So,did you injure your arm because you know...Manny Pacquiao?
DINGDONG: Well, sad to say, I don't have his expertise.
After the question-and-answer portion, Sam threw a game forPiolo and Dingdong. In this game, they had to decide between two choices.
ADVERTISEMENT - CONTINUE READING BELOW
SAM: Dingdong, are you a hopeless romantic or a levelheadedlover?
DINGDONG: Levelheaded lover.
SAM: Piolo, are you artistic or intellectual?
PIOLO: Artistic.
SAM: Do you prefer sexy or sweet?
DINGDONG: Sexy.
SAM: Piolo, do you prefer coffee or tea?
PIOLO: Coffee.
SAM: And the most important question, pinkish white or palewhite?
PIOLO & DINGDONG:
Pinkish White!