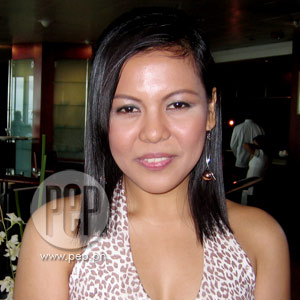 ---
PinoyDream Academy (PDA) Grand Star Dreamer Laarni Lozada revealedthat she was secretly rooting for rival Bugoy Drilon to win the reality talentsearch show's top plum.
"Magaling naman potalaga siya [Bugoy]. 'Tsaka totoo naman po talagang may talent siya," Laarnitold PEP (Philippine Entertainment Portal) in an interview yesterday, September18, at ABS-CBN's 9501 restaurant in Quezon City. A press conference was speciallyprepared by the Kapamilya network to officially present the six top contendersof PDA.
Fate, however, wouldrather have the 23-year-old native of Sultan Kudarat bag the honor over theunderdog Bugoy. Amassing a total of 651,696 votes, or 35.21percent, Laarni was crowned last September 14 at the Cuneta Astrodome, signaling the end of PDA's second season.
STILLIN DISBELIEF. Days after the event, Laarni isstill reeling from the entire experience. The euphoria has yet to simmer downand the young singer is still trying to make sense of her good fortune.
She said animatedly ofher reaction when she heard her name being announced as the Grand Star Dreamer:"Hala! Ako ba Grand Star winner? 'Yong ganun lang, ang dami-daming nag-auditon,milyun-milyon 'tapos ako 'yong nanalo."
ADVERTISEMENT - CONTINUE READING BELOW
Just like all the otheraspirants, Laarni enthused that to be part of the Top 6 was more thanenough for her to be thankful going into the finale. Laarni cited the hugeturnout of aspiring singers during the audition right to the grueling selectionprocess up to the nerve-wracking actual competition itself, where the chosencontestants were subjected to intense training under the guidance of director JoeyReyes, voice mentors Kitchy Molina and Monet Silvestre, and headmaster Ryan Cayabyab.
It didn't helpthat the young singer was perceived in a negative light while inside the Academy. Although she argued that the sudden emotional outbursts she displayed duringthe contest have valid reasons, Laarni admitted feeling both guilty and hauntedthinking that her actions would surely affect her chances down the stretch.
The pressure was simplytoo much for the contestants to bear as the competition drew to a close.
"'Yong umiyak ako nun, may dahilan yon," she explained. "Kaya nga di ko alam kung anong gagawin ko, e. Kasi sa mga co-scholars ko talagang nagkakaroon ng misunderstanding. 'Tsakaakala ko 'yong mga tao sa labas, galit na galit sa akin kaya nagpi-pray din ako."
ADVERTISEMENT - CONTINUE READING BELOW
"Ang dami ko talagangnatutunan ko. Kumbaga, 'yong Pinoy Dream Academy 'yong parang training ground kotsaka ang dami kong dinanas dito sa Manila. So pinrepare po talaga ako ni Goddun."
ENJOYINGTHE MOMENT. Many took note that this year's batch ofaspirants are more talented than those during the show'smaiden season won by Yeng Constantino.
Yeng, to be fair, wasable to prove that her victory was no fluke. A talented singer-songwriter, thefirst Grand Star Dreamer scored a hit right away via "Hawak Kamay" and "Salamat,"which are both her original compositions. Yeng's debut album titled Salamat hit gold-record (reportedly onits first week) status before eventually reaching platinum.
As Yeng's "successor,"is there any pressure on Laarni's part to exceed or at least duplicate Yeng'sfeat following her successful PDAstint?
"Ini-enjoy ko na langtalaga," replied Laarni, adding that she doesn't want to be pitted against Yengthis early.
There's no pressureaccording to Laarni, although she's now starting to understand that being a professionalsinger doesn't mean immunity when it comes to various intrigues commonlyattached to movie stars.
ADVERTISEMENT - CONTINUE READING BELOW
"Kasi gusto ko 'to, e. Paramaging successful ako, dapat ini-enjoy ko kung ano man 'yong darating, mgaintriga kailangan kayanin."
Even her family is still getting used to Laarni'snew lifestyle: "Shock pa rin sila kahit papaano. Pero alalay 'tsaka sobrangsuporta sila para sa akin."
So what's next for this year's Grand Star Dreamer?
"Pag-uusapan namin 'yong mga projects," she smiled,looking both shy and excited. "Siyempre mas gusto ko po 'yongpang-international, pero dapat ma-build ko muna 'yong career ko dito saPilipinas."