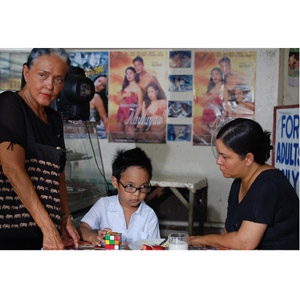 ---


Brillante Mendoza's Serbis won the Best Director award and Gina Pareño was declared Best Actress in the Pacific Meridian International Film Festival of Asian-Pacific Countries held in Vladivostok , Russia from September 13-19. Director Mendoza attended the festival to accept the awards, both of which carry substantial cash prizes.
Serbis which premiered to mixed reviews in Cannes main competition last May had its North American premiere at the Toronto International Film Festival.
Regent Entertainment has acquired the U.S. distribution and they have confirmed that Serbis will open in theaters in select cities in the U.S. this November. It will have its U.S. premiere as an official selection in the New York Film Festival next month.
Regent Entertainment executives Mark Reinhart (VP for acquisitions) and Jonathon Aubry (VP for Theatrical Marketing) hosted a dinner for Serbis after its first screening in Toronto. Also present in the dinner were director Mendoza, French co-producer Dider Costet, producer Ferdinand Lapuz, and Fortissimo executives Michael Werner and Wouter Barendrecht.
With the release of Serbis this year, Regent said it is possible that it will qualify for the best foreign language film category in the Golden Globe Awards and critics' awards like the Los Angeles and New York Film Critics Awards.
Michael and Wouter announced that they have finalized the Canadian deal of Serbis for Maximum Distribution for English Canada and Seville Pictures for French Canada.
French co-producer Didier Costet is also releasing Serbis in France this November. Equation (the distributing arm of Swift Productions) is handling the French distribution of the film.
Mendoza's Foster Child was released in France last February by Ad Vitam and the DVD will be released this month. The movie about petty thieves operating in Quiapo, Tirador, acquired by Swift Distribution will be released in France next year.
ADVERTISEMENT - CONTINUE READING BELOW
Thailand 's Sahamongko Films plans to release Serbis later this year. Other territories which acquired Serbis are Benelux with Paradiso Entertainment, Singapore and Brunei with Cathay , Portugal with Lusomundo, Greece with Seven Films and in Israel with United King.
Serbis produced by Centerstage Productions and Swift Productions was written by Armando Lao also featured Jaclyn Jose, Julio Diaz, Kristoffer King, Mercedes Cabral, Dan Alvaro, Roxanne Jordan, and Coco Martin.
Earlier this year, Direk Dante's Tirador won the Caligari Prize Award in Berlin's Forum section and the Best Film, Director and Netpac Awards in Singapore. Foster Child won the Signis Award in Las Palmas and the Best Film and Best Actress (for Cherry Pie Picache) awards in Singapore.
The acclaimed Filipino director will attend the New York screening of Serbis on October 12. He will also serve as instructor at the Asian Film Academy (September 25 to October 12) in Pusan, Korea. World-renowned Asian director Hou Hsiao Hsien will be this year's Dean of the AFA.
This November, Direk Dante will be a jury member in the international competition section of the Thessaloniki International Film Festival in Greece where Serbis is screening in the Independence Days section with Francis Pasion's Jay. Paolo Villaluna and Ellen Ramos Ongkiko's Selda is in the main competition section.