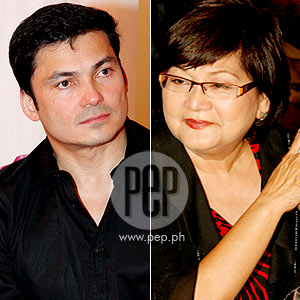 ---
Gabby Concepcion's legal representative asked the QuezonCity Regional Trial Court (QCRTC) yesterday, September 22, to deny the issuance of a temporaryrestraining order against his client, arguing that the actor has the right toterminate his contract with his manager Rose Flaminiano.
According to the report of Cory Martinez published today,September 23, in People's Journal, Atty. Dexter Lacuanan made thisrequest during the hearing for the issuance of TRO before the sala of QCRTCBranch 97 Presiding Judge Bernelito Fernandez.
Atty. Lacuanan reasoned out that the grounds of the talent manager forthe TRO was insufficient since, under the new Civil Code, Gabby could end his contractimmediately.
Mrs. Rose Flaminiano, through her legal counsel Atty. Bonifacio Alentajan, had filed thepetition for specific performance with damages and request for a TRO to restrain Gabby from terminating his management contract with her.
In the same petition, Flaminiano isasking a total of P22 million in moral and exemplary damages. Mommy Rose argued that because of hertalent's behavior, she suffered irreparable injury and damages.
It will be recalled that on September 9, Gabby's legalcounsel Atty. Raymond Fortun sent a letter to Mrs. Flaminiano, which contained the detailed complaints of his clientagainst the business manager. This included thedate on the management contract signed by Gabby last January 2008 in San Ramon,California.
Upon receiving the said contract recently, Gabby wassurprised to see that the date on the contract, April 1, 2008, washandwritten. Then, an intercalation wastypewritten to show that Gabby went through a notary public and attested to thesaid five-year contract. (Click here toread related article)
In the same letter, Atty. Fortun also related that hisclient to wanted to terminate his management contract with herimmediately. The reasons given were"lack of transparency" and "mismanagement" by Mrs. Flaminiano of his financial andemployment concerns.
EXCHANGE OF ARGUMENTS. During the hearing yesterday, Atty. Alentajan insistedthat a TRO should be issued since his client would suffer grave, irreparableinjury and damages if Gabby would be allowed to terminate the managementcontract.
ADVERTISEMENT - CONTINUE READING BELOW
The petitioner's lawyer further said that the allegations inthe letter sent to Mrs. Flaminiano were "false charges [that] necessarily constituteblackmail and were clearly contrary to law, morals, good customs, public orderand public policy"
Atty. Lacuanan insisted, however, that his client has the right toterminate the management contract even if it still in effect under Article 1191of Civil code. He added that Gabbytried to contract his manager before he decided to take the action but nothinghappened.
Meanwhile, Judge Fernandez has given both parties until today to submit amemorandum, after which the resolution for the requested TROwould be issued.
GABBY SPEAKS UP. In an interview with Gabby Concepcion, entertainment columnist DollyAnne Carvajal wrote yesterday, September 22, the side of the actor.
Gabby told the entertainment columnist, "I came here to makepeace with everyone. My life is an openbook. It's sad that this is happening."
The returning actor also reiterated the reason behind hisdecision to end the contract with his manager. "The real issue is the lack of transparency and communicationbetween her and me. I'm a very trustingperson. It's not about money butprinciple behind it all."
Gabby stands firm on what he is fighting for in thisbattle. "I haveall the evidence to prove that I'm innocent. It's really shocking! I'm just waiting for the right time to expose it."