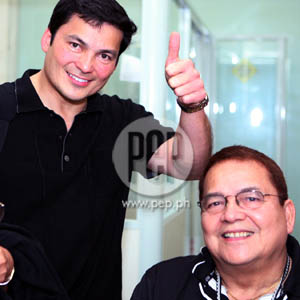 ---
Amidst the controversies that he's experiencing right now,Gabby Concepcion is faced with another sad moment in his life—the death of his daddy Rollie.
Mr. Rollie Concepcion died last night, September 23, after a long bout with his heart ailment.
It can be recalled that when news broke out about Gabby's return to the Philippines after 13 years, people expected that his main reason would be to make a comeback.
However, in his first interviews after he arrived in Manila, the 44-year-old actorinsisted that he returned to the country to spend quality time with his ailingfather, Mr. Rollie Concepcion.
The actor reiterated this when he was interviewed exclusively by YES! magazine in its June 2008 issue. The interview transpired two weeks after his return.
Talent manager Rose Flaminiano narrated how she met Gabbyin Hawaii in October 2007 and the things she had to do for his return. Theactor immediately clarified that it was not really showbiz that made him decideto come home.But he was encouraged by Mommy Rose's willingness to facilitate his homecoming.
"When Mommy Rose and I talked inHawaii, sabi niya, 'Gusto mong makita ang dad mo, right?' I said, 'Yeah.''Papaalisin kita para makita mo ang daddy mo.' And that's what really triggeredmy cooperation. She said she was gonnahelp me out with my father and all this other stuff that I need to take careof..."
When it was confirmed that Gabby would come back to thePhilippines after 13 years, all the legal cases that he had left in 1995 resurfaced. These cases includefalsification of documents and bigamy.
There were also talks about a possible meeting or projectwith his former wife, Sharon Cuneta, who is the mother of his daughter KCConcepcion.
But these issues did not affect Gabby that much since hisfocus was really on his 71-year-old dad, who had a heart condition and wasreported to undergo a heart bypass at the time of the YES! interview.
ADVERTISEMENT - CONTINUE READING BELOW
During the two-hour chat, Gabby explained why he chose tocome home instead of meeting his parents abroad.
"For many years," he told YES!, "my dad always wantedto see me, but he can't fly. He's beensick. The pressure is going to killhim. Kawawa naman if I ask him to takethe boat and go to Hong Kong, and I'll meet him there. And then we'd hug, and we'd go out and eatin restaurants and all that, and in one week or two weeks or even one monthafter, I will say, 'Dad I have to go.' Ang sakit noon, di ba?"
Gabby flew back to the country and stayed in his family's home in SanJuan City. Added to Gabby's desire to see his father wasthe constant reminder of his mother, Lourdes Arellano, about seeing his dad,"Sabi niya, 'All he wants is to see you.' That's a big deal."
Five months after returning to the country, Gabby might have already fulfilled his wish to have some quality time with his father. However, some are thinking how sad it is that Daddy Rolliepassed away while Gabby is facing another controversy—a rift between him and talent manager Rose Flaminiano that led to aP22-million civil case filed against the actor.