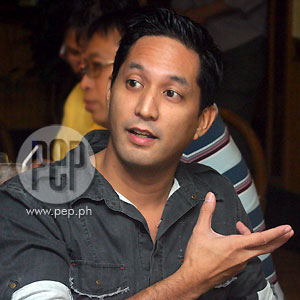 ---
Survivor Philippines is taking everyone by surprise.
Not only is this reality show totally different from the popular teledramas and fantaseryes on primetime, its timeslot is at the tail end of GMA-7's Telebabad block, after Family Feud, Codename: Asero, Gagambino, and La Lola. Despite the odds, the reality show is generating high ratings, based on the survey of AGB Nielsen Philippines among Mega Manila households.
In fact, as of last night, November 4, according to the latest AGB Nielsen survey, Survivor Philippines is now the No. 1 primetime program in Mega Manila. Survivor got 33.9 percent, compared to second-placer Gagambino's 33.8 percent.
For this reason, host Paolo Bediones believes Survivor Philippines should have a second season.
"There's still no final word, but I know that they are preparing the budget and everything for now. But sa nakikita ko, wala namang dahilan kung bakit wala," said Paolo during the presentation of the first eight castoffs of Survivor Philippines to the entertainment press last Friday, October 31.
ADVERTISEMENT - CONTINUE READING BELOW
"Ratings are very good for a late-late-late night show. It starts at 10 p.m., 10:20 p.m. sometimes, di ba? We're averaging about 30 to 31 percent, which is practically unexpected sa amin."
He added, "Aaminin ko, when I found out about the timeslot, nadismaya ako kasi we were expecting sana earlier... You know, since the network spent so much on this and gambled a lot, we were expecting na medyo maaga, you know. To get a big viewership and to recoup whatever investment na ginastos ng company for the show.
"But at the end of the day, sabi ko, sila [management] yung magdedesisyon, e. I guess what they saw na tama was that put [the show] sa medyo late, kasi medyo may maseselang eksena. Maybe the theme itself was something na pang-Parental Guidance talaga. So we understood and we respected the decision. Sige lang, we just did our work. Now naman, we're hitting the good numbers. The advertisers are there naman."
ADVERTISEMENT - CONTINUE READING BELOW
Survivor Philippines is a franchise of the popular reality game show produced for television in many countries. The format for Survivor was created in 1992 by Charlie Parsons, and the first production was the Swedish show Expedition: Robinson in 1997. But the most popular Survivor is still the U.S. version, hosted by Emmy-winner Jeff Probst, which is now on its 17th season. Survivor is produced by Castaway Productions.
Is there a plan to have an all-celebrity edition of Survivor Philippines?
"Ang celebrity comes in probably after the fourth or fifth," Paolo replied. "Normally, you have your first season, and then your second season where you introduce yung mga innovations, like for example Hidden Immunity Idol, Exile Island... All of these twists na puwede mo nang ipasok. Kasi, it's too early now na ipasok 'yon [celebrities], magugulantang yung viewers, e."
In other Survivor programs, particularly the U.S. version, there are many nude scenes since the castaways usually have no wardrobe, except what they are wearing. But in Survivor Philippines, the nude scenes are presently limited to castaways accidentally dropping their underwear during challenges. The castaways are the contestants of Survivor who stay on an island for a maximum of 39 days to compete in challenges that give them the chance to win the cash prize.
ADVERTISEMENT - CONTINUE READING BELOW
Is it a deliberate decision not to air the nude scenes?
"There are some situations wherein, you know, they have no clothes. They just have two sets of clothes. There are times talaga na nakunan ng kamera, pero hindi naman namin puwede iere. The show is not meant to shock people with that kind of scenario na, you know, naked people running around. It's not about that, it's not about the sexy bodies, e.
"There were a lot of scenes that we wanted to show... As a producer of the show, you'd want to show that, but we just limited it na lang dun sa mga eksena sa challenges na nahuhubaran sila Vern, like the other night."
FROM REALITY TO TV. PEP (Philippine Entertainment Portal) asked Paolo what he felt when he finally saw the episodes of Survivor Philippines on television.
"Alam mo, honestly, walang OA, ha, minsan nakakaiyak," he admitted. "Kasi parang you remember the hardship that you went through just to get to that location, just to be able to shoot that particular scene, or that particular challenge.
ADVERTISEMENT - CONTINUE READING BELOW
"And then, there are scenes that I never saw na camp life. I'm not there, e, wala ako do'n sa Jarakay and Naak [names of the two tribes]. I only get to see them during challenge and Tribal Council. We're in base camp, discussing the story arc based on what's happening. Dun pa lang ginagawa yung story arc, e. It really depends on them [the castaways], e. We are at the mercy of the castaways on how they want to play the game.
"So, kami naman [staff and crew], every time we meet, we discuss, 'O, sige, ito ang highlight this week...' Ang mga viewers nakakatawa kasi they try to interpret... They call it, when you edit it in a certain way, di ba, 'edgic'—parang editing and logic combined—they try to, I guess, predict kung sino ang matatanggal, mga ganyan.
"There will never be a pattern. We take a lot of pride in it, na naiisahan namin yung viewers. That's why they're hooked, e. They're like, 'Ano ba, akala namin si ganito, si ganyan?' People say na, 'Oh, it's probably scripted, it's manipulated.' Nakakatuwa yung mga ganung reaction, kasi parang... Ang masasabi ko lang, if it was a scripted show, I think the scriptwriters should be millionaires by now."
ADVERTISEMENT - CONTINUE READING BELOW
Paolo added, "If I will borrow Patani's [one of the castoffs] statement, if you want that 'exfosure,' it really depends on how you play the game. Ang daming styles to play the game, e. If you're a fan of Survivor, you know na in the beginning usually, di ba, you try to be useful to your tribe. So they'll keep you, they won't vote you off. Puwede kang masipag sa camp, puwede kang magaling sa challenges. And then, pagdating sa merge, kanya-kanya na, e. And then your goal is makapasok ka na dun sa pagsanib [merge]. Pag nakapasok ka na, bahala na, gawa na lang ako ng alyansa kung puwede."
LEAKAGE? An alleged leakage appeared in a showbiz blog saying that San Sebastian varsity player JC Tiuseco, one of the castaways, is the winner of Survivor Philippines. This came out during the first few weeks of airing of the GMA-7 reality show.
ADVERTISEMENT - CONTINUE READING BELOW
A few weeks after and with only nine castaways remaining, JC is still in the competition and is considered one of the strongest players. With this scenario, some are saying that the alleged leakage might be true after all. What can Paolo say about this?
"With regards to this leak, and all the other spoilers," Paolo mused," sabi ko nga, I really thank these people because nada-drum up yung interest sa show, e. If ever their intention was to ruin it for other people, they're not, e.
"Sa akin kasi, kung magsalita ako, sabihin ko, 'No, it's not true,' and it ends up being true, mali ako. Parang nagsinungaling ako. If I say naman na, 'Actually, totoo siya, e,' o, di, patay rin kami, di ba? Damn if you do, damn if you don't.
"In this situation, you just look at it and say, 'Sige, thank you na lang sa ingay.' Kasi, kumbaga, it's another aspect of the show na unheard of, e. Parang never before has there been a show wherein you have spoilers, wala pa. First time."
ADVERTISEMENT - CONTINUE READING BELOW
SURVIVOR VS. FEAR FACTOR. GMA-7's rival network, ABS-CBN, will begin airing its reality show, Pinoy Fear Factor, on November 10. Pinoy Fear Factor is a stunt/dare reality game show based on America's Fear Factor.
Pinoy Fear Factor will be hosted by Paolo's close friend, Ryan Agoncillo.
"When I heard that there will be a Philippine version of Fear Factor," said Paolo, "first thing I said, 'That has to be Ryan Agoncillo and no one else.' In my opinion, he is one of the very few guys who can really pull it off, e. I know what he's capable of. I know the kind of passion he has for work. I have the highest respect for the guy. I'm just so proud na siya yung nakuha."
Was it foresight on the part of Survivor Philippines to include models among its contestants, since most of the "participantes" (contestants) of Pinoy Fear Factor are also models?
ADVERTISEMENT - CONTINUE READING BELOW
"Ang alam ko, ha, sa Fear Factor, it's a prerequisite that they look good, that they have nice bodies....You will never see anyone who will look like Marlon, or Nanay Zita for that matter, on that show. There's a difference in the casting process, e," said Paolo. Marlon and Nanay Zita are two of the remaining castaways in Survivor Philippines. Marlon is slightly overweight and Nanay Zita is a 46-year-old laundrywoman.
If other reality shows make a conscious effort to include half-breeds as contestants, probably to add more eye candies, Survivor Philippines chooses to put ordinary-looking people in the game.
Paolo explained, "It was on purpose because from the get-go, we said that... During the auditions, sabi ko, aside from not being an artista search, this is for mga Filipino. And pag sinabi kong para sa mga Pinoy ito, what I meant was, ito yung mga Pinoy na nandito sa bansa, na talaga namang alam namin na... Although Jace [Flores, the latest castaway voted out], technically he came from Hawaii, he lives here, he speaks Tagalog really well, di ba?
ADVERTISEMENT - CONTINUE READING BELOW
"Pero yung mga half-half breeds, I have nothing against them... Pero c'mon, they have a lot of opportunities, e. You know, for how they look, they can enter the modeling scene. I really wanted the opportunity more for ordinary people kasi parang this is their show.
"Yeah, we have a couple of models, but these guys, they went to the audition process as well. If you look at the lineup... Right now, I can tell you where they auditioned, what happened during their auditions. I remember each and every one of them. And that's the reason why kinuha namin sila, kasi tumatak, e. And that's also the thing that really makes me proud, kasi they didn't let us down. Hindi kami pinahiya na pinili namin sila over thirty-five, forty-thousand people [who auditioned]."
Although Survivor Philippines is not a star search, as Paolo pointed out, most of the castaways have since been signed up by GMA Artist Center, the talent arm of the Kapuso network.
ADVERTISEMENT - CONTINUE READING BELOW